Chateau Saint Pierre
4th Cru Classe, 1855
33250 Saint-Julien Beychevelle
+33 (0) 556 59 08 18
www.domaines-henri-martin.com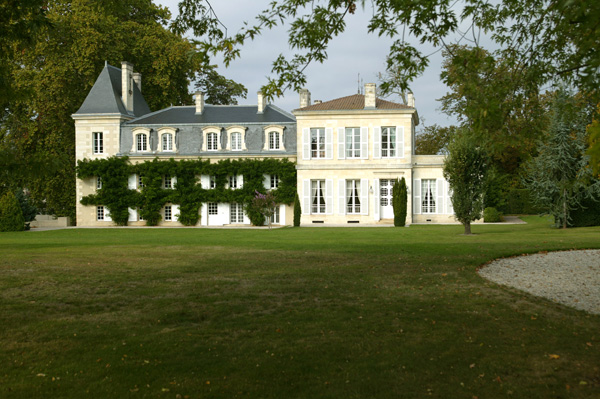 Location: AOC Saint Julien.Production: 17 hectares, giving around 5,000 cases annually.
Five things you didn't know about Chateau Saint Pierre :
- Owner Jean-Louis Triaud is also president of Bordeaux's local football club, the Girondins de Bordeaux. Under his presidency, the club has won the French league three times, in 2002, 2007 and 2009, and the Coupe de France in 2013.
-In 2009, Domaines Martin held an exhibition of the works of Wang Yan Cheng, the Chinese abstract artist who decorated the Beijing Opera building with a giant artwork in 2008.
- This is a family that likes to rebuild things that had been lost. Not only did they essentially recreate Chateau Saint Pierre, but in the next door appellation of Cussac Fort Médoc, they took four years to put together piece by piece the 37-hectare Chateau Bel Air, an estate that had roots back in the 16th century but had been largely forgotten. And not content with that, they also created an entirely new 44 hectare estate 70 years ago, also in Saint Julien, called Chateau Gloria. This unclassified but hugely important property got its start in 1939, when Henri Martin bought 6,000 vine plants next to the family house in Saint Julien.
- Saint Pierre is the only one of all 1855 Médoc chateaux to have no second wine. Any production that doesn't make it into the first wine is sold off in bulk.
- Saint Julien has eleven classified estates that cover more than 80% of the vines in the AOC, the highest percentage of any appellation in Bordeaux.
Current owner: Domaines Henri Martin, now owned by his son-in-law Jean-Louis Triaud, with his wife Francoise and children Vanessa and Jean working alongside him.
Most notable previous owner: Henri Martin, was not only winemaker but also mayor of Saint Julien, and one of the most notable figures in Bordeaux winemaking in the 20th century. He also held the job of president of the Girondins football club for a while. He was born in 1903 at Chateau Gruaud Larose, where his grandfather was cellar master. His father was a cooper, as was he at the start of his career. The family had lived in Bordeaux for over three centuries – working almost entirely as laborers, vineyard workers and cellar workers. Martin ran Chateau Latour for many years alongside Jean-Paul Gardere (who also came from usual system of noble family connections – his father was a resin-tapper in the Landes), and was one of the key founders of the Commanderie du Bontemps. By the time of his death in 1991, Martin was known as the 'Soul of the Médoc'.
Other chateaux owned: Chateaux Bel Air, Gloria, Haut-Beychevelle and Pey-Martin.
Commercial strategy: 100% négociants, sold en primeur through the Place de Bordeaux. Triaud typically sells between 90-95% of his crop en primeur, with the rest kept for the chateau library, and for limited releases of older wines.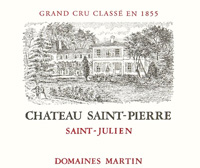 Second wine: There is no second wine at Chateau Saint Pierre.
Through the centuries:
The vineyard of Saint Julien was originally a farm in the 15th century, but its vineyard origins can be dated back to at least 1693, when archives suggest a property making wine was located at the site, called 'Serancan', and belonging to the Marquis de Cheverry.
In 1767, the Baron de Saint-Pierre bought the property, and gave it his name, and kept it until his death in 1832, when his two daughters split the vineyard between them. The elder sister was married to Colonel Bontemps-Dubarry and took half of the vineyard, the cellars and the chateau, and the younger sister, married to the Swedish Mr Luetkens (owner of La Tour Carnet) got the rest of the vines. This was the first instance of the Saint-Pierre estate suffering from being broken up, sold off and generally decimated, but not the last. Despite the fact that it was being farmed in two halves, it was still named a 4th Growth during 1855, but both parts were bought and sold separately over the years, making for a very complicated history. The Luetkens side, went in 1892 to Léon Savaistre, already owner of Chateau Saint-Louis in Saint Julien, and by the end of the 19th century, both Saint-Pierre-Sevaistre and Saint-Pierre-Dubarry were being sold on the market.
In 1922, two Belgian négociants, Pierre and Charles Van den Bussche from Antwerp brought the two sides of the estate back to together - all except the cellars that were bought by cooper Alfred Martin, as a place to store his barrel business. Sixty years later, in 1981, Alfred's son Henri Martin bought the chateau building next to the barrel cellar– and a year later convinced the Van den Bussche family to sell the vineyard, which was by then known as Chateau Saint-Pierre Sevaistre. From this point on, the original estate, with its original name, was restored to almost exactly the same size as in 1855.
Consultant: Eric Boissenot, with Rémi di Constanzo as Technical Director.
Plantation and vineyard work:Cabernet Sauvignon (75%), Merlot (15%), Cabernet Franc (10%), average age 50 years, planted to 10,000 vines per hectare and an average yield of 45 hectolitres per hectare. Hand-harvesting.
Vinification: Vinified plot by plot, in stainless steel tanks. Wines are then aged in barrel, with around 50% new oak each year, for at least 14-16 months. Wines are fined with the traditional method of egg-whites before bottling, giving a meaty, masculine wine with swagger and excellent ageing potential. Cellar master Philippe Blanchard.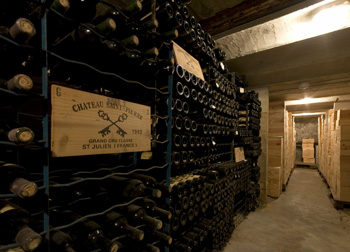 Terroir: Gunzien gravel with subsoil of sandy-clay, with most of the vineyard located on the Beychevelle plateau.
Recent improvements or changes:
New cellar currently being constructed by architect Alain Triaud (who just happens to be the brother of the owner), expected to be finished in 2016. The process, says Triaud, is to start with the people who will be using the finished building. 'We have to respond to the functional aspect of a site. And have a dialogue with the cellar workers, the technicians, the harvesters – those who understand the heart of the work.'
Recent Decanter scores:
2012 en primeur – 17.5 points/20
2011 en primeur – 17 points
2010 en primeur – 18 points
2009 en primeur – 17.5 points
2008 en primeur – 16.5 points
Average bottle price in UK: £30-£70, depending on vintage.
- Follow us on Weibo @Decanter醇鉴

and Facebook

for most recent news and updates -
All rights reserved by Future plc. No part of this publication may be reproduced, distributed or transmitted in any form or by any means without the prior written permission of Decanter.
Only Official Media Partners (see About us) of DecanterChina.com may republish part of the content from the site without prior permission under strict Terms & Conditions. Contact china@decanter.com to learn about how to become an Official Media Partner of DecanterChina.com.