Get to grips with the some of the more obscure tasting notes used by wine experts, with graphics from the Decanter design team...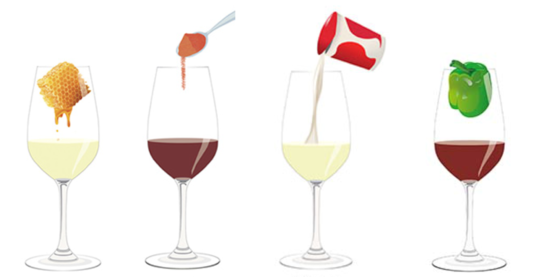 Beeswax
Beeswax is a substance secreted by worker bees in the hive, where it's used to build the honeycomb structure. Its chemical composition means it can be burnt in candles, when it can produce a resinous and honey-like aroma.
In older white wines, Beeswax aromas can be evoked by the prominence of ethyl acetates, which might be created by yeast during fermentation, or from the breakdown of other components during bottle ageing.
This can apply to some Pinot Blanc wines, such as Jean Biecher, Pinot Blanc 2015 from Alsace, which has a nose of beeswax mingled with baked apple.
Or Franz Haas, Lepus Pinot Bianco 2014, from northern Italy's Alto Adige region, where beeswax notes help to marry savoury herbs with citrus and green fruit characteristics.
Certain bottle-aged Sémillon wines, particularly from Hunter Valley in Australia, might gain a beeswax character, too. For example Mount Pleasant, Elizabeth Cellar Aged Sémillon, Hunter Valley 2007, 'picks up nutty, beeswax notes'.
Beeswax can also be common in the aroma profile of German Rieslings which have had some time to develop. Such as Thörle's Kalkstein Saulheimer 2014, which has a nose of 'attractive beeswax and white flowers'.
Texturally, the waxy or resinous element to beeswax can make it a useful descriptor for the mouthfeel of some wines. This could include Chardonnay, Sémillon or Chenin Blanc wines that have received a smoother, more rounded mouthfeel from lees-ageing or malolactic fermentation.
For example, Lismore, Chardonnay 2014 from the South Africa's Overberg region was made in a 'lees-rich' style, which elicits 'beeswax and acacia tones'.
It can also be detected in some particularly leesy Champagnes, where beeswax can give definition to autolytic notes like bread, biscuit, toast and brioche.
SEE: Barnaut, Blanc de Noirs Brut Grand Cru, Champagne NV
Cumin
Many of us will be familiar with the aroma and flavour of the spice cumin —either in powder or seed form— which is widely used across Middle Eastern and Indian cuisines. It comes from the dried seeds of the cumin herb, which is part of the parsley family.
Cumin is relatively mild aromatic spice, typified by an earthy or woody flavours and aromas, with a bitter undertone. It features in the spice category of the wine lexicon, alongside notes like black pepper, cardamom, nutmeg and anise.
You can look for cumin notes in some orange wines, which sometimes glean an extra earthy, bitter spice edge from prolonged skin contact.
For example, Albert Mathier et Fils, Amphore Assemblage 2010, from Switzerland's Valais region, has a honeyed cinnamon nose that comes through as 'cumin, tea leaf and dry tobacco' on the palate.
Elsewhere, some premium cool-climate Pinot Noir wines can develop delicately earthy and mildly spicy notes that resonate with cumin.
Peter Michael Winery's Le Caprice Estate Pinot Noir 2013, made in Sonoma County's Fort Ross-Seaview AVA, was praised by William Kelley as 'the most supple and ethereal of the Pinots bursting with perfumed notes of rose petal, clove, cumin and black fruit'.
Full-bodied reds can also develop spicy characteristics, such as cumin, usually gained from time spent in oak.
Ringbolt, Cabernet Sauvignon 2013 from Margaret River — matured for 11 months in American oak — has a 'touch of cumin and dried herb on the nose', which adds complexity to the cassis and dark fruit flavours.
Similarly, Ao Yun 2013, a full-bodied Bordeaux blend from southern China's Yunnan province, was noted for its 'sweet black and red cherry fruit' flavours, which are counter-balanced by bitter-edged oak influences: 'juniper, pepper and cumin'.
Green Pepper
In cooking, some people avoid these peppers in favour of their sweeter red and yellow counterparts. But in wine, the sharply savoury aroma of a freshly-sliced green bell pepper makes it a useful tasting reference.
Sommelier Laura Ortiz explains the science: 'When we smell green pepper in Cabernet Sauvignon, we are recognising the pyrazine, 3-isobutyl-2-methoxy piracina. A name we seldom remember, but it is impossible to forget the aroma of green pepper.'
The term green pepper can be used positively, as with some Cabernet Sauvignons from California and Chile, where it can be enjoyed as a counter-balance to the black fruit flavours like cassis. However, in those of Bordeaux a green character is less desirable, as it often taken to be a sign of under-ripeness, along with vegetal or leafy notes.
In white wines: new world Sauvignon Blancs, such as those of New Zealand and South Africa, commonly display vegetal notes like green pepper. Some people enjoy this green herbaceous character, while others prefer the more mineral examples from Sancerre or Pouilly Fumé.
Note: You may see it being alluded to under the bracket of capsicum, which simply refers to the pepper plant genus. Also, it's not be confused with terms like 'ground green pepper' or 'green peppercorns', which refer to the peppercorn spice and not the bell pepper.
Cream
You might see 'cream' in tasting notes and feel a little confused — surely, fermented grape juice has little to do with dairy products? However, dairy is a category in the wine-tasting lexicon, including notes like butter, cheese and yoghurt, alongside cream.
These flavours can arise from winemaking practices, namely malolactic fermentation (MLF) — the process by which bacteria converts sharp-tasting malic acid into softer lactic acid, the same that's found in dairy products like cream.
The chemical compound diacetyl is a natural byproduct of MLF and it can give wines a rich creamy, buttery or butterscotch odour.
In addition, diacetyl can change the mouthfeel of wines, giving them a smoother and more viscose texture, as might be associated with cream.
A creamy mouthfeel can also be achieved through lees influences, gained by winemaking practices involving lees contact: resting the wines sur lie (on the lees) or bâtonnage (stirring the lees).
You might find lactic notes like cream in barrel-fermented wines, too, alongside other complex flavours and aromas such as caramel, coconut, toast and vanilla. This is mostly found in white wines, particularly Chardonnays from Burgundy.
SEE: Domaine Jomain, Chardonnay, Bourgogne 2014 | Domaine François Carillon, Bourgogne Chardonnay 2014 | Domaine Guffens Heynen, Tris des Hauts des Vignes, Pouilly-Fuisse 2014
You can also look for creamy lactic notes in barrel-fermented sparkling wines that have received lees contact:
Klein Constantia, Cap Classique Brut 2009 from South Africa was barrel-fermented and lees-aged for 21 months, resulting in 'developed cream' notes combining with truffle aromas, with a layer of 'clotted cream' on the palate.
In the case of Paul Mas, Crémant de Limoux, Astélia Grande Réserve Brut 2012 from Languedoc-Roussillon, only a portion of the base wine was barrel-fermented, giving just a subtle 'touch of wood and cream'.
Translated by ICY
All rights reserved by Future plc. No part of this publication may be reproduced, distributed or transmitted in any form or by any means without the prior written permission of Decanter.
Only Official Media Partners (see About us) of DecanterChina.com may republish part of the content from the site without prior permission under strict Terms & Conditions. Contact china@decanter.com to learn about how to become an Official Media Partner of DecanterChina.com.