Get to grips with the some of the more obscure tasting notes used by wine experts, with graphics from the Decanter design team...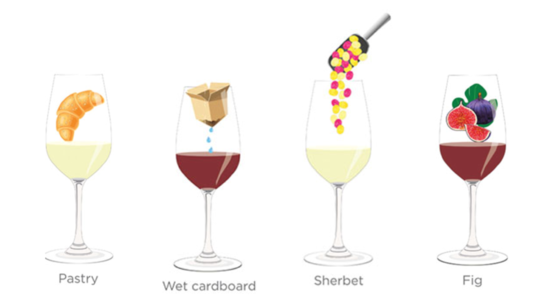 Pastry
Most of us will be familiar with pastry in its various forms, made from mixing flour with butter (or other fat substitutes) and used to make baked goods.
In wine tasting notes, references to pastry usually relate to sweeter styles of pastry, such as might be used to make croissants or fruit pies and tarts.
Pastry notes can indicate that the wine has spent some time in contact with dead yeast cells, or lees. These aromas are enhance by winemaking methods such as stirring the lees (bâtonnage), or resting the wine on its lees (sur lie) for a period of time.
These lees-related techniques involve the process of autolysis, or the breakdown of the dead yeast cells by enzymes. Autolytic characteristics might be present a range of wines, including white Bordeaux and Burgundy, as well as sparkling wines, such as those from Champagne and Cava.
SEE: Veuve Clicquot Ponsardin, Reserve, Champagne, France, 1993 | Lacourte-Godbillon, Brut Nature 1er Cru, Champagne NV | Llopart, Rosé Brut, Cava 2014
For example, Clos Marsalette 2014 from Bordeaux's Pessac-Léognan appellation — made from a classic blend of Sauvignon Blanc and Sémillon — is described as having autolytic notes of 'gourmet brioche and croissant flake' after having spent nine months resting on its lees.
On the autolytic spectrum, pastry can be considered slightly sweeter than toast and bread, though not as sweet as biscuit. Due to its high fat content, pastry notes also imply a relatively rich, rounded mouthfeel.
Some red wines can have a pastry-like mouthfeel too, particularly premium Burgundy wines. Camille Giroud, Chambertin Grand Cru 2014 was noted for its pastry character, which contributes to the 'round, velvety texture' that earned it a score of 95 points.
Similarly, Domaine Alain Hudelot-Noëllat, Les Petits Vougeots, Vougeot 1er Cru 2014 (94 points) received high praise for its 'suave, textured palate with a pastry finish'.
Wet cardboard
If you get a whiff of wet cardboard – or perhaps even 'wet dog' – in your wine, you would be right to assume there's something amiss.
These are considered to be the main olfactory indicators of cork taint, or 'corked wine', one of the most common wine faults; albeit the cork industry has been working to reduce it.
Beverley Blanning MW explained the science:
'Dissatisfaction with cork is almost entirely due to contamination, leading to the foul, wet cardboard smell commonly known as cork taint.
'The offending chemical which spoils the wine is 2,4,6 Trichloroanisole (or TCA for short), detectable in quantities as low as four parts per billion,' she said, writing in Decanter back in 2001.
Despite its adverse effect on the wine, TCA does not pose a direct health risk to consumers.
Aromas of wet cardboard can be a good way to spot a TCA fault, although it can be hard to detect when levels are low — at which point it may only result in a lack of fresh fruit notes and a faint musty character.
TCA can cause wine spoilage at a various points between the winery and your table. It's worth being bold and asking restaurants to take a bottle back, or at least second-taste it, if you suspect a wine may be suffering from TCA.
'TCA can infect wine via a number of sources including barrels, stacking pallets and winery cleaning products,' said Blanning.
Sherbet
Depending on where you are, sherbet can mean different things. In the UK it's mostly found in confectionery aisles in the form of sherbet powder, boiled sweets or encased in rice paper. It was originally stirred into water to make fizzy drinks.
But in the US, sherbet (or sometimes 'sherbert') largely refers to what the British understand to be sorbet, i.e. a frozen dessert consisting primarily of fruit juice and cream.
Here we will deal with the UK version.
The fruit flavours associated with sherbet are generally highly acidic ones, such as green fruits (malic acid) and citrus fruits (citric acid). Therefore sherbet is usually used to describe dry white wines that commonly display this flavour profile.
For example Librandi, Cirò, Calabria 2012, made from 100% Greco, was praised for its 'citrus zing to a pear drop and apple sherbet nose' — combining three acidic fruit flavours.
Veneto's Soave wines are a good place to look for sherbet hints, as well as Galicia's Rías Baixas Albariños and Australian Riesling from Eden Valley.
SEE: Franchetto, La Capelina, Soave 2011 | Santiago Roma, Selección, Rías Baixas 2014 | Thorn-Clarke, Eden Trail, Eden Valley 2014
Due to its effervescent property, sherbet is also a useful descriptor for a fizzy texture combined with acidic fruit flavours, which can be experienced in dry sparkling wines made in cool climates. This could include English sparkling, Prosecco or French crémant and Champagne.
SEE: Nyetimber, Sussex 2006 | Mionetto, Prosecco Valdobbiadene Superiore di Cartizze NV | Langlois-Château, Crémant de Loire NV | Henri Delattre, Champagne NV
Sources: Sugar-plums and Sherbet: The Prehistory of Sweets by Laura Mason,
Fig
Figs are said to be some of the first fruits to be cultivated by humans; they have origins in Turkey, India, as well as many Mediterranean countries.
Genetically, figs are related to the mulberry family, and they grow on trees or bushes. They're favoured for their smooth, syrupy fruit flavour and pulpy texture.
Although often enjoyed fresh, figs are easily dried out into a chewier, sweeter form — as the fruit sugars become concentrated after the water content is decreased.
It is in this form that they feature in the wine lexicon, alongside other dried fruits like dates, prunes and raisins.
Due to their earthy and richly sweet flavour profile, dried fig notes are primarily found in full-bodied reds and fortified wines.
This could include Portuguese red blends like Herdade de Malhadinha Nova, Matilde, Alentejano 2013 and JP Ramos, Alentejo, Marquês de Borba, Alentejo 2014 — both combining fig notes with spicy undertones. Or Primitivo wines from southern Italy, like Masseria Metrano, Primitivo, Salento, Puglia 2014, where fig mixes coffee and bitter herb aromas.
Among fortified wines, you can look for fig notes in Tawny Ports, as well as mature Madeiras, such as HM Borges, 20 Year Old, Verdelho. Or Pedro Ximénez sherries like Bodegas Rey Fernando de Castilla, Antique Pedro Ximénez NV.
In her article What is premature oxidation? Jane Anson identifies fig as a possible precursor to a wine becoming oxidised:
'In red wines, the warning signs come with prune, fig and other dried fruit aromas – these are positively sought in specific types of wines such as Amarone or Port, but would be a likely indication in a young dry red that the wine will not age as it should.'
However, she warns that sensitive grapes with dried fruit flavours, like fig, are at more risk than more robust varieties:
'Some styles of dry reds – such as still Douro reds and some Languedoc wines – naturally have dried fruit aromas when young, and are made from grapes with high natural acidity and resistance to heat.
'But the danger comes with other grape varieties that are more susceptible to fluctuations in temperature.'
Sources: britannica.com
Translated by ICY
All rights reserved by Future plc. No part of this publication may be reproduced, distributed or transmitted in any form or by any means without the prior written permission of Decanter.
Only Official Media Partners (see About us) of DecanterChina.com may republish part of the content from the site without prior permission under strict Terms & Conditions. Contact china@decanter.com to learn about how to become an Official Media Partner of DecanterChina.com.