Though the writing on a French bottle of wine can get extremely complicated very quickly, we would probably back ourselves to understand a few things. With Spain and Portugal – and I'm putting them together because they're two countries geographically intimate – there are a few words from their languages that will pose a few more questions.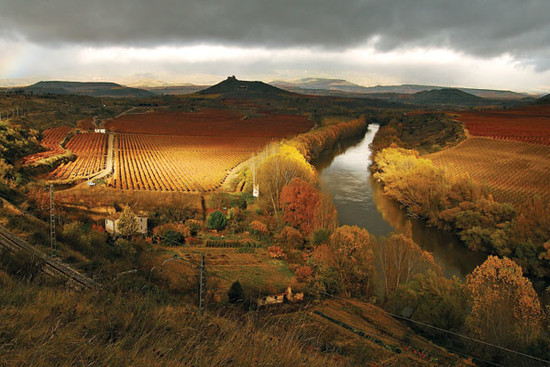 Spanish and Portuguese Wine Labels
Taking Spain first, and it sounds as basic as it comes, you should know that red wine is not 'vino rojo' as white wine is 'vino blanco'. In Spain 'tinto' on a bottle indicates red wine. Fortunately, red wine in Portuguese is 'vinho tinto', so we have some viticulture crossover.
Quality in Spanish wine is often linked to ageing the wine. The wines from the Rioja DOCa region for example (the "most famous" our tutor Lydia says) or the Ribera del Duero DO, where the main grape is Tempranillo, will likely have 'growing up' words written on them. This is because it's traditional to age wine in barrels in Spain. Rioja, in particular, gains most of its character from oak ageing.
At this juncture, it's worth noting that when you shift into Portugal, be careful of spelling. Portugal's 'Douro' DOC is just over the border from the Spanish 'Duero', with Touriga Nacional, instead of Tempranillo, presiding as the "star" grape. I found the languages' closeness meant I had to concentrate on labels more intently to ensure I wasn't confusing a 'Douro Reserva' with a 'Ribera del Duero Reserva'.
Back to Spain. If a wine says 'joven' (young) you know the wine has been made, bottled and packaged ready for selling with little to no oak. If a bottle doesn't have 'joven' or any ageing words on it, it'll be a 'joven'. Employing a family metaphor, Lydia says this wine is "your toddler". 'Joven' wines undergo no oak ageing, they will be simple in character. The "stroppy teenager" in Spanish oak ageing is 'Crianza' which translates as 'upbringing'. This wine is "still very young", but will have had some oak and bottle ageing but will have the red fruit flavours of a joven Rioja.
'Reserva', the adult of the family, is as Lydia amusingly puts it "more reserved" than the younger members. By law, 'Reserva' wines have been aged for a minimum amount of time in oak and the bottle. As such, these wines have gained complexity and we're entering into the quality areas of a Spanish, or Portuguese for that matter, wine label. Lydia also noted that though the word 'Reserva' in Spain is "legally defined"; many Chilean and Argentinian wine bottles have it written on them, and this "doesn't mean anything." The terms are often used to differentiate between brands, but won't necessarily reflect quality for a South American wine.
However, if you were to see an Argentinian wine labelled: Tempranillo, 18 months oak-aged, 2012; and a Spanish one labelled: Rioja, Reserva, 2012 – you'd be looking at similar wines in terms of production.
The elder statesmen, "the grandparents" of Spanish ageing, are 'Gran Reserva' wines. You will know these are premium wines because they are only made from outstanding vintages. Lydia says they might be made from the "oldest vines" (which give lower yields).
"Old vines" is an interesting label addition, seen often, and in a variety of languages. For example, you'd read it as 'Viñas Viejas' on a Spanish bottle. It certainly seems to denote quality because of the lower yield, and therefore higher quality grapes, old vines produce. But I've been sceptical about it from when tutor Jim told us in our first lesson that it had no legal definition and therefore creates a lot of disagreement in the wine growing world.
USA Wine Labels
In the USA, "old vines" is a definite mark of quality, probably because some of their Zinfandel vineyards – Zinfandel being one of the most important black grape varieties in California – are over a century old. If they keep their 100-year-old vineyards, there must be a pretty good reason for doing so.
Zinfandel is a quirky one too in that, like Syrah/Shiraz, it has a differently named twin, the 'Primitivo' grape from Southern Italy. "Grape DNA testing", Lydia says, has proved they are the same variety.
[Decanter insert – DNA testing has proved they are very similar, but are actually both clones of a Croatian grape called Crljenak.]
Therefore, it amazed me that when we tasted an outstanding Primitivo from Marks & Spencer supermarket, which cost less than £10, we had tried a wine from the same grape – a similarly outstanding, bespoke Californian vineyard Zinfandel in our second lesson – which was three times the price. It just goes to show that something the same can be so different when made in different parts of the wine world.
*Use the where to study map on the WSET website to see which courses are available near you.
All rights reserved by Future plc. No part of this publication may be reproduced, distributed or transmitted in any form or by any means without the prior written permission of Decanter.
Only Official Media Partners (see About us) of DecanterChina.com may republish part of the content from the site without prior permission under strict Terms & Conditions. Contact china@decanter.com to learn about how to become an Official Media Partner of DecanterChina.com.