Didn't get 100% at the quiz last weekend? Time to refresh your knowledge about the world of sparkling wines. What are the typical flavours and production methods of Cava, Procecco, Sekt and Asti?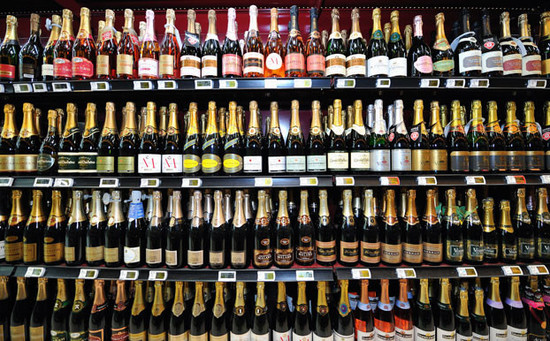 Before I joined the WSET Level 2 course, I often said to my family that we shall "open a bottle of Champagne for celebration" on special occasions or for holidays. At that time, like many consumers in China, I barely knew the proper names for any other sparkling wine, and thought "Champagne" is the word interchangeable for "sparkling wine".
After the session for sparkling wines, I was exposed to so many varieties and realize how different they can be in terms of tastes, fragrances, and methods of production.
The session started with a tasting of four glasses of sparkling wine: France's Champagne, Spanish Cava, lightly fizzy [Frizzante] Proseccofrom northeast Italy, and fully sparkling Asti DOCG from northwest Italy's Piedmont.
Champagne and Cava have obvious influences from yeast and are quite dry, while Asti and Prosecco are refreshing and very fruity.
My classmates showed quite diverging attitudes toward the quite different styles. My favourite, among the four glasses, was Asti DOCG, deeply touched by the Muscat grape's perfume and its cheerful, refreshing taste which brings about festive mood.
While Champagne and Cava are bottle-fermented which enables them to have long time in contact with yeast and lees, Prosecco and Asti are tank-fermented which has little influences from yeast and have more pronounced fruity notes.
Prosecco
Most of Prosecco wines are tank-fermented, although bottle-fermented versions also exist. First, grapes, the variety is Glera, are squeezed gently to make clear and pure juice, which is fermented to become a still, dry base wine. Then the base wine is transferred to a pressurisation tank with yeast and sugar added then sealed for second fermentation. As the second fermentation completes, the wine is filtered, then bottled under pressure to retain the carbon dioxide which has dissolved into the wine.
In this way, Prosesso becomes medium-bodied, refreshing wine with peach flavor and fragrance. Some Prosecco are spumante (fully sparkling) and some are frizzante (slightly sparking) depending on pressure given to carbon dioxide in the wine.
Sekt
Some inexpensive, simple sparkling wines with labels saying "Sekt" are tank-fermented. Sekt can use cheap base wines sourced from anywhere within the European Union. However, if a wine is labelled as "Deutsche Sekt", it can only use German base wines.
Asti
Asti DOCG is tank-fermented but is different from Prosecco because it is fermented only once. This white, light-bodied sparkling wine is made of Muscat grape which has intense floral and fruity flavors of peach, rose, and grape. It is usually sweet and has low level of alcohol.
Gently squeezed Muscat grape juice is transferred to pressurisation tank. Yeast then is added, but the tank is not necessarily sealed as carbon dioxide is only trapped when fermentation is nearly finished to achieve proper level of carbonation. When desired level of alcohol is reached, fermentation is interrupted by chilling the wine, followed by filtering (screening out yeast and lees to avoid second fermentation in bottle), then bottled under pressure.
My educator also brought a bottle of Moscatod'Asti to the class. It is also tank-fermented and made from muscat grape, but compared to Asti DOCG, it has lower level of alcohol and higher level of sweetness, and is slightly sparkling because of less fermentation.
I bought some bottles of Moscatod'Asti after this session because I find it is a perfect weapon to deal with my writer's block – it has a low level of alcohol that will not get me intoxicated, and it has that intrinsic cheerful mood that sweeps away pressure and fatigue! The perfect antidote for working overtime.
All rights reserved by Future plc. No part of this publication may be reproduced, distributed or transmitted in any form or by any means without the prior written permission of Decanter.
Only Official Media Partners (see About us) of DecanterChina.com may republish part of the content from the site without prior permission under strict Terms & Conditions. Contact china@decanter.com to learn about how to become an Official Media Partner of DecanterChina.com.