Among the greatest European wine producing countries, Germany is situated in the far-north, and is unique in many ways. To start with, it is predominantly a white wine producing country, making some of the best white wines in the world, most notably Riesling.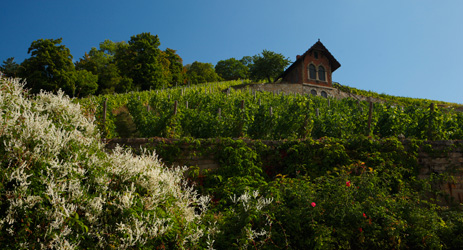 The climate in Germany varies each year, but is generally cooler, with less sunshine than other European regions during the growing season. When it comes to the ripening season, the amount of rainfall usually decreases, allowing grapes to achieve a higher sugar level, while maintaining a good acidity balance.
The best vineyards in Germany are planted on very steep hillsides that give vines the best exposure to the sun. Vineyards are often planted on a small scale, and most growers do not make wines, instead supplying the crop to producers and co-operative cellars.
German white wines are generally light, elegant, and almost always have some residual sugar.
Around two-thirds of grapes planted in Germany are white grapes. Riesling is undoubtedly the most widely planted variety, and is responsible for the best quality German wines. The second most-planted white variety is Müller-Thurgau. Other important white grapes include Pinot Blanc (known as Weissburgunder), Pinot Gris (known as Grauburgunder or Ruländer), Scheurebe and Gewürztraminer.
Red wines are also produced in Germany and the quality is rising, thanks to global warming. Pinot Noir (Spätburgunder) is now widely planted and is used to produce the best of German red wines.