Find out why it makes the Decanter wine hall of fame...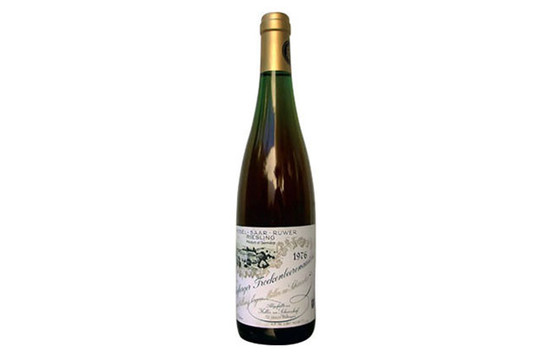 Wine Legend: Egon Müller-Scharzhof TBA 1976
Bottles produced N/A
Composition 100% Riesling
Yield N/A
Alcohol 5.5%
Release price DM1,510 (at Grosser Ring auction, Trier)
Price today N/A (1989 TBA is £2,621 per half bottle)
A legend because…
This Wiltingen estate has long had an extraordinary reputation, especially for its sweet wines. Some dry wines were made from 1980 to 1997, but Egon Müller never found their quality exciting, so production was halted. Scharzhof was one of the first German estates to make eiswein. The first commercial vintage was 1961, though some earlier vintages were sold as auslesen. Despite the acclaim given to the eiswein, the greatest of the Scharzhof wines is surely the Riesling trockenbeerenauslese (TBA), which has been rewarded by collectors with record high prices at auction.
Looking back
The estate, and its exquisite manor house, were acquired in 1797 by the ancestors of the present owners. The slopes of the Scharzhofberg had been known for the quality of its wines for centuries, but it was the Müller family that assured the estate's place among the great white wines of the world from the 1950s onwards. Uncompromising selection in the vineyard allowed Scharzhof to produce great sweet wines in years when other properties failed to do so.
It was Egon Müller III, the father of the present Egon Müller, who oversaw the production of this wine. His cellarmaster, and thus winemaker, was Horst Frank, who worked here for decades before his retirement in 2000. Visitors were invited to stand by a round table, while Müller disappeared from time to time to fetch bottles of ever greater antiquity and rarity. The nobly sweet wines were usually tasted in the greater comfort of the Scharzhof library. His son has inherited his courtesy and generosity, if not his formality.
The vintage
This was a great vintage in the Mosel-Saar-Ruwer. The summer was hot and very dry, and this led to grapes with perfect ripeness. Noble rot followed, and most estates were able to produce beerenauslese (BA) and TBA styles of great opulence and charm. If there was a drawback to 1976, it was the relatively low acidity. This favoured regions such as the Saar, with their naturally high acidity. Lower-quality wines are now probably past their best, but the top BAs and TBAs are still glorious.
The terroir
The steep hill that rises behind the Scharzhof manor is the Scharzhofberg, today some 28 hectares in extent, though until 1971 it was limited to 18ha. The soil is deep, weathered, blue and grey slate that gives wines of the greatest finesse. Scharzhof owns 8.5ha, and other proprietors include Kesselstatt, van Volxem and von Hövel. The site is exceptionally well drained, but water stress is rare. Müller is the sole owner of very old vines – a 2ha block behind the house was planted on ungrafted vines in circa 1900.
The wine
Pickers are equipped with two baskets, one for healthy berries, the other for berries with noble rot. Acidity also plays a crucial part in the structure of the wine, but Müller insists he always seeks to pick at optimal ripeness, and avoids berries with any sign of greenness, even though botrytis can settle on grapes that are not yet fully ripe. Müller usually selects only two to three days for the harvesting of heavily botrytised berries, as the need for constant selection can be very tiring for the pickers. He accompanies them to ensure they know what to look for when seeking out potential TBA grapes.
Once at the winery, the grapes are pressed without any period of skin contact. After pressing, the juice is settled and then tipped into casks, small steel tanks or demi-johns – the vessel often dependent on the quantity produced – for fermentation and ageing. It is not unusual for the TBA to ferment very slowly, so decisions about lees-ageing and bottling dates have to be made on a pragmatic basis. Müller recalls that the 1976 fermented so slowly that it couldn't be bottled till 1981.
The reaction
Michael Broadbent, retired Decanter columnist and former Christie's wine director, tasted the wine in 2000.
He said, 'Deep tawny, orange highlights, apple-green rim and rich "legs"; an indescribably lovely bouquet, slightly raisiny, lime honey and acidity (Hugh Johnson just said "Turkish Delight"); tremendously rich, concentrated, dry finish, good length.' He awarded the wine six stars rather than his usual maximum five.
Translated by Leo / 孔祥鑫
All rights reserved by Future plc. No part of this publication may be reproduced, distributed or transmitted in any form or by any means without the prior written permission of Decanter.
Only Official Media Partners (see About us) of DecanterChina.com may republish part of the content from the site without prior permission under strict Terms & Conditions. Contact china@decanter.com to learn about how to become an Official Media Partner of DecanterChina.com.