Wine is an enduring activity. The Chave family first made wine in the Rhône in 1481, while the Ricasoli family acquired its Brolio estate, today the biggest in Chianti Classico, in 1141. Schloss Vollrads sold wine to the St Viktor Monastery in Mainz in 1211; Schloss Johannisberg's vineyards were documented in 817.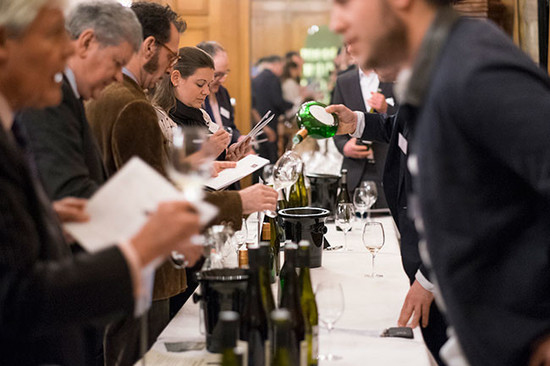 What, then, of transitions in a perennial agricultural activity of this sort? There are two options. If business is going well, transitions should be seamless, traditions respectfully refined. If business is going badly, by contrast, all change.
German wine's corroded image, as the twentieth century drew to a close, demanded the latter approach. The hapless industrialisation of German wine proved a dead end. A vast sugar-drainage operation has been the main practical effect of the change, with just under 67 per cent of all German wine from the 2014 vintage being classified as trocken (dry) or halbtrocken (half-dry).
Initiatives stressing change, meanwhile, have proliferated. Generation Riesling is an organisation for German wine producers who are under 35 (there are now, ten years from its inception, over 500 members), and the Riesling Fellowship is Germany's way of celebrating apostles of 'the new Germany' among producers and opinion-formers. Both were feted at a January 28th tasting and dinner at London's Vintners' Hall.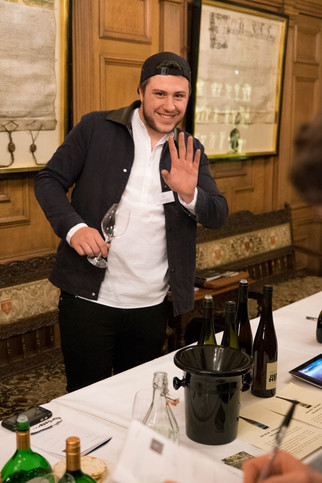 Symbols of change glared that evening. There were no green wool suits or felt hats; indeed one of the Generation Riesling producers, Andi Weigand of Iphofen in Franconia, rocked up in a collarless shirt and reversed baseball cap – cruel to those of us who had struggled, as instructed on the invitation, into our unfamiliar suits. Couldn't the Fellowship have stipulated collarless shirts and reversed baseball caps for all?
Wine ranges of 30 different bottlings seem to be history: most have been pared back to half-a-dozen or so wines. Dry, of course, was the order of the night – and it wasn't just Riesling on offer. Spätburgunder (Pinot Noir) was in, as is Weissburgunder (Pinot Blanc), with a seasoning of Grauburgunder (Pinot Gris), Silvaner, Lemberger and even Gutedel (Chasselas). The change in wine labeling is stark, too. Adieu those decorous, hand-coloured nineteenth-century label illustrations; auf wiedersehen to ornate heraldic lions, eagles and shields. In their place, lots of big, blocky typography and plain colours. (A bit dull, frankly.)
The hypersyllabic vineyard verbiage we all grew up with is fighting for survival against what we could broadly call concept cuvees, which can be as difficult to work out (one of Tobias Rickes' Nahe wines, a Bacchus-Kerner blend, was called 'Kick off'); geological terms are used, too, with almost French abandon.
Even the anointed Fellows cultivate youthful insolence. Last year, Stuart Pigott stupefied the throng by castigating British World War Two bombing policies, and the Churchillian 'myth', in his acceptance speech; this year the New York Riesling evangelist Paul Grieco managed not one but two gratuitous uses of the 'f-word' in his own acceptance speech. You could hear dozens of ghostly Masters of the Worshipful Company of Vintners gasping in their graves.
There was a tasting, too, of the wines of ten Generation Riesling producers from five different German regions (Baden, Franken, Nahe, Pfalz and Württemberg), with a sprinkling of further Generation Riesling wines with dinner. These were of mixed quality, which is unsurprising; few of us have hit the summits of professional achievement by 35. (Tasting notes for some of the best are given below.) By the end, though, a heretical question of my own was beginning to nag.
They come, it's true, as a relief at first, those very pure, pristine dry whites: they're the colour of thin air, they're all politely pitched at around 12.5%, and they tend to smell and taste of cleanliness itself, which is somewhere between a neutral sappiness of deciduous woodland in very early spring and the smell of fresh laundry. After a while, though, I found myself struggling to distinguish them in tasting notes. Then, a little later, I realised I couldn't really tell which German wine region I was in any more. If everything is sappy and spotless and dry and around 12.5%, from north to south, haven't we lost as much as we've gained? Might 'the Big Dry' not make German wine more samey?
I puzzled this over on the way home. Maybe the producers are still finding their way forward with dry wines, and most sensibly begin from a point of caution: clean and fresh is best. After trust has been established, the push towards greater stylistic expression can begin.
Or maybe we drinkers simply have to re-learn our German wines, and stop looking for differently shaped and contoured arabesques of fruit in them, and start to hunt for secondary complexities and nuances, hidden inside a tautness of contour and a new sheerness of flavour.
Riesling, happily, seems to suffer less from pristine homogeneity than Weissburgunder, Grauburgunder, Silvaner and Gutedel; with Riesling you can still more or less pitch for a particular region.
And there was no questioning the sincerity of these young producers in their search for terroir expression. 'I am Generation Riesling,' said Alexander Pflüger (Pfalz), 'but my father was Generation Everything. They tried to do everything well. We've simplified varieties; we skip the system of Prädikats and go straight to origin. The quality has to be there, but it is the individualism and authenticity of the wines which we are looking for.' 'Nobody can take our soil or our climate to New Zealand and all the other places,' pointed out Jan Eymael of Pfeffingen (Pfalz). 'What we do best is based on our soil and microclimate – and Riesling.' Let's give the new guard a little time.
(Go to the next page to see the tasting notes)
Translated by Nina Fan Feng / 冯帆
All rights reserved by Future plc. No part of this publication may be reproduced, distributed or transmitted in any form or by any means without the prior written permission of Decanter.
Only Official Media Partners (see About us) of DecanterChina.com may republish part of the content from the site without prior permission under strict Terms & Conditions. Contact china@decanter.com to learn about how to become an Official Media Partner of DecanterChina.com.