Chinese customs officials have blocked 165 batches of foreign wines from entering the country in the past year, because they did not meet regulations, shows analysis by DecanterChina.com.
All of the wines were rejected between December 2013 and November 2014, according to reports from China's quality inspection authority. French wines constituted 37.6% of those stopped at the border, with Spanish wines accounting for 24.2% and Australia 10.3%.
A total of 19 countries saw wines rejected [see chart 1] for being 'substandard', officials said. Wines were either destroyed or returned to their country of origin.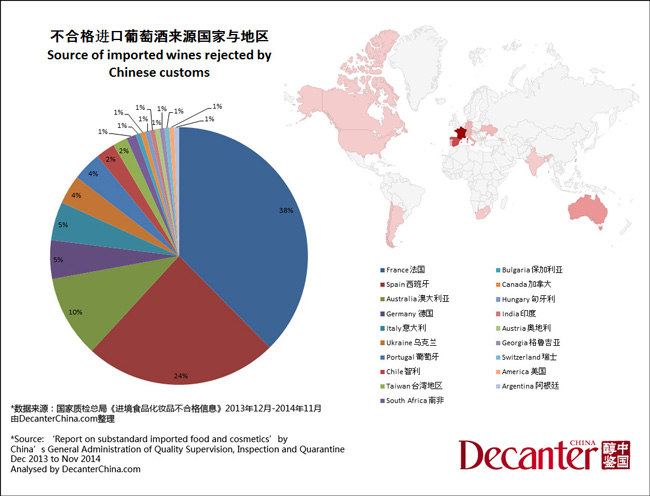 The prominence of France, Spain and Australia reflects these countries' wine market position in Mainland China. French Australian and Spanish wines made up (in volume) 47.7%, 12.4% and 9.9% of the wines imported through the key port of Shanghai in the first 11 months of 2014, according to customs data.
Failure to meet quality standards was among the top reasons for imported wines being rejected, said China's General Administration of Quality Supervision, Inspection and Quarantine.
Of those blocked, 23% failed to meet the 'national standards for sugar-free dry extract' and 12.7% contained 'excessive copper'. A further 10.9% of wines were rejected due to 'poor labelling' and the same proportion didn't have the right paperwork [see chart 2].
DecanterChina.com understands from an unnamed source that China defines sugar-free, dry extract as a measurement of everything in wine except sugars, water, ethanol and other volatile content. Officials consider it one of the key indicators for wine quality.
The current national standard, introduced in 2008, states that any white, rose or red wine should have a minimum sugar-free, dry extract of 16.0 g/L, 17.0 g/L and 18.0 g/L respectively. Copper content should be below 1.0mg/L.
The national standard on copper 'is completely in line with international standard,' said Ma Peixuan, secretary-general of the new committee and vice-chair of the National Wine Quality Supervision and Inspection Centre. 'Without contamination, usually the content of copper in wine won't exceed the national standard.'
As for the national standards on sugar-free, dry extract, 'the standard is practical,' Ma told DecanterChina.com, 'If the producers have conducted certain level of sorting, and followed the standard winemaking procedure, it shouldn't be difficult for them to fulfil this specification.'
The Chinese national standard on wine (GB15037) is the reference for the Chinese customs when examine the quality of wine. But, as previously reported by DecanterChina.com, authorities are working to update the rules so as to better comply with the international norms. A panel of experts has been commissioned to work on the reforms.
The research is conducted based on monthly reports on 'Substandard Imported Food and Cosmetics' issued by China's General Administration of Quality Supervision, Inspection and Quarantine.
Only entries under HS code of heading 2204 (wine of fresh grapes, including fortified wines, grape must other than that of heading 20.09) were included in this research.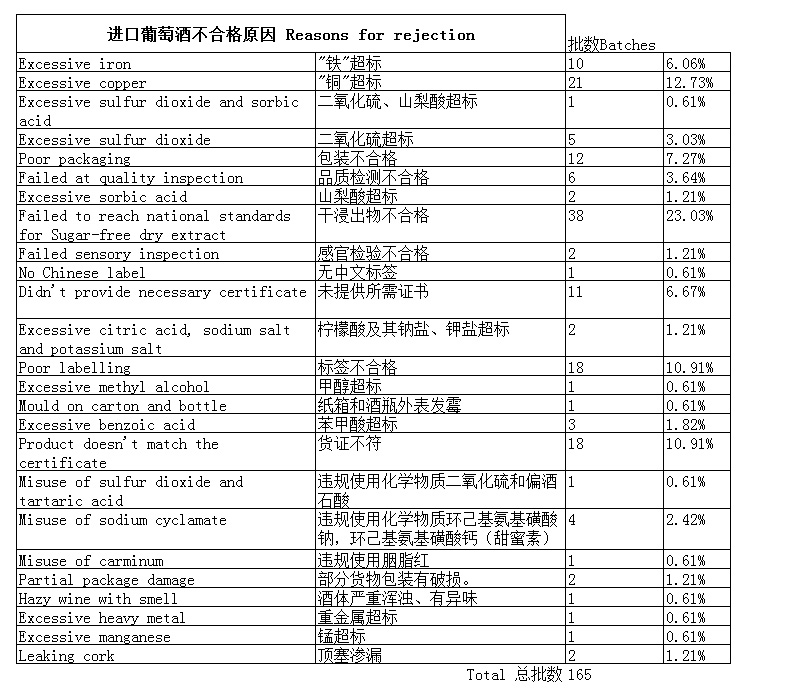 All rights reserved by TI Media Ltd. No part of this publication may be reproduced, distributed or transmitted in any form or by any means without the prior written permission of Decanter.
Only Official Media Partners (see About us) of DecanterChina.com may republish part of the content from the site without prior permission under strict Terms & Conditions. Contact china@decanter.com to learn about how to become an Official Media Partner of DecanterChina.com.