Don St Pierre Jnr is co-founder and now chairman of the board of ASC Fine Wines, one of China's biggest wine importers and distributors with 26 offices and 1200 staff across the country. Since 2009, ASC has been 70% owned by wine and spirits company Suntory.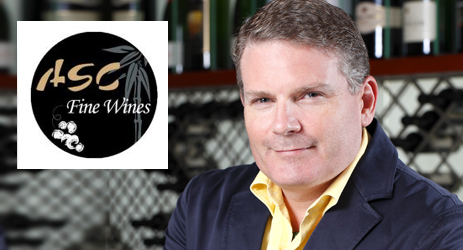 Q: What are the key trends in imported bottled wine in China? A: There's been a dramatic negative effect from the combination of economic slow down and political instability on premium wine sales throughout Greater China. The latest import figures show imported wines (Jan-Aug 2012) with a 13% increase in value, and a 17% increase in volume, with the price per litre declining by 3%. So although the market is still growing, it has slowed down significantly.
A lot of spending in China still happens in business-related environments, and there is less government-related money, especially at the high ends. Following a warning from the Chinese Premier, officials are much more careful about what they are drinking, and when. It is impacting significantly on classified Bordeaux.
At the same time, there's a continued increase in consumers moving away from baijiu and domestic spirits and also from premium domestic wines. There are certainly Chinese producers are making better home-grown wines, but as a whole, producers have put their price points up without a corresponding rise in quality, and this has opened up a huge opportunity for imported wine, as their price differentiation becomes less of a barrier.
The demand for imported wines has meant that many importers and distributors have got involved with little knowledge of the market, leading to confusing sales channels and wines with good packaging, reasonable quality, but that are relatively overpriced.
It's worth noting that big international brands don't always dominate in China because there are many brands of imported wines that have been created specifically for the Chinese market. Partly for taste and labeling, but partly because distributors don't want the price transparency.
Q: The price of classified Bordeaux wines have dropped by up to 30% in the past year within the Chinese market. What do you ascribe this to, and where do you see the price going?A: Prices for classified Bordeaux in China should see a reprieve as the transition to the new government continues between now and March 2013.
In October 2012, China's fourth generation of leaders will begin to hand over to the fifth generation, with a new President and Premier, and the retirement of several key figures in the Politburo and the Military. The new generation of politicians will inevitably entertain to cement new relationships – and the younger generation are known to be more interested in wine.'
'The government is still very much behind the wine category, but it does not want to be seen to be involved in any over-inflated spending.
The challenge for top end Bordeaux is that their recent price points have meant they've lost a lot of other markets. Bordeaux needs to take a hard look at the system that it has. I have seen lots of négociants come over to China and attempt to sell to direct channels themselves. This means that established importers become wary of doing work to promote a brand, and then find themselves undercut. In China most successful brands have moved away from working with multiple franchises to working with just one or two, and taking control of distribution.
It is critical in China to understand your distribution. You can't expect to get control of forgeries unless you know your price point, your Chinese name, your sales channels and your sales people.
Bordeaux has a great system, but the reality is that it needs to adapt, and chateaux need to get more involved with what is going on. They do have the Google option - not playing ball with the Chinese system and effectively withdrawing from it. But if they want to be in China, they have to adapt.
Q: What other key issues are going to come up over the next few years? A: The government is increasingly aware of the need to ensure the channels of distribution are correctly managed, as a response to forgeries and smuggling.
Counterfeit issues have affected wines at all price points, partly because of the new entrants to the wine market who may miss instances of problem wine, and there is a growing sense of unease with Chinese consumers about whether wine is authentic. We estimate that around 15-20% of wine in circulation in China is fake, with that figure rising to 30% if mis-labelling is included, where an inferior wine is passed off for a higher-quality one.
For the higher priced Bordeaux particularly, a separate problem is smuggling, where wines are passed through the zero tax zones of Hong Kong and Macau into China, to avoid the mainland's punitive tax and duty rate of 41%. Ironically, recent attempts to crack down on smuggling may have the long-term effect of driving down wine prices.
If the two main smuggling routes of Hong Kong to Shenzen and Macau to Zhuhai, are closed off, classified wine prices will need to realign. It seems clear that if consumers are going to pay the full tax on their wines, the initial cost of that wine will have to be brought down, as they will not be willing to bear a huge rise.
There are also China-EU ongoing issues, with the EU considering punitive trade actions against counterfeit solar panels, and China in retaliation considering anti-dumping tariffs against European wines, ensuring they are not being sold below list price. This may be a good thing for reputable companies.
So far, there is no move to lower taxes on wines. We hope to see the government change to volume not value tax, following model of Singapore or the US. That could eliminate challenges with smuggling high-value wines, and with border issues such as passing off high-priced wines in low-priced bottles. But I don't see them altering tax rates specifically for the Hong Kong-China route, to combat smuggling. There would be too much resistance from Shanghai, currently the biggest point of entry by far. It will be everywhere or nowhere.
Q: Are Chinese consumers beginning to respond to white wine? What other consumer trends are you witnessing, in both off-trade and on-trade? A: Whites wines are slowly gaining ground, but the bigger trend is towards fruity, less tannic, red wines, with Brown Brothers from Australia being a good example of a successful fruity wine. Fruity wines are being embraced by both male and female drinkers, white wines still only really by female drinkers. Sweet wine remains very niche, for the passionate consumer. Generally, the Chinese market still lacks the occasion in a meal where you would drink this style. Do finally see a growth in Champagne, but sweet wine still a big challenge.
For ASC, white wines account for 20% of sales by volume, 12% by value. Three years ago, it was 10% by volume, 5% by value, so there is a clear rise.
The trend towards both fruity and white indicates consumers are trusting their own taste and buying what they like. Previously, they would taste fruity wines, like them, but still buy the accepted brands – more often than not this meant tannic and French.
Wine is still largely consumed outside of the home however. I would estimate imported wines probably less than 10% at-home consumption, even Chinese super premium only 20%. But lots of opportunities for it to develop.
Q: What is the situation with supermarkets and other wine retailers now – is the market still dominated by overseas companies? A: Chinese domestic channels for imported wine and food becoming more important with companies such as China Resources Vanguard, Balian (Lianhua Supermarkets) and RTMart (Taiwanese, not Chinese). Generally, imported goods are growing because Chinese consumers have become sceptical of domestic products.
In order for big foreign retailers to continue to be successful, they need to innovate, as the domestic retailers are moving into their ground. If not, they'll lose their reason for being here. Companies such as Walmart and Tesco are expanding still, but facing increasing competition.
Metro has tried to deal with this shift by directly importing their own products, so their selection has changed dramatically. A potentially difficult move for them, as there are some brands which consumers expect to find in stores - Jacob's Creek, DBR Lafite – and Metro is no longer stocking them.
Then besides the traditional retail specialists with franchises across the country, such as Aussino, there are new state-owned sellers such as COFCO, which is making inroads, particularly with its own-brand labels.
Q: What price points work in China today? How does that differ from one year ago? A: Premium branded wines have seen a rise in average price point, from 150CNY average in 2010 (€18) to 180CNY today (€22). But at the same time top end Bordeaux has lost perhaps 30%.
Q: What are your plans for an ASC involvement with domestic wine production? A: We'll be helping to distribute Lafite Rothschild's Penglai wine, but don't have a financial investment in the project. In 2013, one of my key projects will be to look at the opportunities for ASC within the domestic wine market, specifically looking for a premium Chinese domestic wine producer to partner with. One of the main challenges facing premium and super premium domestic wine producers in China is distribution through effective channels. It costs a lot for Above the Line advertising, and most channels are geared towards big brands.
We have that distribution, but need to find the right project – a quality producer who we can invest in and partner with to improve and expand the business. We are looking at various sites, with a particular interest in the fine wine regions of Xinjiang and Ningxia. Looking for good quality, best in class, ideally cabernet sauvignon and merlot.
Q: Which regions and countries are strongest right now? A: Chile and Argentina as categories are both expanding. Burgundy and Rhone also growing - but it's a confusing category with a lot of opportunistic importers purchasing unknown brands and selling them for inflated prices. Italian wines are still associated with Italian food so are not present in Chinese restaurants, which harms the country's efforts to expand its presence in China, although Gaia and Ornellaia are making inroads.
Q: How are education needs in China changing? A: Domestic expertise is still in very short supply. China's still a very expensive place to communicate. Social media is proving useful, but a lot of non-professionals are involved – although of course this is changing.
The problems for producers is that it is difficult to put enough money in to education to cover all channels, and perhaps the money they allocate goes to the wrong places because of unscrupulous importers.
Education needs are still geographic primarily - regions, grape varieties, labels, pronunciation and so on. Food and wine matching is overplayed. And consumers are looking primarily to the Internet for wine knowledge. It is difficult to generalise in China of course, but 2nd and 3rd tier cities especially still at basic levels of educational needs.
Q: What are ASC's plans for the next few years?A: Last three years were focused on building distribution. We saw a very significant trend where non-traditional importers began importing wine, and where non traditional channels such as Chinese restaurants began serving imported wines – and that this was happening way beyond traditional 1st tier cities.
Over the next three years, we see direct sales growing in importance.
We created a business to consumer division in 2012, headed by Stéphane Moreau. Currently this sector is 20% of our turnover, but we expect it to grow to 30-40%, through:
1) Wine Residencies with facilities for entertainment and education in Beijing Shanghai and Hong Kong, with plans for Guangzhou and Chengdu in next year.
2) Our internet site, with online sales and ecommerce, aimed mainly at consumers with average 200CNY price-point for wines.
3) Shop and Shop - wine stores within department stores.
All rights reserved by Future plc. No part of this publication may be reproduced, distributed or transmitted in any form or by any means without the prior written permission of Decanter.
Only Official Media Partners (see About us) of DecanterChina.com may republish part of the content from the site without prior permission under strict Terms & Conditions. Contact china@decanter.com to learn about how to become an Official Media Partner of DecanterChina.com.