Ningxia wine bureau has announced the latest listing of 'classified' wineries in its Helan Mountain East region, which saw three estates promoted to Third Growth and 15 new wineries gaining a classified status.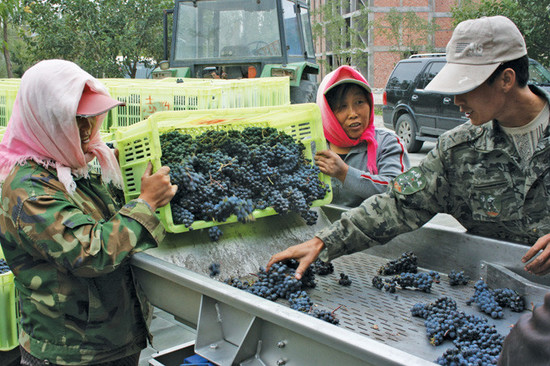 In the Ningxia Wine Bureau Helan Mountain East winery classification, Helan Qingxue, Buccus and Zhihui Yuanshi have been promoted from Fourth Growth to Third. Nine wineries have been upgraded from fifth to fourth Growth, and 15 estateshave been added to the entry-level Fifth Growth category for the first time.In total, there are 36 classified wineries in Ningxia. (see this year's list below)
Related articles:
Li Demei: The Ningxia Classification
As the only Chinese wine region to establish an official classification system, the Ningxia autonomous region first introduced its ranking system for wines produced in Helan Mountain East region in 2013, with 10 wineries earning the 5th Growth title in the first year. In 2016, the local government expanded the classification 5 levels, with the First Growth being the highest tier. The classification is re-evaluated every two years.
In order to rank, the winery must comply with a list of requirements.
To name a few:
The winery's viticulture and cellar should be managed by a single, integrated team; Wine fermentation, ageing, tanking and bottling process should be completed within the wine estate; There should be tourism facilities ;
All the grapes used for making wine should come from the winery's own vineyard, and from vines at least five years old
The producers are encouraged to showcase a distinctive feature on their main buildings
Every two years, a committee formed of 'winemaking experts, critics, trade body representatives and consumers' will be summoned to evaluate and give scores to every winery that has applied to be classified. A winery can be classified or promoted within the system, and estates can print their status on bottle labels, according to Ningxia Wine Bureau.
Once a winery becomes a 'First Growth', the top level of the classification, it will be re-examined every 10 years, said the official regulation.
Ningxia also disclosed the additional classifying rules for the newly-promoted Third Growths. Wineries must:
Have been a Fourth Growth since at least 2015;
Have received zero complaints regarding the quality of the wine from both consumers and other wineries within two years, with the title not being revoked in the mean time. Allow industry officials to set up traceability devices in the wineryAccept the surveillance of the whole industrial chain, which includes viticulture, processing, storage and wine distribution.
In addition to a classification system, Ningxia officials have continued to seek expert winemaking knowledge from around the world. In 2015, the wine region invited 48 foreign winemakers from 23 wine producing countries to take part in a winemaking competition. The winner being awarded 100,000 RMB (11,700 GBP) last week.
The results of the Second International Ningxia Winemakers Challenge had been revealed after a course of two years, South African winemaker Justin Corrans who paired with Lanxuan Winery received the highest scores, with another four winemakers also won the golden medals; Australian Tony Kalleske /Chateau Legacy Peak, English winemaker Sarah William/Hezun Winery, American Nova Cadamatre/Chateau Lansai, English Matthew Van/Luoshan Wines.
2017 classified winery list
The Third Growths
Helan Qingxue (贺兰晴雪酒庄)
Chateau Bacchus (巴格斯酒庄)
Zhihui Yuanshi (志辉源石酒庄)
The Fourth Growths
Chateau Hedong (贺东庄园)
Chateau Lanny (兰一酒庄)
Lisi winery (利思酒庄)
Chateau Changyu Moser XV (张裕摩塞尔十五世酒庄)
Chateau Yunmo Greatwall (中粮长城云漠酒庄)
Chateau Lilan(立兰酒庄)
Chateau Senmiao Moon Valley(森淼兰月谷酒庄)
Chateau Legacy Peak(留世酒庄)
Kanaan Winery(迦南美地酒庄)
The Fifth Growths
Chateau Miqing (米擒酒庄)
Domaine Pushang (蒲尚酒庄)
Chateau Minglu (名麓酒庄)
Jinyuan Winery(金元酒庄)
Ho-Lan Soul (德龙酒庄)
Xinniu Winery (新牛酒庄)  
Pernod Ricard (保乐力加酒庄) 
Chateau Jin Sha Wan (金沙湾酒庄)
Chateau Hong Fen Jia Rong (红粉佳荣酒庄)
Hollyfun Winery (贺兰芳华酒庄)
Chateau Lansai (蓝赛酒庄)
Chateau Saint Louis Ding (圣路易·丁酒庄)
Highsun Estate (海香苑酒庄)
Chateau Mihope (美御酒庄)
Chateau Huida (汇达酒庄)
Editing by Sylvia Wu and Chris Mercer
All rights reserved by Future plc. No part of this publication may be reproduced, distributed or transmitted in any form or by any means without the prior written permission of Decanter.
Only Official Media Partners (see About us) of DecanterChina.com may republish part of the content from the site without prior permission under strict Terms & Conditions. Contact china@decanter.com to learn about how to become an Official Media Partner of DecanterChina.com.