In the world of wine, Hungary is best known for its delicious sweet wine Tokaji. Vines were planted in Hungary from the Roman times, and Tokaji first appeared in the 15th century—although it was probably dry at that time.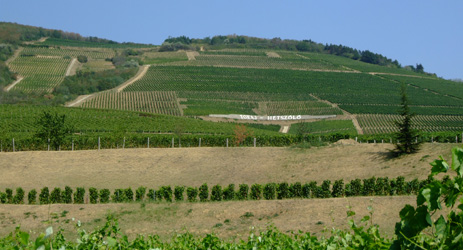 The climate in Hungary is essentially continental, with cold winters and hot summers. The long, warm autumn is ideal for noble rot to develop.
Aszú, or the noble rotted grape, is responsible for the distinctive sweetness of Tokaji. The widely planted Furmint grape is the principle variety for this wine, and is around two-thirds of the blend. This full-bodied, acidic grape can make powerful whites by itself, and it's also susceptible to noble rot. The late ripening Hárslevelű is Furmint's blending partner, adding more aroma and spice to the wine.
Tokaji Aszú is made by using both healthy and botrytised berries. The healthy grapes are made into dry wines first, then blended with a sweet paste made from noble-rotted grapes. The paste is measured by puttonyos, thus puttonyos is also the indicator of how sweet the wine is.
3 puttonyos is sweet, and 6 puttonyos is sweeter and richer. Aszú Eszencia, which is made only in the best years using grapes from the best vineyards, is even sweeter and more concentrated. Tokaji Eszencia is the sweetest and rarest, with intense flavor and concentration, and is able to age for decades.
Tokaji Szamorodni, however, is made by mixing different grape varieties without separating the botrytised berries from the healthy berries. Tokaji made in this style can either be dry or sweet.
Except for Tokaji, fine white and red wines of good value are also produced in Hungary. These wines are mainly made from international varieties such as Sauvignon Blanc, Chardonnay and Pinot Gris.