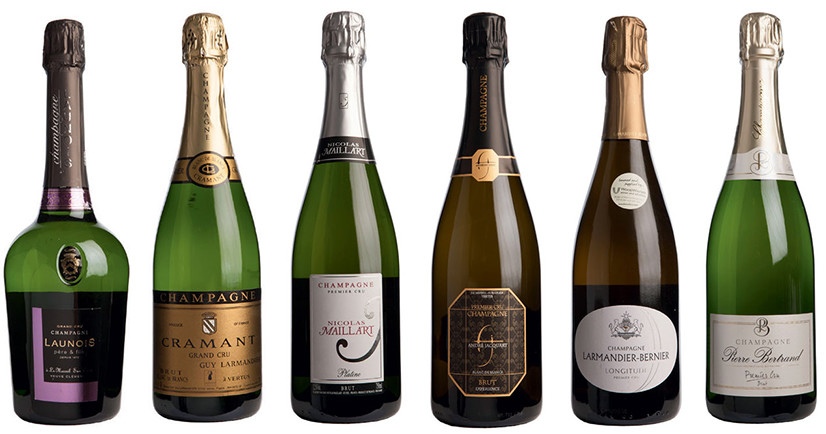 Historically, most Champagnes have been made by négociant houses, who buy most of their grapes from growers. But there are also many grower estates making their own Champagnes – some have done so since the late 19th century, and recent years have seen a rapid increase in their numbers. They remain in the minority in terms of market share, but have had a significant impact on the way wine consumers approach Champagne.
While it's currently fashionable to embrace grower Champagne, it's a fallacy to say that grower Champagne is somehow intrinsically 'better'; indeed, the big houses arguably retain the upper hand in consistency of quality.
Yet it's the diversity of styles found among the grower producers that makes grower Champagne so fascinating – they offer a much wider array of expressions than were available in the region even just a couple of decades ago.
In their contemporary sense of aesthetics, these wines can often challenge orthodox ideas of what Champagne is, with their concentrated fruit flavours and intense, almost forceful personalities. This is part of the evolution of the appellation: an ongoing re-evaluation of the identity of Champagne in the modern day.
Vineyard character
The best growers produce some of the finest wines in the appellation, and they have been at the forefront of a region-wide movement towards vineyard rehabilitation.
Over the past 20 years, the dialogue surrounding Champagne has expanded beyond the traditional hegemonic themes of the art of blending and long ageing on the lees, and producer and consumer alike have begun to address contemporary and qualitative issues such as sustainability, ecologically responsible viticulture and expression of place, emphasising the concept that Champagne, like any other fine wine, derives its character primarily from its vineyards.
It's important to note that these issues are not the sole province of grower estates, as there are also négociant houses in Champagne that are leaders in this regard. Also, it's still a minority of growers who are meaningfully engaged in these issues. Grower Champagne is not automatically synonymous with terroir-driven Champagne, and while progress is slowly being made across the region, the majority of grower estates continue to farm as industrially as ever, as do many houses. The leading growers, though – those who choose to be forward-thinking and meticulous in the way they work in their vineyards and cellars – are principal voices in the contemporary dialogue, and are instrumental in moving the appellation forward.
Peter Liem is a wine writer who lives in the Champagne region and publisheswww.champagneguide.net
Grower Champagne: know your vintages
2013
An unusually late growing season: site-expressive and finely balanced wines
2012
Concentrated, structured Champagnes for long ageing; high ripeness and acidity
2011
Controversial for a pervasive vegetal character, perhaps due to uneven ripening, although some tasters are impervious to it
2010
Variable, although those who worked diligently in the vines produced some lively, expressive wines
2009
Warm. Ripe, mouthfilling wines of excellent balance; the best should age well
2008
Superbly vibrant wines with outstanding potential, in a concentrated style reminiscent of 1996
2007
Chardonnay probably fared the best in this variable vintage
2006
Bold, often approachable now
Grower Champagne: the facts
• There are 15,800 growers in Champagne, most of whom sell their grapes to other houses
• Growers own 90% of the appellation's vineyards
• About 4,000 growers produce their own Champagnes
• Grower Champagne accounts for 19.5% of Champagne's production by volume – however...
• Grower Champagne accounts for just 1.4% of Champagne sales in the UK, and 4.9% in the US
The results
Diversity of style and sheer strength of character made for a challenging tasting, yet the grower Champagnes offer real value and interest, says Christelle Guibert
The scores
100 wines tasted
Exceptional 1
Outstanding 3
Highly Recommended 27
Recommended 60
Commended 7
Fair 2
Poor 0
Faulty 0
The Judges
Michael Edwards, Simon Field MW and Tim Hall
This week try 13 top wines gaining over 92 points from the panel tasting.