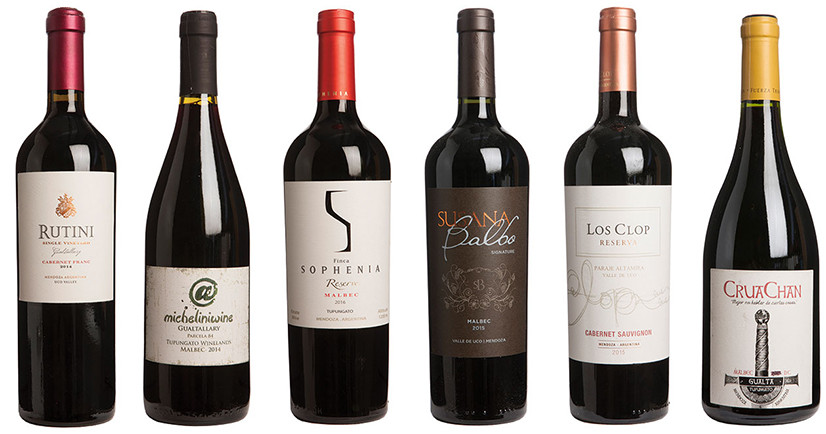 Malbec and Argentina are inextricably linked. The country's producers know that and have profited from it. But as Italian consultant Alberto Antonini – a key player in the evolution of Argentinian wine – observes: 'The next step is to sell less Malbec and more Argentinian terroir.'
In this context, regionality begins to play a key role in how we understand Argentinian wines today. There are many regions making excellent wines (Malbec or not), but two garner the most attention for the quality and character they deliver. Both are in the heights of the Uco Valley, at the foot of the Andes: Gualtallary and Paraje Altamira, south of the city of Mendoza.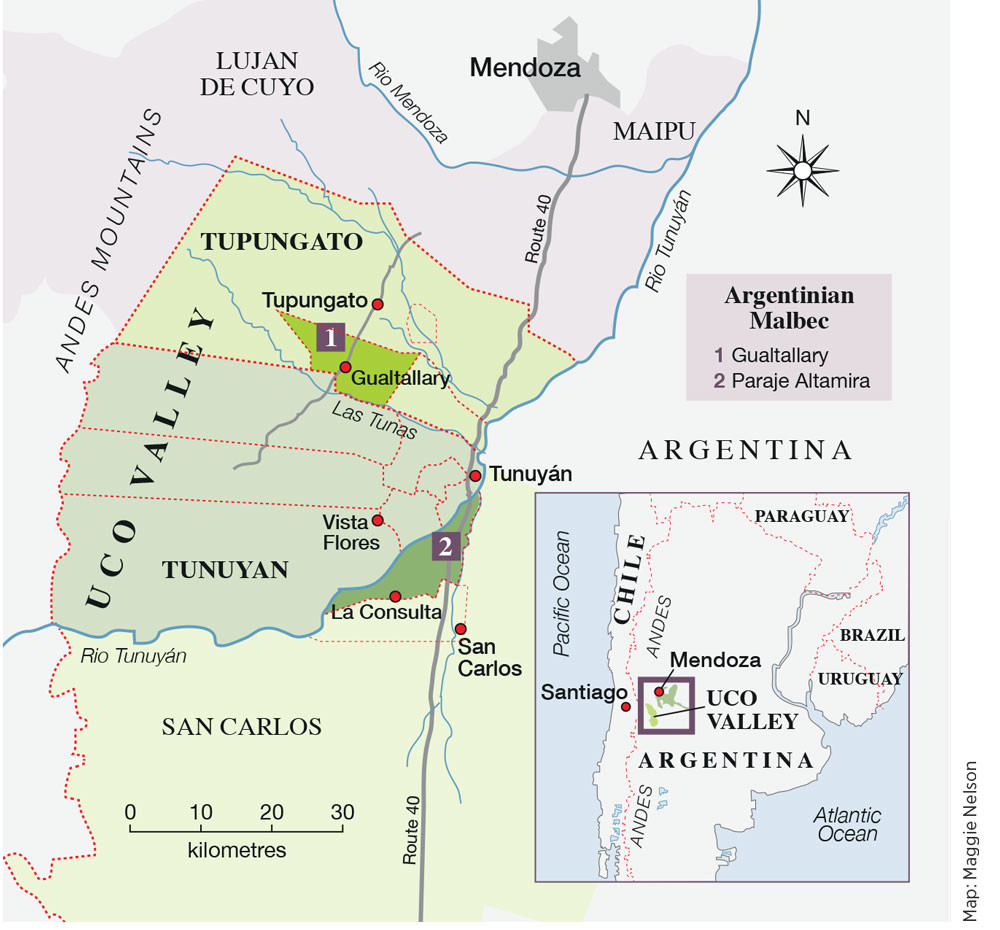 Paraje Altamira has a long tradition in wine, and some of its vineyards are more than a century old, while Gualtallary is a new area that was only planted in 1994 thanks to the Chandon winery and its sparkling wines.
In geographical terms, Gualtallary is located north of the Uco Valley, in the department of Tupungato, at an altitude of 1,200m to 1,550m, while Paraje Altamira is in the centre of the valley, in the department of Tunuyán, at a height ranging from 1,080m to 1,100m. The geographical boundaries of Altamira were legally established in 2013 (revisited in 2017) and today it has its own IG (geographical indication), while Gualtallary is still in the process of legalising its borders.
Ancient river beds
Both share similar topographies: Altamira has alluvial soils that millions of years ago formed the bed of the Tunuyán river, and Gualtallary is on an alluvial cone – the old Las Tunas bed. The soils are rich in sand, gravel and mainly chalk, which imparts mineral notes as well as tense, tight textures in the wines, a detail that separates them from the soft, round tannins of other lower areas.
The character of Gualtallary wines versus Altamira's is still to be clearly identified, mainly – as Eduardo del Popolo, winemaker at Susana Balbo Winery, says – because both areas are very disparate. But to generalise, del Popolo says the Gualtallary wines are more herbal and light, while Altamira's are more austere and robust.
The dominant grape is Malbec. But Matías Michelini, owner of Passionate Wine, says Cabernet Franc has also produced very good results in Gualtallary, as well as Sauvignon Blanc. For Sebastián Zuccardi, of Bodega Zuccardi, Bonarda has many possibilities in Altamira.
These areas of Uco already produce some of the best wines in Argentina but are still a work in progress; there is still a long way for us to appreciate their true identity.
Patricio Tapia is the DWWA Regional Chair for South America (excludng Chile) and author of the Desorchados annual guide to Argentinian, Chilean and Uruguayan wines published in English and Spanish
Uco Valley reds: know your vintages
2016
A cold year, giving fresh, light wines; great for those seeking finesse. One of the best vintages of the decade.
2015
Those who picked before the April rains got fresh wines with rich, aromatic, vivid character. Later heatwaves gave riper, voluptuous reds.
2014
A year of finesse and freshness. Low yields, but rich acidity and fruit flavours. The best will age for several years.
2013
Not much concentration, but rich in acidity and fruit notes.
2012
Frost cut yields by up to 40%. A year of moderate heat and very ripe fruit. Drink now.
2011
Concentration and strength, with intense, tannic wines.
2010
Refined and delicate reds. Time to broach but will continue to age well in bottle.
2009
Fat, velvety, ripe reds to drink now.
Uco Valley reds: the facts
Area
Gualtallary 5,245ha, Paraje Altamira 9,290ha
Area under vine
Gualtallary 2,249ha, Paraje Altamira 2,786ha
Main grapes planted in Gualtallary
Malbec 1,119ha, Chardonnay 335ha, Cabernet Sauvignon 270ha, Pinot Noir 177ha, Merlot 86ha, Sauvignon Blanc 70ha, Cabernet Franc 55ha
Main grapes planted in Paraje Altamira
Malbec 1,712ha, Cabernet Sauvignon 434ha, Chardonnay 169ha, Pinot Noir 120ha, Syrah 112ha, Sauvignon Blanc 45ha, Cabernet Franc 43ha
The judges
Phil Crozier, Paz Levinson, Patricio Tapia
The scores
99 wines tasted
Exceptional: 0 Outstanding: 12 Highly Recommended: 37 Recommended: 31
Commended: 6
Fair, poor and faulty: 13
The results
Both Altamira and Gualtallary came up trumps in this tasting, Altamira showing its pedigree and Gualtallary an exciting sense of experimentation. Amy Wislocki reports