CH'NG Poh Tiong's column: Zuo Wang
A scholar sits in the garden and reads a book. Before long, he falls asleep. And slips into a dream. He dreams he is a butterfly, flitting here and there in the garden. It finally lands on his lap. At that precise moment, the scholar awakes. He now wonders whether he was actually dreaming he was the butterfly or perhaps it was the butterfly that was dreaming it was him.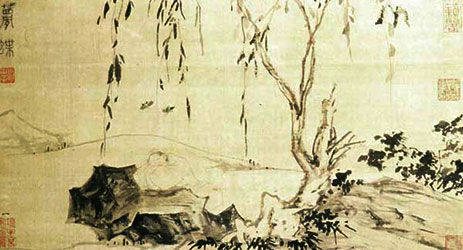 Zhuang Zhou is my favourite philosopher. 'The Butterfly Dream' is one of the most serenely beautiful stories ever written in human imagination.
Zhuangzi, as he is popularly known, has this remarkable gift to explain the most profound ideas in the most simple way.
Zhuang Zhou tells the big story of life (what we refer to as philosophy) by using little vignettes that even a child, if not necessarily able to comprehend completely, will still find endearing.
Who among us have never dozed off in the afternoon. And fallen into a dream. And be dazzled by butterflies. And wished we could fly.
That of course is not the philosophy behind the story. But, as I said, even if you don't understand the complex layers of thinking involved, just hearing the story will put a smile on your face and a flutter in your heart.
My least favourite philosopher is Confucius, who is obsessed about the inter-relationships between son and father and citizen and ruler. Politicians love Confucius because he champions discipline and obedience.
Don't get me wrong, just like most people, I dislike chaos too. Yet, at the same time, I do not for a moment believe we should respect someone just because he is older, richer or more powerful than us. Respect has to be earned, not demanded.
Would a wise person, for example, demand that another loves him regardless of how he behaves? Such "affection" has neither value nor meaning.
Every single human being – no matter how young, poor or powerless - has a right to dignity. If we don't understand that, then we have no right to be taken seriously ourselves.
For me, Confucianism is about observing rites and maintaining appearances. It's all too superficial.
A HOUSE WITH ALL THE DOORS & WINDOWS OPEN
The philosophy of Zhuang Zi, on the other hand, is like living in a house where all the doors and windows are flung wide open. Even the roof can be retracted. We are all free to imagine, dream and think of the impossible.
The Warring States Period (from about 475-221 BCE) was a golden age for Chinese philosophy. This was quite natural. The constant wars that affected people's daily life made them yearn for a society that would be governed by reason rather than violence.
It's very hard to translate into English the concept of 'Zuo Wang'.
For those who have tried, a common translation is 'Sitting Forgetting'. This is a bit too literal.
To forget assumes a purposeful action. But 'Zuo Wang' is more a state of oblivion, arrived at without strain or even effort. So, for example, we cannot try and relax because as soon as we try, we are no longer relaxed.
'Zuo Wang' is' a kind of consciousness without being conscious of it. It represents a freedom from all consideration of ego, self-importance, even self itself.
'Zuo Wang' is to empty our mind entirely so that we become completely clear. The Daoist concept is attributed to Zhuang Zhou.
Another reason for naming this column 'Zuo Wang' is because Zuo Wang really exists. It is not a person but a precious treasure.
About 800 years old, Zuo Wang is a Southern Song Dynasty (1127-1279) qin. It belongs to my qin teacher KEE Chee Koon who is completing his Ph D at the China Conservatory of Music in Beijing, the first time a doctorate degree has been offered for this ancient musical instrument in China. His mentor and teacher is Grand Master WU Wen Guang, son of the late great Wu Jing Lue.
Zhuang Zhou is China's most liberal and original thinker. Nothing is obvious for the Zhuang Zi. His mind is too dexterous for that. It takes a lot of courage to be different when all around you everyone else is going in the other direction.
But just like Zhuang Zhou, have no fear just because you are different. Even if you are the only person who thinks in one special way, even if you are just a minority of one, you are still a reality.
As long as we don't steal, hurt or harm others, we must never be afraid to say or do what is in our hearts. We should, instead, be afraid not to say or do what our hearts tell us.
In wine too, there are also those who swim in the opposite direction.
These noble people continue to struggle even if what they produce are no longer fashionable. Such stubborn people deserve our respect and gratitude because thanks to them not giving up, we are able to enjoy things that are truly special.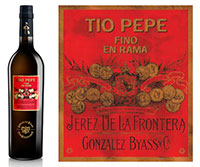 WINES WITH FORTITUDE
Fino is a fortified dry white wine from southern Spain. In the last few years, some producers have started bottling "en rama" versions. Less filtered and less clarified than normal fino, Tio Pepe Fino en Rama is aromatic and tinglingly complex on the palate, with suggestions of minerality, green and yellow citrus, even a little saltiness. Delicious on its own, it is stunning with Cantonese dim sums, Sichuan 'Salivating Chicken' and 'Water Cooked Fish', Japanese tempura and a wide assortment of finger foods around the swimming pool or beach party.
Across the Spanish border in Portugal, Colheitas are another of my favourite fortified wines. Brown/red/orange in colour, Colheitas are vintage Tawny Ports.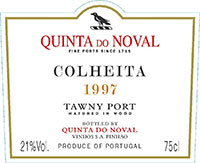 The legendary Quinta do Noval has produced a delicious 1997 Colheita. The perfume of prunes, cinnamon and liquorice gives way to a sweet/sour sweetness. You should serve Colheitas almost as cold as a white wine. On a winter night in Heilongjiang or Beijing, Quinta do Noval Colheita 1997 will keep you (and her) warm and snug. The best thing about the sweetie is that it is also very capable of pairing with a whole range of cuisines, including Xinjiang roast leg of spiced lamb, Sichuan 'Water Cooked' beef, Thai Massaman curry, Indian Masalas, and Stilton and Roquefort cheese.
Savouring Fino en Rama and Colheita Port will add to our ideas of what great wine is about. Pairing them with food will liberate our thinking as to the possibilities waiting to be discovered. Like the concept of 'Zuo Wang', we have to empty our minds in order to fill them up again.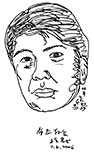 Columnist Introduction
A lawyer by training, CH'NG Poh Tiong also holds a Postgraduate Certificate with Distinction in Chinese Art from the School of Oriental & African Studies, University of London. He is an Honorary Ambassador of TEFAF – The European Fine Art Fair – Maastricht. CH'NG works principally as a wine journalist and is publisher of The Wine Review, the oldest wine publication in Southeast Asia, Hong Kong and China since 1991.
Click here to read all articles by CH'NG Poh Tiong>>
All rights reserved by Future plc. No part of this publication may be reproduced, distributed or transmitted in any form or by any means without the prior written permission of Decanter.
Only Official Media Partners (see About us) of DecanterChina.com may republish part of the content from the site without prior permission under strict Terms & Conditions. Contact china@decanter.com to learn about how to become an Official Media Partner of DecanterChina.com.