CH'NG Poh Tiong's column: Zuo Wang
The hotels in Singapore have been inundated with tourists from China who have flocked here in their thousands to celebrate the Year of the Horse. (Thank you for helping our economy).
In fact, on the second day of the New Year, I had dinner with a friend, his wife and their two daughters who visited from Shanghai (the friend is originally from Shandong).
We talked about how appropriate it would be, in 2014, for Chateau Cheval Blanc to organize a series of dinners in China to capitalize on its name.
The most famous vintage of Cheval Blanc is 1947. It's a legendary wine in the league of Chateau Margaux 1900, Champagne Salon 1928, Mouton 1945, Domaine Huet Le Haut-Lieu Moelleux 1947, Quinta do Noval Nacional 1963 and Chateau Latour 1961.
Until I tasted it myself, I have heard people who have had it saying that Cheval Blanc 1947 reminded them of Port. They are not completely right. It isn't Port but something else which Cheval Blanc 1947 is more closely reminiscent of.
It was three years ago, on Saturday 14 May 2011, that I finally got to taste Cheval Blanc 1947. The wine was in perfect condition. It had to be because it never travelled anywhere since its birth except from the winery to the cellar of the chateau itself. The tasting was held at Cheval Blanc and hosted by their Managing Director and Chief Winemaker Pierre Lurton.
The day before, the 14 journalists, we were given a sneak preview of the new cellar. The modern, even futuristic, design (by architect Christian de Portzamparc) actually blends effortlessly into the background of vines and countryside.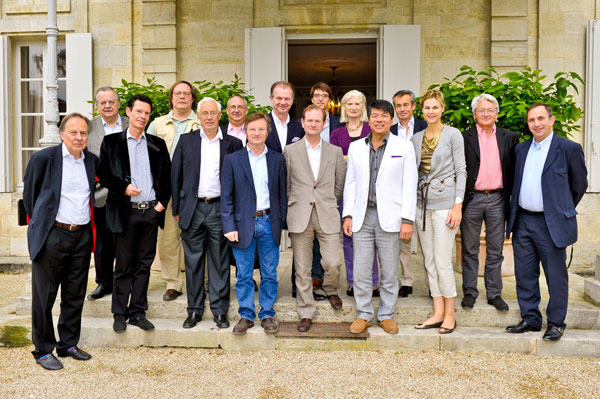 A BIT OF HISTORY
Like the new cellar, Chateau Cheval Blanc is a relatively recent creation. It is carved out of Chateau Figeac in the 19th Century.
As for Chateau Figeac, it can trace its origins back to 1,800 years to the second century. A Gallo-Roman villa was built there and named after a person by the name of Figeacus.
At its very largest in the 18th Century, Chateau Figeac was nearly 200 hectares in size. Then in the 19th Century, facing financial problems, the then owners sold off parts of the estate to several people. It was in 1832 that 15 hectares of Chateau Figeac was sold to become what we know today as Cheval Blanc. A 20 VINTAGE VERTICAL
The day of our tasting, Saturday 14 May 2011, the sky outside was overcast. This actually made the condition in the room very pleasant as the day before, Friday 13 May, it was practically a summer's day with the temperatures close to 30 degrees Celsius. The tasting started about 10.30 in the morning and ended just before 1.
Here are the top 15 wines from the tasting, including two Year of the Horse vintages (1978 and 1990) and, of course, the legendary 1947.
One of the reasons Cheval Blanc 1947 is so special is because there is 10 gm of residual sugar in the wine. This means the wine is not completely dry. However, it is not Port which you should be reminded of when tasting the wine but something else. From Spain. Find out below.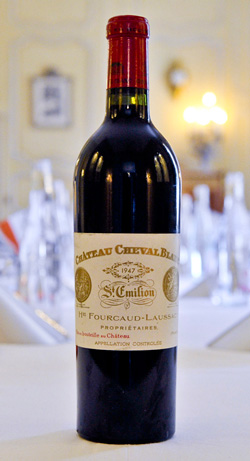 TASTING NOTES
CHATEAU CHEVAL BLANC 1919


Pale, dull tawny complexion. Bright aromas of wood spice, including whiff of sandalwood, aged tobacco and dried figs. The finish is of sandalwood and dried citrus peel. Very balanced and very fresh. A wine from another era. Medium-plus-ish in weight.
CHATEAU CHEVAL BLANC 1947


Vibrant mid-red with a pale tawny rim. Ripe, rich fruit and tannins which are completely resolved and evolved. Very figs on the nose and palate. The sweet fruit (10 gm of residual sugar) is intense, persistent and long. The texture is pure velvet – rich, warm, soft and enveloping. Sensuous and baroque or, if you prefer, Botero in its sumptuous richness. Full-bodied. This is the first time I have tasted this legendary wine. In the past, I have heard people associating Cheval Blanc 1947 with being Port-like. They are not entirely right. The fruit, flavour and texture is more like a miniature Pedro Ximenez. Deserves 6 stars for being such an absolutely unique wine.
CHATEAU CHEVAL BLANC 1949


Colour more evolved than 1948 and 1947. Mid-ish red with an orange/tawny rim. Driftwood, dried plums and dried prunes with a delicate sweetness of fruit. An elegant piece of velvet. Finishes with freshness and softly, grainy tannins. Medium-plus bodied.
CHATEAU CHEVAL BLANC 1953


Mid-ish dull red with a tawny rim. The nose, after the above five older wines, remarkably bright, even youthful. Sandalwood/cedary, delicately spiced, nuanced fruit with buoyant freshness and persistence. Balanced, long and vivacious. Great elegance. Medium-plus bodied.
CHATEAU CHEVAL BLANC 1959


A deeper shade than 1953. Ripe, warm, sweetish fig/prune fruit and a whiff of mint. Round tannins. Rich, velvety but not as complex and nuanced as 1953. Full-bodied.
CHATEAU CHEVAL BLANC 1961


Colour considerably deeper than 1953. The most closed on the nose of all the wines so far. The palate, though, is very expressive. Mint and cassis-ish. Ripe, fruity and spiced, including of Chinese medicinal herbs. A sweetness of fruit and sweetness – but also richness – of tannins. The finish is a touch dry. A masculine Cheval Blanc. Full-bodied.
CHATEAU CHEVAL BLANC 1971


Red/ruby with a pale tawny orange rim. Mint and cassis-ish on the nose. The palate is of sweet, elegant fruit with freshness that is very long. Ethereal. Medium-plus bodied.
Chateau Cheval Blanc 1978


Firm-mid red with a tawny orange rim. Capsicums, herbaceous and mint. Light, crisp fruit with lots of freshness. Balanced. Very fresh. And very enjoyable. Medium-bodied. This vintage, incidentally, is a Year of the Horse.
CHATEAU CHEVAL BLANC 1985


Mid-red with a tawny orangey rim. Whiff of sulphur. Ripe, rich, sweet cedary fruit. Not completely evolved. Freshness on the finish. Full-bodied.
CHATEAU CHEVAL BLANC 1988


Mid-red with a very pale tawny rim. A touch of barnyard. Capsicum, herbaceous, spiced fruit. Great persistence of freshness and elegant fruit from start to long finish. Not a big, but a very balanced and highly enjoyable wine. Medium-plus-ish bodied.
CHATEAU CHEVAL BLANC 1989

to


Dull firm-ish red with an orange tawny rim. Sunshine, warmth and big ripeness on the nose. Minty, oak spiced, peppery, blue fruit. Rich tannins and rich fruit. Masculine. Full-bodied.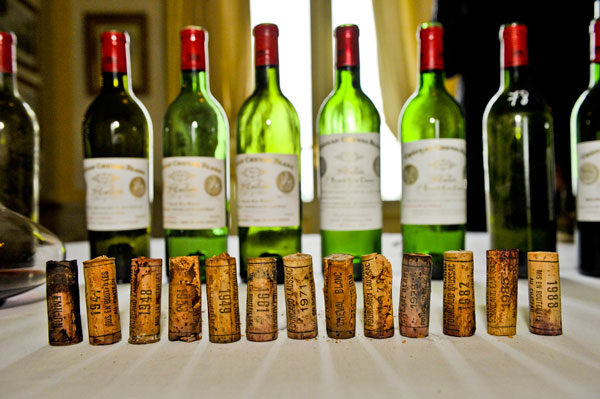 CHATEAU CHEVAL BLANC 1990


Almost the same colour as 1989, but less evolved. Whiff of sulphur. Very youthful red/blue fruit, rich tannins and dancing acidity. Still an atom, tight and taut. Full-bodied. Too young to open, wait at least another 3 to 5 years. And with a very long future ahead. Deserves all six stars. This vintage, incidentally, is a Year of the Horse.
CHATEAU CHEVAL BLANC 1995


Firm red. After so many old wines, very youthful indeed. Ripe blue/cedary fruit taunted by ripe, rich tannins. Still a bit taut. Intensity and freshness. Full-bodied.
CHATEAU CHEVAL BLANC 1998


Firm red colour. Oak spiced, cedary, blue fruits. The nature of the fruit is still quite primary. Rich tannins. Intensity. Freshness. Length. Very youthful. Full-bodied. My one question about this wine, "Is the oak a bit overdone?"
CHATEAU CHEVAL BLANC 2000


Firm, deep red. Oaked spiced, cedary, deep blue fruits. Ripe and rich, the fruit and tannins. Persistence and length. And great freshness. Full-bodied.
*Rating System


Outstanding


Excellent


Good


Average


Acceptable


Half Star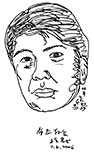 Columnist Introduction
A lawyer by training, CH'NG Poh Tiong also holds a Postgraduate Certificate with Distinction in Chinese Art from the School of Oriental & African Studies, University of London. He is an Honorary Ambassador of TEFAF – The European Fine Art Fair – Maastricht. CH'NG works principally as a wine journalist and is publisher of The Wine Review, the oldest wine publication in Southeast Asia, Hong Kong and China since 1991.
Click here to read all articles by CH'NG Poh Tiong>>
- Follow us on Weibo @Decanter??

and Facebook

for the latest news and updates -
All rights reserved by Future plc. No part of this publication may be reproduced, distributed or transmitted in any form or by any means without the prior written permission of Decanter.
Only Official Media Partners (see About us) of DecanterChina.com may republish part of the content from the site without prior permission under strict Terms & Conditions. Contact china@decanter.com to learn about how to become an Official Media Partner of DecanterChina.com.