LI Demei talks about why it's difficult to find accurate data about vineyard plantings in China, and his new Chinese wine region profile series on the new DecanterChina.com.
Searching for the accurate data
It is a fact that China produces wine, and for a fairly long time. The history of winemaking in China can be traced back to over 2000 years ago, and Chinese wines have won quite a few international awards in recent years.
Few of these wines are ever exported, though, because most of them are consumed domestically. That being the case, the international wine trade appears to be very interested in the wine industry in China.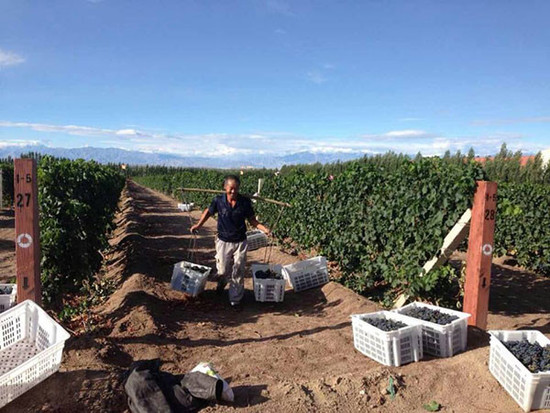 Image: Vineyard in Xinjiang, credit LI Demei
They are possibly hoping that the development of domestic wine industry may in turn boost wine consumption in the country, and that global wine production surplus may find its way out in China.
However, apparently understanding Chinese wines is more difficult than learning the language. Every so often, wine media make awkward mistakes about the Chinese wine scene:
In Vinexpo's annual report on the world wine market released late 2014, China was said to have overtaken France and Italy to become the biggest 'red wine' consumption country in the word, drinking 155m cases of 'red wines'.
In Chinese, 'red wine (红酒)' can sometimes mean 'wine (葡萄酒)' in general (as opposed to 'white spirit白酒' and 'yellow wine 黄酒'). So when the Vinexpo report hit China, many Chinese media mistook the news as 'China becomes the world's biggest wine consuming country'.
In the days when readers were bombarded with stories about China becoming the world's second largest economy, it also felt believable that China now consumes the biggest amount of wine in the world. What they failed to notice was that they themselves barely had any wine in their lives.
In May 2015, an international viticulture and wine institution (I won't give the name) released figures on vineyard plantings in the whole world, noting that China now has 'the second largest vineyard plantings in the world'.
The statement was accurate, so was the phrasing. But chaos hit when people tried to read between the lines. Some believed that 'though currently China is the 5th biggest wine producing country in the world, the production is expected to double in five years, as a massive amount of vines were newly planted.'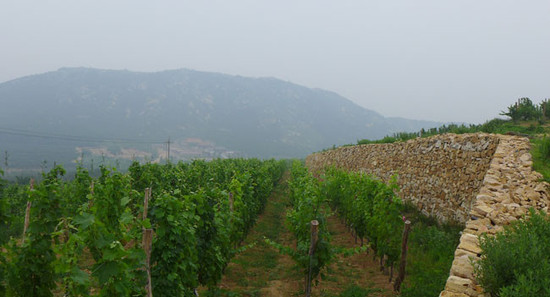 Image: Vineyard in Shandong, credit LI Demei
Some assumed that 'vineyard' means 'wine grape plantings'. The fact is, out of the total 800,000ha land under vine in France, 90% are wine grapes; in comparison, out of the 867,000ha land under vines in China, fewer than 10% are wine grapes (with the rest being table grapes).
Fortunately, during a trade summit in November 2015, Professor DuanChangqing, chief scientist of China Agriculture Research System for Grapes and Wine industry, pointed out that the big clusters of wine planting in China account for 600,000mu (40,000ha), making 308,500 tonnes of wine annually. Even if we add the small wine grape vineyards scattered around China, the annual production of wine in China barely hits 400,000 tonnes.
This number sounds about right. At least it matches the market plans set by winemaking additives importers, who may have a practical way to calculate how much wines are actually made in China.
Professor DuanChangqing's report was mainly circulated among domestic media. Though the figures were clearly different from those presented by the international institution mentioned above, it has not much impacted the trade. Possibly everyone was busy with the sales campaign near year-end.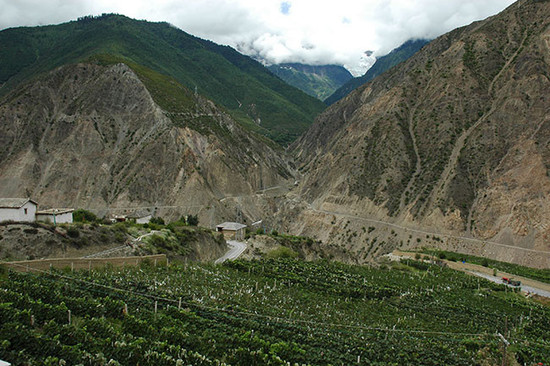 Image: Vineyard in Yunnan, credit LI Demei
The historical reason
The industrialisation of Chinese wine production came later than many countries. During the era of planned economy (until 1980s), wine production in China was under the management of the former Ministry of Light Industry (now 'China Light Industry Federation'), whereas grape planting is controlled by the Ministry of Agriculture.
This arrangement brought about various problems to the trade. The most evident problem was that it was almost impossible to record the fundamental statistics of the wine industry in a systematic and continuous manner.
Three of the key government divisions managing wine production in China—the Ministry of Agriculture, China Alcoholic Drinks Association (CADA) of China Light Industry Federation, and the Grape division of the Chinese Association of Agricultural Science Societies—used to collect production data from their subsidiary departments or members. They were responsible to combine their findings so as to report on the state of the whole industry.
However, from January 1st 2010, as the latest Statistics Law of the People's Republic of China came into effect, the above organisations no longer publicly release any trade statistics.
The way trade data is put together has changed; plus it is never known how the transportation of grapes and grape must across province(s) is accounted for in these statistics.
There's little wonder that looking at available trade statistics and making the right decision has always been a difficult task for investors.
A guide to Chinese wine regions
The more attention people focus on Chinese wines, the more they want to know about the reality of Chinese wine production. In recent years, many articles and books were written to explain the current state of Chinese wine production. However, many of these were written under various limitations, and the accuracy of data tends to be in question.
For all the reasons listed above, me and my team (yes, we have a team) intend to launch a series of reports on Chinese wine regions, based on our years of experience visiting and working in the key wine regions in China.
These reports will be published on DecanterChina.com, which is having a major upgrade during the coming Chinese new year. We hope to help our domestic and international readers to achieve in-depth understanding of the Chinese wine industry.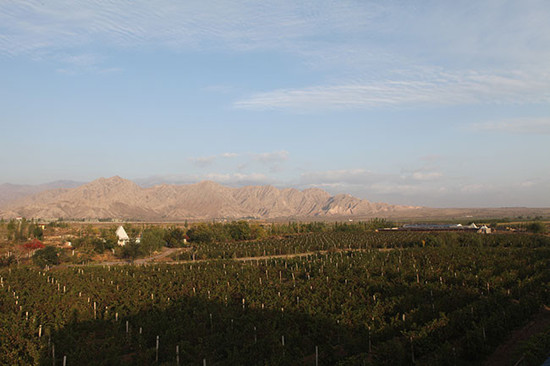 Image: Vineyard in Ningxia, credit LI Demei
How are regions defined
How to define the regions is always the first barrier you run into when writing about Chinese wines.
China is big. To make the matter worse, the vineyard plantings are scattered around the whole country. Since 1980, works were done by scholars including HUANG Huibai, WANG Yusen, LUO Guoguang and YANG Chengshi, who attempted to identify the key wine regions in China. However, there has never been a widely accepted and established conclusion.
To define a wine region, one needs to start from the natural conditions, and consider the typicity of local varieties, planting methods and winemaking styles.
These are time and energy-consuming tasks, and some can only be achieved by breaching the borders of administrative areas. When the days of planned economy faded away, it became even more difficult for the trade to gather complete and accurate data (with combined help of provincial authorities). Even if you visit the regions in person, the accuracy of the information you get depends on who you visit and how professional they are.
In our region reports, therefore, we intend to refer to the existing wine region studies, use the commonly accepted names and terms in today's trade, and learn from Australia to define wine regions in China.
For each region we plan to cover:
- Geographic areas
- Region history and the current scale of production
- Climate and soil
- Key varieties and key wines
- Introduction to the representative wines
- List of key wineries
- Local government and trade body
- A timeline of key events
(Edited by Chris Mercer)
Translated by Sylvia Wu / 吴嘉溦
All rights reserved by Future plc. No part of this publication may be reproduced, distributed or transmitted in any form or by any means without the prior written permission of Decanter.
Only Official Media Partners (see About us) of DecanterChina.com may republish part of the content from the site without prior permission under strict Terms & Conditions. Contact china@decanter.com to learn about how to become an Official Media Partner of DecanterChina.com.