Going through several twists and turns, Michel Rolland's autobiography The Wine Guru has finally been published in China.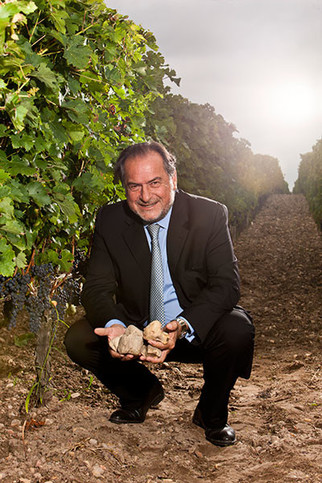 A word about the publisher and the translator
The Chinese publisher of the book, Andrea Chu, was behind the operation. Like the many classic wine books she and the CITIC Press Group has introduced into China recently, this is another book I expect will benefit the Chinese trade greatly.
Before everything came into place, we had a discussion about translating and introducing the book Michel Rolland – The Wine Guru. I suggested to Andrea that in order to best reflect the essence of the book, she should get someone to translate the book from the original French version.
Without any doubt, this is a difficult book to translate. The translator not only needs to master two languages, but also needs to have some knowledge on wine and the landscape of the international wine trade.
Certainly, when I made these suggestions, I already had a name in my mind.
The first time I met ZHOU Jinsong was at a promotional tasting hosted by the wine glass producer Baccarat. These are fascinating glasses—different glasses have brought clearly different aromas and even palate to the same wines.
The designer, apparently, was a philosopher. He spoke passionately about his glasses, and we enjoyed his speech very much. It wasn't until I started on the second wine that I noticed that the natural and smooth flow of the speech was delivered by the interpreter standing beside the speaker.
He didn't only translate the speech accurately, but also did a good job controlling the pace of the presentation. He remained 'hidden' behind the speaker, unlike at many wine events, where interpreter can easily upstage the speaker.
Jinsong's discreet and quiet style impressed me deeply. When I was asked to recommend a translator for Andrea, I immediately thought of him. To tell you a bit more about Jinsong – he completed his bachelor and master degrees in France, before he moved on to dedicate his time on the technological and cultural communication between China and France. He is an experienced writer and translator of many lifestyle articles.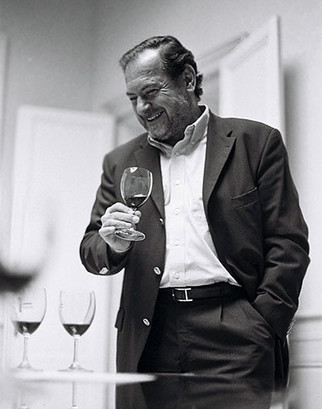 From the movie Mondovino
I came to know about the name Michel Rolland when I was studying in France. Speaking about our possible career in the future, our tutor mentioned 'winemaking consultant', and raised Michel's name as an example.
Some of my classmates looked rather confused when hearing the name. I don't blame them—the 2004 movie Mondovino brought great impact to the wine trade. We always need stories to sell wine, so here comes more stories.
The movie itself is quite difficult to understand in fact. I still remember the screening during a Sino-France culture year event, when a group of people were invited to the cinema to watch the movie and drink wines for free. 20 minutes later, I looked around, and it seemed over 2/3 of those who came to get a free drink had left.
Still, this is an impactful production for the wine trade, and has since triggered many disputes around Michel Rolland himself. The wine consultant once even had to step up to clear his own name afterwards.
I quote Young Shi's words from the preface of the new book, 'It's no longer important whether the highly controversial documentary Mondovino has ambushed or altered the original words of Rolland. The key is whether we as observers are capable of judging the incidents with an objective attitude and a holistic view.'
Her last sentence, in my opinion, was rather criticizing the general public in China nowadays, who are so easily influenced by the so-called hot topics. We must simply ask ourselves: How many of us can stay independent and objective towards those sensational news stories? As a matter of fact, the hecklers are usually more destructive than the creator of the incident itself.
Of course, more people came to know about Aimé Guibert and his Languedoc-Roussillon estate Mas de Daumas Gassac through the movie. The price of their wines skyrocketed after the release of the movie, regardless of whether or not it was a factual depiction of what actually happened.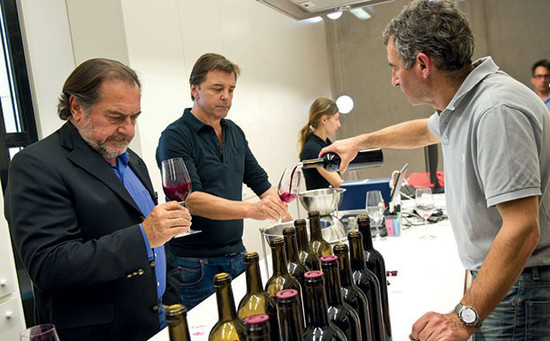 Another side of the Judgement of Paris
This year is the 40th anniversary of the Judgement of Paris. This is a story the wine trade, especially many new wine regions, is delighted to talk about. However, if you read Michel's autobiography, you will realise that there is another side of the story.
The wines chosen for the famous blind tasting were the 1973 vintage. Michel recorded the vintage in his memoire as follows: Rainy summer brought high yields, though the ripeness of the berries was hardly satisfactory; Nobody was trimming off the leaves or conducting green harvest to improve the ripeness (green harvest was in fact illegal at that time). As a result, producers had to add double the legally allowed amount of sugar to get a bit more alcohol...
Is it indeed fair to compare wines produced under such circumstances (even by the top producers) to those made under the dry and hot environment in California?
This reminds me about another popular opinion against the consultant—that wineries consulted by him are always big-structured, overripe and cloyingly rich and oaky.
This is not exactly fair either—during 1960s and 1970s, wine producers tend to chase for high yields, and the plantation and winemaking techniques adopted tend to be rather extensive. It seems only reasonable to pursue a 'riper and thicker' style.
If Michel is being blamed for steering away from the tradition, shall we all travel back to the time before the 'father of microbiology' Luis Pasteur? There is little doubt that Michel, together with the oenologist in his generation, has pushed forward the development of wine industry.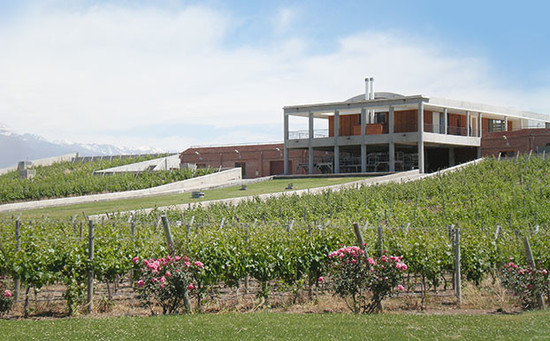 The reality of the flying winemaker
The 'flying winemaker' is such a glorious title to have. Indeed, Michel consults over 100 wineries in over ten countries, including China and India.
He is certainly paid well by these projects. Many people describe him, possibly out of admiration or jealousy, as someone who 'only moves with the money'.
But as a wine consultant myself, the first thing I would think of is how much work these commitments must involve, and how complicated are the challenges he must be facing.
While people are free to judge or envy what Michel has achieved, have we ever evaluated the hard work behind his glorious titles? For those who are always quick to judge a wine, do they know the tough endeavour hidden behind? Can you imagine the world-famous winemaker over his 50s staying in a shabby tavern, or sharing a room with others?
Either way, you will get to know a bit more about Michel through this book, though some may say it's still not enough.
The winery Michel grew up in has been sold to a Chinese entrepreneur. Wines from Clos de Los Siete (the Chinese translation is literally 'Seven starts winery'), the Argentina estate established by Michel and several winery proprietors in Bordeaux, are being sold in China nowadays.
Coincidently, the vineyard I consult for is situated in Qigexing ('Seven stars'), a town in the Yanqi county of Xinjiang. The wastelands in the gobi desert, which had never been cultivated before, are now planted with thousands hectares of grapevines. I know first-hand how difficult it is to plant vines on the wastelands of a remote foreign country.
Now the book has been released. A friend read the preface I wrote for it and said, 'your words are very simple [she put it in a very subtle and kind way – I knew that I'm not a writer with lavish vocabulary. I tried to hone my skills – but obviously there hasn't been much improvement], but it's very heartfelt. I can feel that you respect Michel very much. Have you ever shown him these writings?'
I don't think I need to – I only jot down what I know and how I feel about him. Plus, not necessarily everyone would agree with Michel's work after reading the book.
As he said in the author's preface: 'I decide to present all my knowledge as a winemaker, consultant and master blender to the readers. Certainly, there will be challenges and questions if I do so...' Yes, but honestly, why should the wine guru care?
Translated by Sylvia Wu / 吴嘉溦
All rights reserved by Future plc. No part of this publication may be reproduced, distributed or transmitted in any form or by any means without the prior written permission of Decanter.
Only Official Media Partners (see About us) of DecanterChina.com may republish part of the content from the site without prior permission under strict Terms & Conditions. Contact china@decanter.com to learn about how to become an Official Media Partner of DecanterChina.com.