Argentina is perhaps the most important wine producing country in South America. Although vines were brought into Argentina over 400 years ago by the Spanish colonisers, it's only been since the 19th century that wines from Argentina have made their name around the world.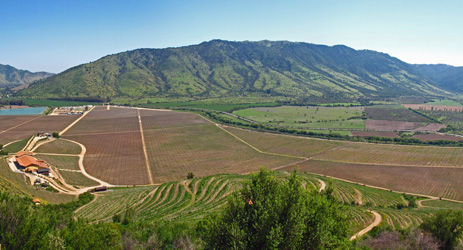 In the early 1800s, immigrants from Europe flooded into Argentina, bringing new grape varieties and wine-making techniques. Thanks to foreign investments from the 1990s, Argentinean wines experienced a rapid period of development and have found their places in the international market.
Mendoza is the main wine producing area in Argentina, producing 75% of the country's total. Vineyards in Mendoza are mostly planted at high altitude, which helps keep the temperature cool. Although the climate is very dry, vineyards benefit from Andes snow-melt, which is similar to Chilean vineyards.
The nearby region of San Juan is also important, producing exceptional Shiraz and Viognier, thanks to the hotter weather. Salta at the far north is famous for producing Torrontes, whereas Rio Negro and Neuquen at the south extreme of the country is known for high quality Pinot Noir, Malbec and some sparkling wines.
The warm and dry weather in Argentina helps to produce ripe, rich red wines with soft tannins. Malbec is the most famous Argentinean red variety, making full-bodied, juicy reds. The European migrants brought in other varieties such as the typical Spanish red variety Tempranillo and the Italian Sangiovese. Internationally renowned Cabernet Sauvignon, Merlot and Shiraz are also planted throughout Argentinean vineyards.
The highly aromatic, musky local variety Torrontes has increased in popularity in recent years. Chardonnay and Viognier are also important white varieties in Argentina.