The Chinese wine trade has been trying really hard to push consumers who drink other alcohol beverages into drinking wine. They didn't even realise that at the same time, wine lovers are being targeted by the sales force of yet another type of alcohol drink - yellow wine.
On 1st March, I was invited by Mr WENG Liang, sales manager of yellow wine producer 'Shaoxing Tower', to visit the winery and learn about how yellow wines are produced. He showed me how they're promoting yellow wines among grape wine consumers. The wolf has a winning game when the shepherds quarrel—I have learnt a good lesson.
Most Chinese people are fairly familiar with 'Huangjiu' or yellow wines; from a cultural point of view, it is perhaps the most 'Chinese' type of alcoholic drink. However, due to the historical changes of political, economic and cultural centres in China, as well as its reliance on local resources, yellow wines nowadays have become merely a local beverage.
The younger generation born in North China rarely ever had a taste of yellow wines. Every year when I teach oenology courses, I would usually prepare a set of yellow wine samples for students to have a taste. For the last decade, without exceptions, the vast majority of my students (most of whom are from North China) have never tried yellow wine before, not to mention knowing its typical flavours.
It seems even though yellow wines have such a rich history, promoting them in China is by no means an easy task.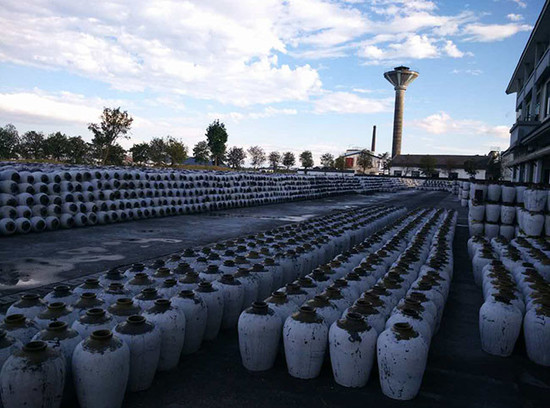 Yellow wines have a strong tie to the producing region, because the materials used to make it— sticky rice, water, the wheat starter ('Mai Qu') and the specific Chinese yeast (coming from the 'Jiu Yao' or 'liquor medicine') – have to be sourced locally, so as to guarantee the consistency of the taste. The production of Mai Qu and Jiu Yao, as well as the fermentation process, also needs to be completed within a specific region and in a certain period of the year.
As a matter of fact, before yeasts are discovered, the concept of yellow wine making was very similar to that of grape wine making. Yellow wines coming from Shaoxing, Zhejiang Province, are the most famous in China, and 'Shaoxing yellow wine' is now a protected geographic indication.
The Shaoxing Tower winery, which we visited this time, still insists on making yellow wines manually, but for a very straight-forward reason—its mother company, Zhejiang Grain and Oil Import and Export Corporation, has been selling Shaoxing Tower yellow wines abroad. Their Japanese importer was exceptionally strict about the producing process, therefore Shaoxing Tower chose not to mechanize its production, but sticking to the traditional winemaking methods (see picture 1).
Yellow wines can be made in springs and summers; but traditional Shaoxing yellow wines are usually made between 6th of December until Winter Solstice (around 23rd December) mainly for reasons as follows.
To begin with, the water quality is considered to be the best during this period compared to other seasons (as part of the Geo Indication criteria, Shaoxing yellow wines have to be made using water naturally sourced from the Jian lake). The rice, which was harvested in October, would have been processed and ready for use by then. The cold weather of December is especially helpful, as natural fermentation is very slow under low temperature, making it easier for the producers to control the quality of the product.
The above means that we didn't visit during the best time for yellow wine production. Instead, the Shaoxing Tower winery arranged for us to observe how Xiangxue Wine (a type of sweet yellow wine made from partial fermentation) is made. Apparently this style of yellow wine can be made throughout the year.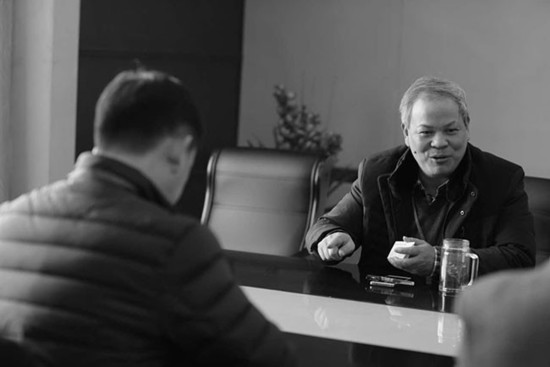 As we arrived earlier than the rest of the invited guests, we were lucky enough to have a proper talk with Mr Pan Xingxiang, chief engineer (equivalent to chief winemaker) of Shaoxing Tower. Mr Pan is said to be one of the only five 'master hands' of yellow wine production in China.
With his rich experience gained from decades of yellow wine production, Mr Pan's introduction yellow wine is not merely about the technical process, but his personal understanding towards the nature.
He believe that the essence of yellow wine making lies in 'a good timing, a proper local environment, quality materials and skillful workers'—a concept similar to the interaction between 'human efforts' and 'terroir' in winemaking.
Every detail throughout the visit has been impressive to me. Due to a lack of knowledge, I didn't care much about yellow wines before. But for wine lovers like me, such tours and introductions have certainly opened up windows for us to the fascinating world of yellow wines.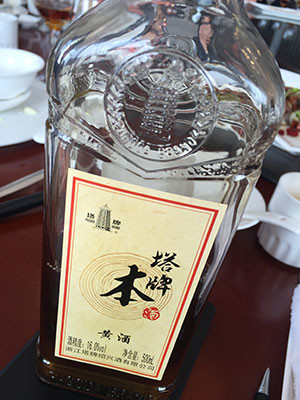 What impressed me the most that day was a yellow wine made only for the export market. The packaging wasn't exactly flattering (see picture 3); what's in it, however, carried a comparatively light colour, with elegant and ever-changing aromas which reminds me of Oloroso Sherry. I can still recall the vinous fragrance which melted in my mouth, and lingered on.
Our host Mr Weng Liang, the sales manager of Shaoxing Tower, became interested in wine after attending wine tastings, and has since made some friends in the wine circle. Now he arranged for the wine-loving crowd to learn about how yellow wines are made, and even conducted a comparative tasting for us. This has clearly been a successful attempt in promoting the yellow wine culture, along with the products.
A lesson to be learnt: whether you're promoting yellow wines or grape wines, the key seems to be reaching out to any consumers who are sensitive to flavours, and are conscious about the taste of food. Through tailor-made tasting experiences, there's a good chance for you to win more loyal customers.
Translated by Sylvia Wu / 吴嘉溦
All rights reserved by TI Media Ltd. No part of this publication may be reproduced, distributed or transmitted in any form or by any means without the prior written permission of Decanter.
Only Official Media Partners (see About us) of DecanterChina.com may republish part of the content from the site without prior permission under strict Terms & Conditions. Contact china@decanter.com to learn about how to become an Official Media Partner of DecanterChina.com.