Demei's View - Wine Communication from a Chinese Winemaker
After we stepped into the new millennium, wine and its culture have been widely spread across China, and became a fairly common topic in people's daily lives. It's fair to say that compared to its peers, wine as an alcoholic beverage gets the most exposure through various media.
However, the actual sales of wine are not in proportion to the amount of exposure it gets. It seems everyone is talking about wine, but in fact wines are not selling as well as you would expect.
In other words, although wine as a product has created a lot of buzz in the market, the actual sales don't make up for it. This suggests that at the moment there are some serious issues that need to be addressed in the wine trade.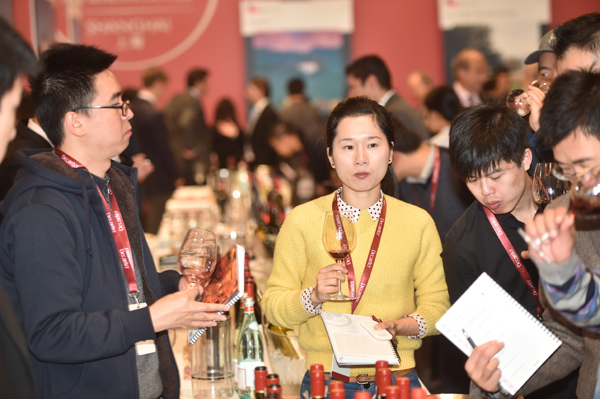 Historically and culturally, wine is not a necessity in China
Early since its introduction to China, wine has been labelled as an 'expensive and precious' beverage, far away from the 'everyday drink' image in Europe.
Although the history of winemaking in China can be traced back to over 2100 years ago, the domestic wine production and consumption has so far failed to grow to its full potential.
This is partly because of the limitation brought by natural environment: in China wine grapes are mainly planted in the arid and semi-arid regions in the northwest. Due to the difficulties in planting vines, winemaking usually leads to great cost, making wine an expensive and rare beverage to consume*.
To make the situation worse, plantation areas of wine grapes were usually non-economic or cultural centres. As wines are not suitable for long-time transport and frequent change of storage environment, it was difficult for producers to ship them to major markets for sale, which in turn limits the scale of wine production.
Another aspect is that 'rice wine' played an important part in China's traditional agriculture civilisation. From east to west China, north to south of the Yangzi River, farmers can easily use their local produced rice to make the alcoholic beverage for leisure and enjoyment. This grand tradition is still widely seen today.
The beginning of modern winemaking in China is usually considered as 1892, when Changyu was established in Shandong. But winemaking didn't become an industry until 1980 when Dynasty Fine Wines, the Sino-France joint venture, came into shape. Now you can see how little wine actually matters to Chinese people.
Wine has never been a necessity for the Chinese society historically, nor an inseparable part of its food culture. Among the major alcoholic beverages consumed in China, wine accounts for the least proportion in both volume and sales value (see the below graph).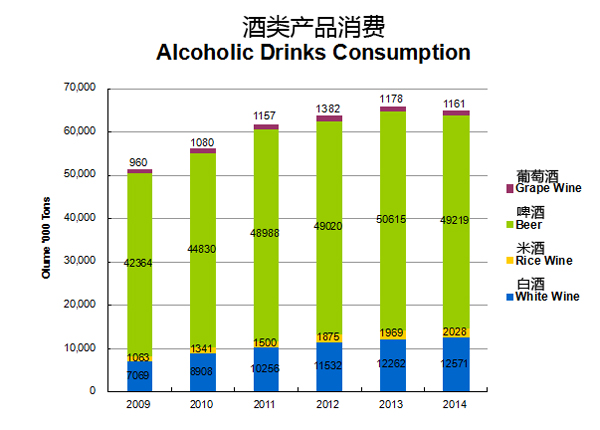 However, it's worth mentioning that wine has its place in ensuring the food safety in the country.
Since the end of 20th century, along with the continuous increase of population and development of economics, Chinese people's living standards are rising, along with the society's demand for grain product. Therefore, reducing the amount of grain used in non- food production is considered as an efficient way to guarantee food security in the country.
Compared to baijiu (Chinese white spirit), beer and yellow wine, grape wine production doesn't consume grains. What's even better, its production material—grapes, are usually planted in wastelands and deserts, which are not arable lands for grain production.
In other words, from the point of view of food security supplies in China, grape wine production and consumption should be encouraged by the government, so as to release the pressure on grain supplies caused by an increased consumption of alcohol beverages.
Therefore, from a long-term point of view, Chinese wine production and consumption has great prospects.
Meanwhile, wine is an agricultural product with its material and production process heavily influenced by the local environment, and the final product usually carries some unique features of the region.
With tea being widely consumed in China, it is evident that Chinese people are fully 'qualified' to appreciate the various colour, aroma and taste of wine. For Chinese consumers who are able to appreciate regional delicacies such as Xinjiang Honey Melon and Laiyang Pears, it can't be too difficult for them to understand and appreciate the distinctive wines produced in Bordeaux and Burgundy.
*Notes from the author:
According to the 63 section of the Dawan Commentary Section of Shiji ('Historical Records' by Sima Qian), when Zhang Qian, the ambassador of Han Dynasty, visited the Western Regions, he saw local people planting grapes to make wines and rich people collecting wines.
From the Eastern Han Dynasty (25 to 220CE) until the most prosperous period of the Tang Dynasty (618 to 907CE), wine had always been a luxurious beverage for the rich and powerful. For example, records showed that Meng Tuo from Fu Feng became the feudal provincial of Liang Zhou because he bribed the powerful eunuch Zhang Rang with a hodful of grape wine. The incident was also recorded by the famous poet Su Shi, 'a general doesn't get to become a nobleman even if he wins a hundred battles, but Meng Tuo gained the entire Liang Zhou by a hodful of wine.'
The Tang Dynasty was a glorious period for winemaking in China, as the technique was spreading from the court to normal households. In his poem Dui Jiu, Li Bai, the famous 'god of wine and poem', depicted how wines were as expensive as 'golden baskets', and can serve as a part of a girl's dowry.
(Translated by Sylvia Wu)
Translated by Sylvia Wu / 吴嘉溦
All rights reserved by Future plc. No part of this publication may be reproduced, distributed or transmitted in any form or by any means without the prior written permission of Decanter.
Only Official Media Partners (see About us) of DecanterChina.com may republish part of the content from the site without prior permission under strict Terms & Conditions. Contact china@decanter.com to learn about how to become an Official Media Partner of DecanterChina.com.