The expensive price might have been stopping Chinese people from drinking wine three years ago, but that's not the case anymore. Hear Terry Xu's opinion on what people really need to get into wine nowadays.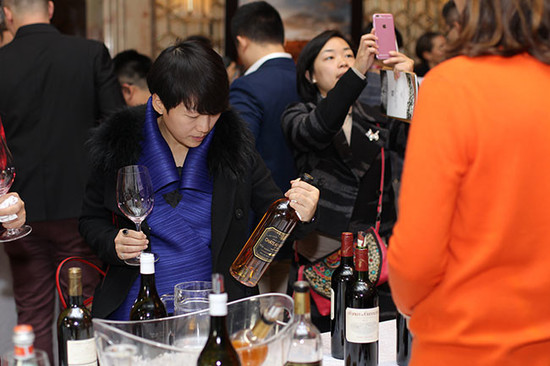 The world is expecting Chinese people to drink more wine.
Currently China's average consumption of wine is merely 1.17 litres per year per person, which accounts for 1/3 of the world's average (according to statistics published by International Organisation of Vine and Wine in 2014). The number hints a huge potential compared to the more mature wine markets - such as France and Italy - which see wine consumption easily hit 30 to 40 litres per year per person.
· Read on Decanter.com: top wine consuming countries in 2015
Everyone in the Chinese wine trade is working and thinking hard, hoping that one day consumers will drink wines as naturally as drinking water.
The wine sales statistics in the past few years, however, were far from exciting. Indeed, there are more people drinking wine in China; but the average wine consumption in China is not growing as fast as the country's GDP. What's stopping Chinese people from drinking wine?
Price is no longer the problem
The most common answer may be that the price of wine is too high and people can't afford it with their humble salary.
That would barely convince me three years ago—but I suspect that's still true.
Like many products sold in China nowadays, many wines are too cheap, which is worrying. On the two biggest online shops in China, Tmall.com (of Alibaba) and JD.com, you can easily get six bottles of wine for 199 RMB (£20). A research last year showed that the average price for each bottle sold on both platforms is around 40 RMB (£4).
Think about this—the 750cl bottle contains the costs of hard vineyard work across four seasons, the endeavors in the winery, the long journey to the market, plus the 48.2% tax—and you still think 40 RMB per bottle is not cheap enough?
If people's income is not the main reason stopping the Chinese people from drinking wine, then what is the biggest obstacle?
Knowledge and curiosity
The popular Chinese online community 'Luogic Show' inspired me; perhaps the obstacle isn't the money, but the knowledge.
By 'knowledge' I don't mean the kind of professional knowledge you learn from WSET, but more like a basic 'concept' about the world of wine. To elaborate—the consumers simply don't know that wine is such a versatile drink, and that it can be 'super enjoyable' if you've learnt the trick.
How to let consumers 'know' about this, however, is the most difficult task. My suggestion is simple: tell them more stories and let them drink more freely.
Why did I suggest telling stories rather than teaching professional knowledge? Because it's not like wine consumers can't study. In the years when I was in university, burning all your books at the point of graduation is a 'grand tradition'. Being taught under the traditional and rigid education system in China throughout our lives, we simply lack the motivation to keep studying.
The true motivation, in fact, comes from curiosity. Once they become curious, there's a good chance they'll become interested. Once hooked, they'll equip themselves with knowledge almost immediately through the almighty internet.
I have a student who is not working in the wine trade. He finished the courses of WSET level 2 and 3 within two months, and went straight for Diploma studies. Now he is only one exam away from graduation. His motivation to study comes from his almost maniacal interest in wine.
He's not the only one—many wine enthusiasts in China have even higher level of knowledge than the professionals. They can talk about the history of Burgundian winemaking families backwards, and know Langton's Classification of Australian Wine like the back of their hands. So if we want consumers to hear us out and want to learn, we need to learn to tell stories.
In the meantime, we need to inspire more consumers to taste wines with curiosity. Don't worry about their ability to taste and appreciate—as long as they don't carry any prejudice about wine, and we don't try to influence their decisions to make a sale, they are fully capable of choosing the wine that they like, and explain the reason using their own words.
Several blind tastings have proven that consumers are by no means inferior to the professionals when it comes to telling the quality of the wines and choosing their favourites. Therefore, if we could just allow consumers to taste wines properly for a few times, the border of their 'tasting horizon' would certainly open up.
Inspire consumers with curiosity, encourage them to try more wines spontaneously, and their 'border of understanding' about the world of wine will naturally be broadened. This, in my opinion, is something much more doable than trying to make them richer.
The invisible value
As a matter of fact, the awkward situation wines are facing is China is a bit like the confusion of the younger generation when they try to 'treat their parents'—which is considered a grand and honourable tradition in China.
Nowadays we simply don't know how we can make our parents happy. They don't think iPhones and iPads are useful, don't really care about a relaxing holiday on the beach in the beautiful Maldives, and they're not convinced that an expensive Moncler jacket is warmer than any other coats.
This is not a problem about saving money, but more about them not having the 'concept' about these brands and products as we do. The invisible joy in the ownership and the rich social elements behind these seemingly 'useless' products are beyond their understanding.
Here's an example—I'm a wine professional myself, but I'm only buying a 40 RMB Langudoc AOC for my father—perhaps he is the first consumer I need to 'conquer' after all.
Translated by Sylvia Wu / 吴嘉溦
All rights reserved by Future plc. No part of this publication may be reproduced, distributed or transmitted in any form or by any means without the prior written permission of Decanter.
Only Official Media Partners (see About us) of DecanterChina.com may republish part of the content from the site without prior permission under strict Terms & Conditions. Contact china@decanter.com to learn about how to become an Official Media Partner of DecanterChina.com.