Do consumers really need Bordeaux or Cabernet Sauvignon? I was asked one day.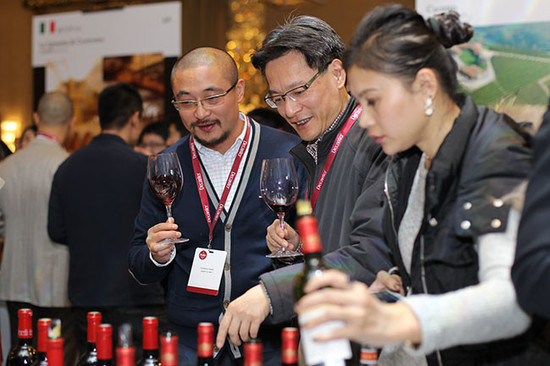 'Of course they do,' I answered the question carefully, 'Bordeaux is the world's most important wine region, and Lafite—you must know Lafite—is located in Bordeaux. Plus, they mainly use Cabernet Sauvignon to make their wines.'
'Under what circumstances then,' he continued, 'does a consumer HAVE to drink Bordeaux rather than Napa, Cabernet Sauvignon rather than Syrah?'
I struggled to answer that. What he made me notice though, is that we have always assumed that consumers need us to make the decision for them. We are so proud of what we are selling that we assume consumers must like them as well.
Such a way of thinking naturally works and is even necessary in a seller's market, where consumers are less informed and educated.
But the old time has passed in every sense, especially in China. If we say the Internet has given a nudge to European countries and the US, it must have given China a heartfelt kick, and has sent us flying ever since.
As they all say, 'the lion (China) is waking up', though we never expected such a surprising speed. China has suddenly dived into a buyer's market, where information comes from everything and everywhere.
Following other fast-moving consumer goods, increasingly wines have to be sold according to different contexts and situations.
Think of a wine-drinking situation
Let's put ourselves into the shoes of a consumer.
They wouldn't want to buy wine simply because they know an educator named Terry Xu—this reason is not good enough for them to make a purchase.
When they do want to buy wines, they would have entered or envisaged a situation where they could 'consume' them. For example, when they enter a bar, most of them would order an alcoholic drink. Would they choose wine? That depends on whether the bar has created the right atmosphere for wine drinking. Having a sommelier, for instance, as well as decorating the bar with decanters and wine bottles would certainly help.
Of course prices and the options available matter as well, but if a consumer is placed in a 'winey' environment, there's a very good chance they would like a glass of wine.
In most cases, however, the consumers buy the wine before the event where they will drink it, but they have expectations of what they want.
For instance, if a consumer is going to a gathering of friends, he would need quaffable wines, which he can easily do 'gan bei (bottoms up)' with, and wouldn't cost him more than 100RMB (10 pounds) per bottle.
Having that expectation in mind, he would now start searching for the right product. Even at this stage, he wouldn't really mind the production region and grape variety, but rather the mouthfeel and flavours. He needs a wine that's round and not too acidic, with sweet fruit flavours and a bit of residual sugar.
He may end up buying a value-for-money Shiraz from South Australia, or a Merlot from Central Valley in Chile. However, if you understand his expected wine-drinking situation, and recommend a Bordeaux wine made in a warm year (such as 2009), you may actually make a sale.
If the consumer wants to give a bottle of wine as a gift to his manager, again he would think of his budget first, for example anything around 1000 RMB (100 pounds). He would then choose wines within that price range according to his manager's preference.
If his manager likes American wines, it may be difficult for you to sell him a bottle of Bordeaux; he'd be worried that the receiver of the gift may frown upon the French label, and he wouldn't want to take that risk.
If you have to sell him a Bordeaux wine, a better fit may be a bottle from a winery that has a US owner (such as Chateau Haut-Bailly).
If the consumer is going to a 'Bring Your Own' blind tasting, then he's likely to choose a rarer wine, whose region and varieties are not so easy to be identified. Their budget for that wine is usually around 200-300 RMB.
If you don't know what situation he wants this wine for, and insist on selling him a Cabernet Sauvignon from a common region, no matter how good the quality is and how much discount you give, he possibly still wouldn't buy it.
But if you understand why he needs this wine, then that bottle of Gruner Veltliner ,which you have long been trying to sell, may finally find itself a buyer.
Finding the ideal situation
All these examples are telling us that a consumer wouldn't want a bottle of Bordeaux or Cabernet Sauvignon for no reason; there is always a 'situation' behind their choice.
The ideal situation for drinking Bordeaux wines may be a reunion of friends who met studying in France, a drink after a romantic movie, or during a decadent French dinner.
The ideal situation for drinking Cabernet Sauvignon can be a blind tasting featuring the variety, in a steak house as a house wine, or to accompany business talks among entrepreneurs.
As Chinese people continue to enrich their social and personal lives, the situation for buying and drinking wines will keep on changing, and becoming more multi-dimensional.
From an oyster brunch to late-night barbeque skewers, from movie night to blind tasting competitions, we now need different wines for various occasions.
Each of these 'needs' may seem small, but if you times that with the enormous population in China, you will most certainly create a good business.
Translated by Sylvia Wu / 吴嘉溦
All rights reserved by Future plc. No part of this publication may be reproduced, distributed or transmitted in any form or by any means without the prior written permission of Decanter.
Only Official Media Partners (see About us) of DecanterChina.com may republish part of the content from the site without prior permission under strict Terms & Conditions. Contact china@decanter.com to learn about how to become an Official Media Partner of DecanterChina.com.