Demei's View - Wine Communication from a Chinese Winemaker
In the previous week, LI Demei explained that historically and culturally, wine is not a necessity in China. This week the expert continues to analyse the topic from the aspect of price.
High price combined with a consumer base of insufficient knowledge in wine
Like any consumer goods, wine needs a certain scale of consumption and consumer recognition to nurture a mature market.
Price is a key element to shape wine consumption in China. Our research on the key factors Beijing and other big city-based consumers would consider when purchasing wine shows that among indicators including price, packaging, production origin, style, grape variety, brand, vintage, sales discount and taste, price is the primary factor for them to make a decision to buy. However, compared to the most consumed and the most widely spread alcoholic beverage in China—baijiu (Chinese white spirit), wines are simply too highly priced.
People tend to enjoy alcoholic beverages during social occasions such as gatherings of friends and family, celebrations and business banquets. Therefore, how the crowd feels is crucial to the experience.
'Until slightly tipsy' is the ideal state of drinking for Chinese people. For average consumers, to reach such state they just need to share a bottle of baijiu among three people (40% alcohol). We all talk about converting these baijiu drinkers to wine consumers by making them like the taste of wine; but the reality is, it will take at least three bottles of wines for them to achieve that same effect (as the alcohol level in wine is lower, people tend to drink it quite fast, making the speed of alcohol intake higher. Therefore a common believe among baijiu drinkers is that wines can make you drunk faster). This means for consumers who spend 100RMB per bottle on baijiu, the ideal price of wine is around 30-40RMB per bottle. Those who usually spend 300RMB on a bottle of baijiu could afford wines at around 100RMB per bottle. Only those who drink baijiu at over 1000RMB per bottle would find 300-400RMB an acceptable price for wine. Now you understand why wines over 400RMB are so difficult to sell in China.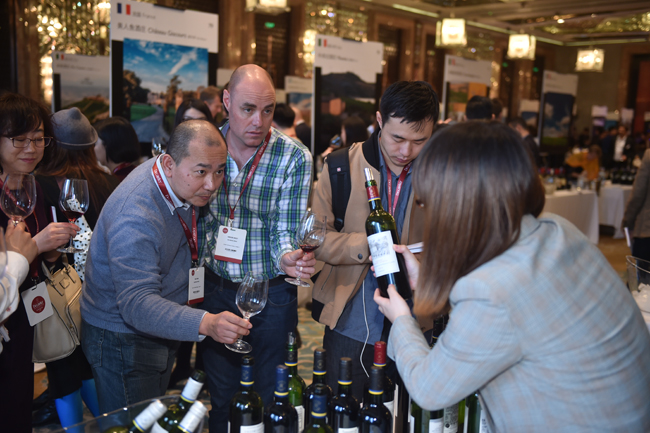 As importers and distributers all expect a high profit from selling wine, they tend to add layers of margins until a wine hits the shelf. As a result, consumers have to spend far more on wine than drinking baijiu. This makes it difficult to convert regular alcohol drinkers to wine consumers—as they're not ready for the extra spending on wine, they're shut out simply by the price, which seriously limits the scale of wine consumption in China.
As for those who are tempted to start consuming wine because 'wine can make you healthier' or 'wine drinking is the new fashion', even if the price is acceptable, it's still a pain for them to decide what to buy—how to differentiate the varieties and quality levels of wine becomes the next question.
Just like any product, if consumers don't know anything about it, it's difficult for them to decide to buy. Thus how to improve the understanding of wine among mass consumers is an area needs some serious work done.
It's not the responsibility of consumers to set a reasonable price or to promote wine knowledge, but the wine trade's. To realise the great potential of Chinese wine market, these are missions we'll have to accomplish first.
(Translated by Sylvia Wu)
Translated by Sylvia Wu / 吴嘉溦
All rights reserved by Future plc. No part of this publication may be reproduced, distributed or transmitted in any form or by any means without the prior written permission of Decanter.
Only Official Media Partners (see About us) of DecanterChina.com may republish part of the content from the site without prior permission under strict Terms & Conditions. Contact china@decanter.com to learn about how to become an Official Media Partner of DecanterChina.com.