Demei's View - Wine Communication from a Chinese Winemaker
Now as we stand at the end of the year, all walks of life are reviewing the passing year and making plans for the next. For the Chinese wine industry, after two years struggling in a sluggish market, everyone just can't wait for the market to show the slightest sign of recovery.
However, for a market undergoing a structural change, time won't improve anything; praying for the good old times to come back won't work either. If the general economic environment doesn't change fundamentally, and there is no increase in consumer demand, the downturn of wine consumption in China will not reverse by itself.
Amid an overall decrease in wine sales, domestic-produced wines were the first to take a hit, and they were hit hard. To make it worse, as local producers tend to operate on their own, the entire trade lacked unity and cooperation under a crisis like this. As the sales went down, the income of domestic wine companies also dropped, which lead to a reduced marketing budget, and a quieter market.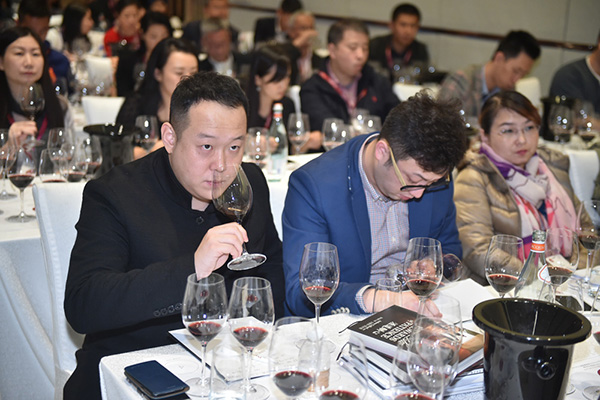 Meanwhile, for wines from overseas—not only those from the EU, but also New World wines from Australia, California, Chile, New Zealand and so on—many have their own regional wine bodies, which have been busy promoting and marketing their wines in China.
The contrast made local wine producers looked even more miserable. They became more nervous about the slightest change in the market.
One of the most discussed topics among the Chinese wine trade recently is the fact that Australian wines are soon going to enjoy a partial reduction of import tariffs, with the tariffs being eventually abolished by 2019.
China has allowed New Zealand wines to enter without paying import tariffs ever since 2012. The New Zealand wine trade did enjoy a few happy days; however, because the total amount of wine imported from New Zealand is limited, and NZ wines are sold at a comparatively higher price, the tax exemption hasn't brought about very visible effects so far.
From 2015, Chilean wines are going to be allowed in without import tax, too. Since 2013, the value of Chilean wine imports has been right behind France and Australia, while the imports of the latter two countries are also growing steadily in China.
Under such circumstances, it's understandable why the news that Australian wines are going to be exempt from import tariffs as well touched so many raw nerves of the local producers.
Last year I took part in the wine festival 'Savour Australia', where I listened to talks about putting more efforts into exploring the Chinese market, and making it the biggest overseas market for Australia in 2018. I only half-believed their words by then; but the import tax exemption has been a milestone for Australian wines, and now the target actually starts to look realistic.
Here comes the question constantly discussed by local producers: how do we deal with the impact of overseas wines?
Take the wine market of Guangdong for an example. According to the local trade, before 2005, domestic wines occupied almost 90% of the market share, with imported wines taking only 10%. But now, imported wines have taken up almost 70% of the market share, leaving the remaining 30% to local wines.
If we look at the Chinese market as a closed system, and if we assume the sales of domestic wines are opposed to that of imported wines, then it would seem that imported wines have robbed domestic wines of their shares in the market.
However, there's no doubt that imported wines have provided more choice to the consumer market, which in turn has helped the development of the local wine industry.
So is it really that terrifying to abolish import tariffs on imported wines?
As a matter of fact, even without import tax, there're still consumption tax and value-added tax to be paid for imported wines, not to mention the cost of transport and the potential risks behind it. Local produce, on the other hand, is free from all that.
Perhaps the crisis sensed by the local producers is not originated from the abolition of import tax, but from the restructuring of the consumer market.
After China joined the World Trade Organization (WTO), globalisation was the trend for every industry. The localised identity of any company or brand is being diluted in the process.
For business sectors where corporatisation has been exceptionally successful, it's almost impossible to tell whether a brand is 'domestic' or 'international'—for instance, among the top 50 beer companies in China, only one isn't a joint venture with overseas investors.
Clearly, in an era of economic globalisation, wine industry practitioners need to change their way of thinking accordingly.
To start with, there's no point making domestic and imported wines enemies against each other; the further development of Chinese wine market relies on the two working together.
After two years of structural change, more people have started to drink wine, and to buy it in a more rational way. The operation director of one of the top importers in China once told me, in 2014, 70% of the company's wines were priced just slightly above 100CNY (10GBP).
Mass market is much more predictable, as opposed to the previous years, when much of the wine consumption in China was based on officials' entertainment budget. It was almost impossible for people to study the market by then; as for importers, they found it extremely difficult to bury their roots in this market.
At the moment, however, a healthier mass market is a more effective stimulus for imported wines to expand their territories, rather than tariff exemption.
Some Chinese companies, on the other hand, are not only trying to sell their products, but also start to think about working with overseas investors, so as to achieve further expansion and development. A real-life example is that Summergate was recently acquired by the Australian wine retail giant Woolworths Liquor Group.
Pernod Ricard, Domaine Baron Rothschild and the LVMH are all investing in projects to produce wines in China; in the meantime, China's Changyu group and COFCO both purchased wine estates overseas. For wines from these properties, are they 'domestic' or 'imported'?
For any product to have a strong vitality in the market, it must have good quality, a reasonable price and its own unique features. Where it is from doesn't really matter.
Translated by Sylvia Wu / 吴嘉溦
All rights reserved by Future plc. No part of this publication may be reproduced, distributed or transmitted in any form or by any means without the prior written permission of Decanter.
Only Official Media Partners (see About us) of DecanterChina.com may republish part of the content from the site without prior permission under strict Terms & Conditions. Contact china@decanter.com to learn about how to become an Official Media Partner of DecanterChina.com.