Demei's View - Wine Communication from a Chinese Winemaker
When Chinese people see the three characters Shan Pu Tao (山葡萄), they would think about some wild, uncultivated grape species, just like wild apples or walnuts. However, in the northeast of China, there is a grape species called Vitis amurensis, whose Chinese name is also Shan Pu Tao.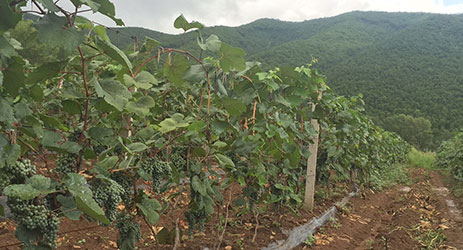 This species is mainly found in the three provinces in the northeast of China, the east of Inner Mongolia, and part of Russia and North Korea. The winter in these areas is extremely cold; the temperature may drop to -30°C. Vitis amurensis grapes are very resistant to cold – it is probably the species with the best cold hardiness in the genus Vitis. Meanwhile, Vitis amurensis grapes are also strongly resistant to diseases such as powdery mildew, white rot, grapevine anthracnose and grape black pox. Moreover, this species is different from the American grapes (V labrusca, V riparia, V rupestis, V cordifolia, V aestivalis and so on), which always have a musky aroma. Vitis amurensis doesn't have a distinct characteristic aroma, so it will not disturb the aroma of the other parent grape varieties when it is used to hybrid with them. Therefore, Vitis amurensis is one of the most important materials for viticulturists to breed new varieties that can resist against the cold and diseases.
In northern China, the European grapes (Vitis vinifera) are planted for winemaking, and they have to be buried underground to survive in the winter. This practice spends one third of the vineyard management cost (which is unnecessary in most of the other winemaking regions in the world). It prevents many cultivation techniques being applied and impedes the improvement of the quality of the grapes, as well as shortening the lifespan of the grapevines. Thus, cultivating grape varieties with resistance to low temperature is a significant task in China's viticulture field. As a species that naturally resist to cold, Vitis amurensis gains extensive attention from the viticulturists.
The use of Vitis amurensis dates back to 1907. Researchers in the former Soviet Union did large-scale survey on wild-grown Vitis amurensis, and selected some good strains for production. The use of Vitis amurensis entered into a new era when the Vitis amurensis with hermaphrodite flower was discovered in 1930s (most of the wild-grown Vitis amurensis grapes are dioecious – meaning that the male and female reproductive organs are in separate flowers on separate plants). Before the Second World War, researchers in the former Soviet Union had already used Vitis amurensis for interspecific hybridization breeding, and got some first generation cultivars. Whilst in China, the domestication and cultivation of Vitis amurensis had not been completed until the Jilin Changbai Mountains Wine Company (founded in 1936) and Jilin Tonghua Wine Company (founded in 1937) started to make wine with wild-grown Vitis amurensis.
After WWII, since 1955, many grape research institutions in the former Soviet Union began to use Vitis amurensis to selectively breed grape varieties that have comprehensive resistance. In 1958-1970, 43 varieties were successfully bred, including more than 10 varieties with high resistance to cold.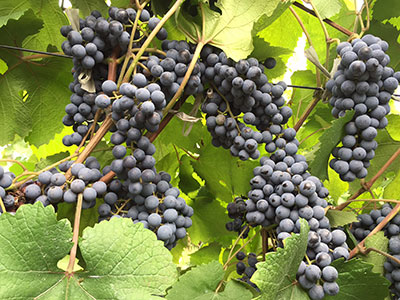 The widespread use of Vitis amurensis in China happened since 1959. The researchers at the Speciality Institute of Chinese Academy of Agricultural Sciences used Vitis amurensis for intraspecific hybridization breeding and bred the new hermaphrodite flower-varieties Shuangqing, Shuangyou, Shuangfeng and Shuanghong from the offsprings. At the same time, they used high quality Vitis amurensis varieties, strains and individual plants to hybrid, backcross and recross (seven different crossing models in total) with Vitis vinifera varieties whose fruit have high sugar and low acidity, such as Müller-Thurgau, Merlot, Riesling, Cabernet Sauvignon, Vidal and Chenin Blanc. From the offsprings of the 73 combinations, the researches selected wine grape varieties Zuohongyi, Zuoyouhong, Xuelanhong, and icewine variety Beibinghong (Image 1). Nowadays, all of these varieties are used for production with thousands of hectares planted areas, even at Shuangyashan where the latitude is 46°N (Image 2); they have become the important raw materials for wines making in the northeast of China.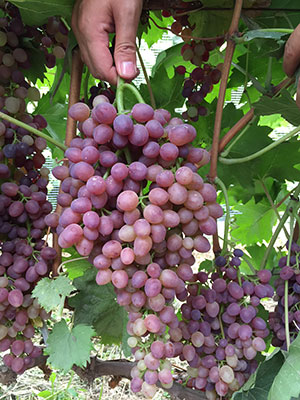 In the same period, the grape breeding team at Beijing Botanical Garden of Institute of Botany, Chinese Academy of Sciences had bred Beichun, Beihong (Image 3), Beimei, Beixin and Beixi varieties from the hybrid of Vitis amurensis and Vitis vinifera (Vitis amurensis x Muscat). This series of grape varieties is the most widely planted among the interspecific hybridization breedings. At present, the team does not just breed wine grapes with high resistance to cold and disease; they also cultivated some table grapes with cold and disease hardiness, like Jingxiu and Jingzaojing (Image 4).
Apart from these varieties, there are Gongniang No 1, Gongniang No 2 and Gongzhubai from Fruit Tree Research Institute, Jilin Academy of Agricultural Sciences; Huapu No 1, Heishan, Shanmeigui from interspecific hybridization breeding at Fruit Tree Research Institute, Chinese Academy of Agricultural Sciences; Neichunfeng from the Horticultural Research Institute, Inner Mongolia Academy of Agricultural Sciences, and Xiongyuebai from Liaoning Agricultural College.
Grape variety is definitely an important aspect in terms of expressing the terrior, and apart from introducing varieties from other regions, breeding varieties that are suitable for the local condition is another effective way of expressing the terrior. I believe that the Chinese wine lovers are looking forward to the grape varieties that can interpret the terrior of the Chinese wine regions.
Translated by Nina Fan Feng / 冯帆
All rights reserved by Future plc. No part of this publication may be reproduced, distributed or transmitted in any form or by any means without the prior written permission of Decanter.
Only Official Media Partners (see About us) of DecanterChina.com may republish part of the content from the site without prior permission under strict Terms & Conditions. Contact china@decanter.com to learn about how to become an Official Media Partner of DecanterChina.com.