Demei's View - Wine Communication from a Chinese Winemaker
In the study of Chinese history, the year 1949 has always been considered as a dividing line. There is no exception for the history of Chinese winegrowing and winemaking. Besides the armistice, the technological development after 1949 also drove the progress of Chinese wine industry.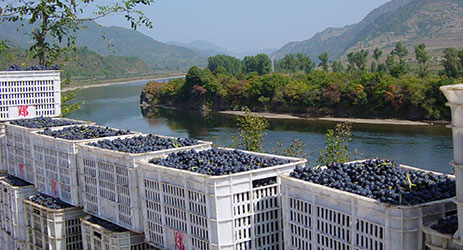 The research of winegrowing resources
Thanks to the planned economy system in 1950s-1970s, scientists conducted abundant investigations on domestic winegrowing resources and found some plants in the Vitis L. genus which originated in China. Two state-level grape germplasm nurseries were established in Zhengzhou, Henan Province and Taigu, Shanxi Province, followed by the found of the Vitis amurensis germplasm nursery in Zuojia, Jilin Province and the wild grape germplasm nursery in the Northwest A&F University.
Up until 1998, there were 39 species in the Chinese Vitis L. genus, one sub-species and 13 variations. These Chinese species are the natural wealth to the wine world relative to the species Vitis vinifera in Europe.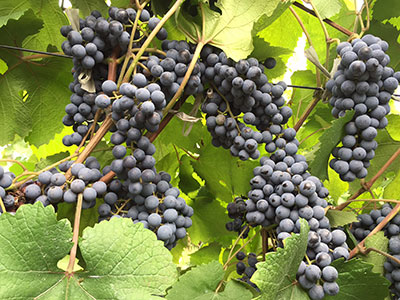 Wine grape breeding
The selecting and breeding of both tables grape and wine grapes were started in 1950s. Before that, all the grape varieties were the result of long-term natural selection and manual breeding. The aim of wine grape breeding in China was to cultivate red grapes with cold resistance. Even nowadays, the European species (V vinifera) in northern China (including Xinjiang and Ningxia) would be frozen to death without any protection in the winter.
On the basis of Vitis amurensis, the Fruit Research Institute of Jilin Academy of Agricultural Sciences (former Northeast Academy of Agricultural Sciences) successfully bred the Gongniang No 1 and Gongniang No 2 in 1952 and 1961 respectively. The Beijing Botanical Garden of Institute of Botany, Chinese Academy of Sciences also bred Beichun, Beihong, Beimei, the grape varieties that can survive the cold winter, by crossbreeding V vinifera Hamburg with V amurensis.
Later on, many institutes such as the Shandong Grape Experiment Station (now Shandong Vine and Wine-making Institute), Yantai Winery (Changyu Wine Company), Zhengzhou Fruit Research Institute of Chinese Academy of Agriculture Sciences and so on successively bred grape varieties Meichun, Meiyu, Meinong, Hongzhilu (V Merlot x V Petit Verdot), Quanbai (V Riesling x V Petit Verdot), Quanyu (V Riesling x V Hamburg), Yan 73 and Yan 74 (V Alicante Bouche x V Hamburg).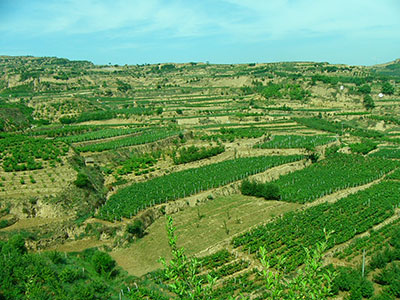 The introduction of foreign varieties
Most of the commercially cultivated grapes, especially the wine grapes, are imported varieties. Since Changyu Wine Company introduced over 120 wine grape varieties from Germany, Austria, Spain and Italy in 1892, the process has never been interrupted. During the 1950s-1960s, due to political factors, the imported varieties were mainly from Eastern European V vinifera. Some special varieties like Rkatsiteli and Sapevari are still being planted on a large scale nowadays. The introduction of wine grapes from USA, Italy and France only started in the 70s.
The 80s saw a huge amount of imports from Europe by the GreatWall Wine Company, China National Research Institute of Food and Fermentation Industries (former Research Institute of Food and Fermentation of the Ministry of Light Industry), Xinjiang Shanshan Wine Company, Tianjin Agricultural Reclamation Group, Qingdao Huadong Winery Co., Ltd, Beijing Dragon Seal Winery Co., Ltd and so on. The huge wave of wine industry development at the end of the 90s pushed an even bigger scale of importing vine cuttings. However, the fan leaf viruses that came with it led the central government to list the cuttings as a strictly controlled imported plant and the import of vine cuttings became very difficult.
In recent decades, vine cuttings were mainly imported by Domaine Franco-Chinois in Huailai, Hebei Province, Chateau Junding of COFCO in Penglai, Shandong Province, Jianan Winery in Huailai, Hebei Province, Ningxia Daylong Wine Company and Ningxia Development Bureau for Grape and Flower Industry. Currently the imported cuttings are generally grafted ones.
Defining the wine regions
Although the surface of vineyards in China has grown rapidly (reaching 665,610 ha by 2012) and though China has become the fourth biggest winegrowing country in the world, the work of defining wine regions has not been given due attention. It wasn't until 1980s that researchers from China Agricultural University and Northwest A&F University started to carry out the work. Unfortunately, under the impact of the market economy tide, work that required long-term investment and multilateral cooperation like this was difficult to sustain. And as a result, there was not a unified or generally accepted Chinese wine region definition until now.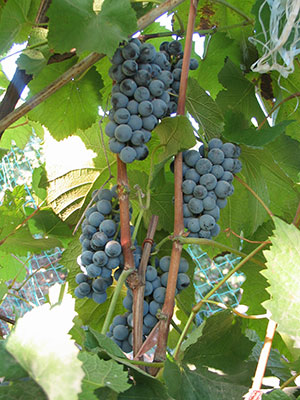 Winemaking in China
The development of Chinese winemaking could be broadly divided into three periods:
1949-1979: During this period, wines on the Chinese market were mainly products of blending partly fermented grape juice with other flavour agents, which could not be called 'wine' by today's standards. The China GreatWall Wine Company only produced the first bottle of Chinese dry white wine with the local grape variety Longyan in 1979.
1980-2000: With China's opening up, the Sino-French Joint-Venture Tianjin Dynasty Winery Ltd., was found in 1980. (This was also the first wholly foreign-owned enterprise with overseas capital investment in China.) The Chinese wine industry attracted some international investment, such as the Sino-British Joint-Venture Qingdao East China wine company established in 1985 and the Sino-French Joint-Venture Beijing Dragon Seal Winery Co., Ltd. in 1988, as well as some wine companies invested in with domestic capital. The individual wine companies found in this period were normally large in scale, and focused on white wines in the beginning (until the end of 1996), and turned to red wines later.
2000-now: At the early stage of this period, investment in the winemaking area was growing vigorously along with the development of the wine consuming market. After the build of the Grace Vineyard in Shanxi Province, Rongchen Vineyard in Huailai, Hebei Province, Chateau Changyu-Castel in Yantai, the investment in the Chinese wine industry turned to the development model of wineries with their own vineyards. Therefore, wineries like the Sino-French Cooperative Demonstration Vineyard of Vine Growth and Vinification, Bodega Langes in Qinhuangdao, Hebei Province, Chateau Bolongbao in Beijing, Chateau Huadong-Parry in Qingdao, and Chateau GreatWall (now Chateau SunGod) were established successively. These individual wineries which were separated from their parent company set up a winery union in 2006 to carry out collective promotions.
In 2004, the standard of the 'half-juice' wine was abolished because of China's accession to WTO and the development of Chinese domestic winemaking. From then on, the Chinese wine production was acting to international standards.
At present, besides the investments from Moët Hennessy, Pernod Ricard Group and other international wine industry giants, there is a large amount of capital for the wine production from local real estate, mineral and Chinese spirit industry, which formed another investment boom in the wine industry. The local government in some wine regions has also established special government regulators.
It is obvious that the Chinese domestic wine production is still at an early stage compared to the profound historical heritage in Europe and the favourable natural conditions in New World countries such as USA and Australia, and it does not have the ability to compete internationally.
China's high-potential consumer market might instead be the reason for it to attract the world's attention.
Translated by Nina Fan Feng / 冯帆
All rights reserved by Future plc. No part of this publication may be reproduced, distributed or transmitted in any form or by any means without the prior written permission of Decanter.
Only Official Media Partners (see About us) of DecanterChina.com may republish part of the content from the site without prior permission under strict Terms & Conditions. Contact china@decanter.com to learn about how to become an Official Media Partner of DecanterChina.com.