Demei's View - Wine Communication from a Chinese Winemaker
Editor's Note:
In the last column, LI Demei talked about Chinese wine regions in Shandong, Hebei, Beijing, Liaoning and so on. This week, he will introduce the wine regions in the northwest and southwest of China.
Xinjiang Uyghur Autonomous Region
Xinjiang is certainly the region with the largest wine grape production in China. It was originally famous for its massive production of raisins. In the past decade, the cultivated area of wine grapes in this region has grown very fast, and formed the Manas Basin region by the north slope of Tianshan Mountain, and the Yanqi Basin region by the south slope of Tianshan Mountain.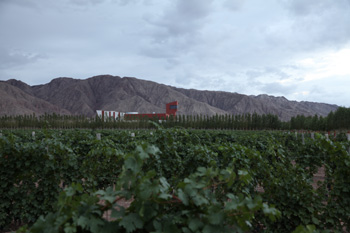 In addition, there are some vineyards at Turpan in Eastern Xinjiang and at Ili by the western border of China. For a long time, this area mainly sold unblended wines to companies in other provinces, but some wineries, that have been built in recent years, started releasing bottled wines to the market gaining a good reputation. This is a remote region, thus, it has no advantages in terms of means of production and product transport.
Main wineries in this region include:
CITIC Guoan Wine (former Suntime Wine),
Xinjiang Xiangdu Winery Co., Ltd.,
Chateau Loulan,
Chateau Tuoling,
Chateau Aroma,
Bodega Refine.
Also, the newly built Skyline of Gobi Vineyards, Chateau Changyu Baron Balboa, COFCO GreatWall (Xinjiang) Wine Company Limited and Zhongfei Winery.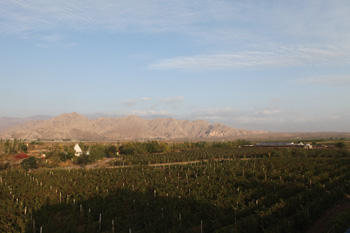 Ningxia Hui Autonomous Region
The wine industry occupies the most important position in the economic development of Ningxia. This region has good conditions of light and warmth; although it has an arid and semi-arid climate, it is easy to carry out manual irrigation thanks to the Yellow River that flows through the area. The first and only provincial-level of development bureau for wine in China was founded here, and the government gives great support to the technical training, seedling introduction and infrastructure construction such as road and water and power utilities construction. The wines produced in this region have won many awards in both domestic and international wine competitions, and have attracted many investments. Ningxia is a true star region in China.
Main wineries in this region include:
Ningxia Xixia King Winery Co., Ltd.,
Domaine Helan Mountain,
Imperial Horse Winery,
Ningxia Red Winery,
Leirenshou,
Chateau Saint Louis-Ding,
Chateau Bacchus.
Also, the cutting-edge boutique wineries such as Helan Qingxue and Silver Heights, and the new wineries including Daylong Wine, COFCO Chateau Yunmo, Moët Hennessy Bodegas Chandon, Changyu Moser XV, Lanny Chateau and Yuan Shi.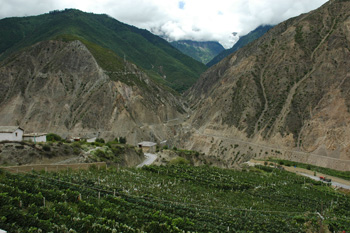 Gansu Province
Gansu has a relatively long history of winemaking. However, due to the transport hurdles, the wine industry hasn't improved very much. The local vineyards are concentrated in the Wuwei region. Generally speaking, this region has a cool climate, and the performance of the late-ripening grape varieties is barely satisfactory.
Main wineries in this region include:
Mogao Wine,
Qilian Wine Company,
Zixuan Wine,
Grand Dragon,
Sunshine Valley.
Inner Mongolia Autonomous Region
The Wuhai region in Inner Mongolia has a long history of grape growing and produces raisins with good quality. Chateau Hansen is a representative enterprise in the area.
Yunnan Province and Sichuan Province
The Yunnan Red wine company in Mile County, Yunnan Province produces wines with special flavours made with a local hybrid grape variety that can be used as both a table grape and a wine grape. This wine was once very popular in the local wine scene and was the quality benchmark standard for local consumers for a long period of time.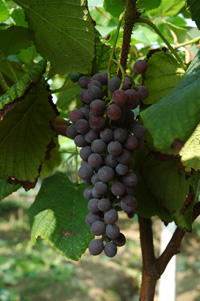 Despite the low latitude, the areas in Yunnan and Sichuan that border on Tibet have cooler weather because of the higher elevation, and the terroir in the upper valleys of Lancanjiang River (the Mekong River), Dadu River and Min River is unique. A series of new wineries have been established in these areas, including the Shangri-La winery, The Spirit of Highland winery, Baima winery (tentatively), as well as the KangDingHong winery, Passun 1982 and HongXing Leader Winery in Sichuan. Similar to Shandong Province, the vines in these regions can survive winters without any artificial protection. The high elevation also brings enough sunlight to give the grapes superior quality. On the other hand, it is very hard to cultivate large tracts of lands in this hilly area. As a result, the vineyards are normally spread out all over the mountain and 1ha of vineyard may consist of a dozen or so small plots. In addition, these regions do not have a long grape growing history. Therefore, they are also facing the challenge of looking for a qualified workforce.
Apart from the above regions, the old Yellow River channel (the boundary of Henan Province, Anhui Province, Shandong Province and Jiangsu Province) used to be a wine region, but much of the vineyard has gradually reduced because of the excessively damp and hot weather in the summer. At the same time, there are new wineries in Hunan Province, Guangxi Zhuang Autonomous Region and Jiangxi Province making wines with the wild Vitis davidii and Vitis quinquangularis.
Translated by Nina Fan Feng / 冯帆
All rights reserved by Future plc. No part of this publication may be reproduced, distributed or transmitted in any form or by any means without the prior written permission of Decanter.
Only Official Media Partners (see About us) of DecanterChina.com may republish part of the content from the site without prior permission under strict Terms & Conditions. Contact china@decanter.com to learn about how to become an Official Media Partner of DecanterChina.com.