Demei's View - Wine Communication from a Chinese Winemaker
Following the development of the Chinese wine consuming market, especially the sustainable growth of the market shares of imported wines, domestic Chinese wines have attracted growing attention, and more and more people have come to tour Chinese wine regions. Although local wines have a numerical advantage in the Chinese wine scene, it is not an easy task to understand these regions, as there aren't certain wine regions being defined. The 'wine regions' people are customarily talking about are actually administrative divisions. The divisions are to be improved, but so far they can help us to explore the vineyards in China.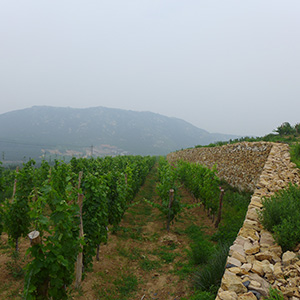 Shandong Province
Shandong deserves its place at the top of the list of Chinese wine regions because of its long history of winemaking, and the figures of wine sales by both volume and value are the highest. The wines produced in Shandong are mainly from the Shandong Peninsula where the most famous region is Yantai. However, the vineyards are gathered in Penglai (a county-level city and an administrative subdivision of the prefecture-level city Yantai). Apart from Yantai, there are a few wineries in Qingdao, which is on the other side of the Shandong Peninsula.
This region has a long history of wine industry development as well as advanced winemaking technology. Its moderate climate means vines here can naturally survive the winters without any artificial protection. However, the rainy weather in Summer means there are less hours of sunlight therefore increaseing the risk of grape disease, which is the main problem preventing the local wine development from going further.
Main wineries in this region include:
Changyu Pioneer Wine Company Limited,
COFCO GreatWall (Yantai) Wine Company Limited,
Grand Dragon Wine Company Limited,
Chateau Changyu-Castel,
Chateau Junding of COFCO,
Qingdao Huadong Winery Co., Limited,
Nanshan Manor Winery,
as well as a batch of cutting-edge and small-scale wineries, such as CITIC-Lafite Winery, Chateau Reifeng-Auzias and Qingdao Great River Hill Winery.
Hebei Province
Hebei is just below Shandong in term of wine production and sales profit. The wine regions in this province include Shacheng, located in the northwest of Beijing, the hometown of the first Chinese dry white; and Changli, which is in the northeast of Beijing and produced the first Chinese dry red. Changli is close to the Bohai sea and has high humidity during the growing-season resulting in high pressure to control grape diseases. Moreover, the vines in Changli need artificial protection to safely survive the winter as they do in the other wine regions in Northern China. On the other hand, Shacheng, as a region close to Beijing, enjoys unique advantages for marketing and promotion, as well as drier weather and more illumination hours in summer than the regions mentioned above, because the Yan Mountains obstruct the damp air from the southeast. The off-dry red wine made from the widely planted Longyan grape in this region was once very popular.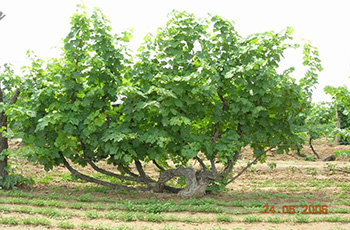 Main wineries in this region include:Shacheng
China GreatWall Wine Company,
Chateau SunGod,
Domaine Franco-Chinois,
Dragon Seal Winery,
Rongchen Vineyard,
Chateau Red Leaf,
Fengshou Wine,
Martin Vineyard,
as well as the newly built Sheng Tang Winery, Amethyst Manor, Guidu, Chateau Nubes and Flower Valley.
Changli:
COFCO Huaxia GreatWall Wine Company,
Bodega Langes,
Moutai Wine,
Diwang Wine.
Wines selling under the name of Shandong and Hebei wineries account for more than a half of the wines in the Chinese wine industry by yield as well as output value.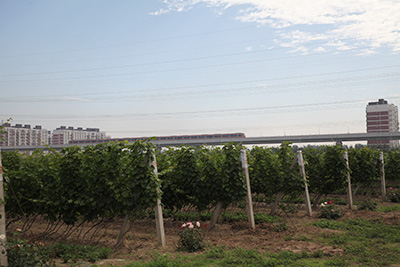 Beijing
The history of winemaking in Beijing can be dated back a hundred years. As the Chinese political, economic and cultural centre, Beijing has always been put under the industrial spotlight for its wine production and consumption. Yanqing, which in is the same climatic region as Shacheng, and Fangshan in the southwest of Beijing, have some wineries built in the area. Because of the shortage of land source, these local wineries normally are quite small-scale, but these regions may be the ideal places for wine tourism.
Main wineries in this region include:
Dragon Seal Winery Co., Ltd.,
Fengshou Wine Co., Ltd.,
Chateau Bolongbao,
Chateau Changyu Afip,
Chateau Laien.
Tianjin
Tianjin has a tradition of viticulture; the Muscut Hamburg grape from Chadian, Tianjin is famous around the whole country. The first Chinese-foreign joint venture – the Sino-French Joint-Venture Dynasty Winery Ltd., established at the beginning of the reform and opening, started winemaking with the Muscut Hamburg grape from this region.
Shanxi Province
The vineyards in Shangxi are being concentrated in the Taiyuan Basin and the edge of Loess Plateau. The scale of winemaking in Shanxi is relatively tiny, but thanks to the success of the Grace Vineyard, this region definitely occupies an important position in the Chinese wine industry. The newly constructed Rongzi Winery has Jean Claude Berrouet as their consultant, and is starting to cut a figure now.
Shaanxi Province
Shaanxi as a wine region is not as popular as the others, but the first university winemaking course was set up here, therefore the decision of investing money and building wineries in this area seems to be logical and rational. Jade Valley Wine & Resort in Lantian County attracted many visitors for its unique architecture.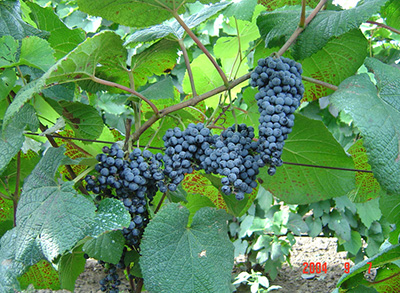 Jilin Province
The Changbai Mountain region in Jilin has the Chinese origin Vitis amurensis (the Amur grape). This grape variety has remarkable cold resistance which helps it to survive winter naturally despite the severe cold climate. It is also excellent grape breeding material. Many Chinese grape breeders hybridise Vitis amurensis with European grape varieties to breed a series of wine grape varieties that have strong cold resistance. While harvesting, the skin of Vitis amurensis is high in anthocyanins and acidity, but lacks sugar. Therefore it needs to add exogenous sugar during vinification. Local people have nearly 100 years of winemaking history with this grape variety, however, the standard of wine production from this region is different from other regions.
Main wineries in this region include:
Tonghua Grape Wine Co., Ltd.,
Changbaishan Wine Holding Co., Ltd.,
Tongtine Wines
Liaoning Province
China also has its own icewines, and the most famous icewine region is Huanren County in Liaoning Province. Wunushan wines and Changyu Golden Icewine Valley are both in this region.
Translated by Nina Fan Feng / 冯帆
All rights reserved by Future plc. No part of this publication may be reproduced, distributed or transmitted in any form or by any means without the prior written permission of Decanter.
Only Official Media Partners (see About us) of DecanterChina.com may republish part of the content from the site without prior permission under strict Terms & Conditions. Contact china@decanter.com to learn about how to become an Official Media Partner of DecanterChina.com.