Demei's View - Wine Communication from a Chinese Winemaker
On 5th September, I attended a vertical tasting of Ningxia's Helan Qingxue winery, as part of its 10th anniversary celebrations. Though I've been to many vertical tastings hosted by overseas producers, this one was especially touching for me.
It all started when Helan Qingxue won the International Trophy in the 2011 Decanter World Wine Awards (DWWA). The win not only drew enormous attention to this Ningxia winery, it made them the flagship of China's fine wine producers. It has since become a must-see for winery visitors coming to Ningxia. For those who want to know more about the Chinese wine industry, and to prove wrong those who are unnecessarily critical about Chinese wines, Helan Qingxue is the perfect place to start.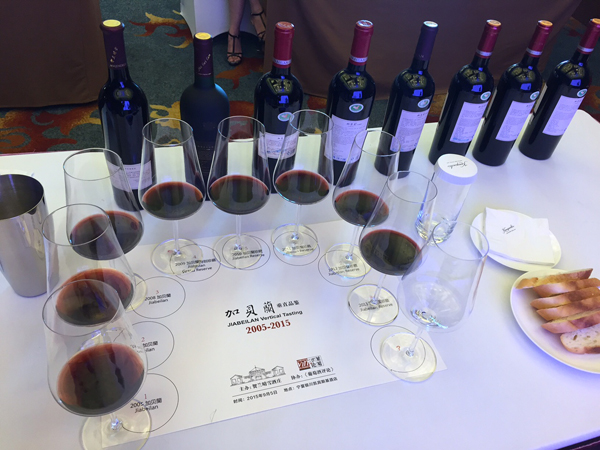 The latest vertical tasting featured 8 vintages: 2005, 2006, 2008, 2009, 2010, 2011, 2012, 2013, plus a secret cuvee for blind tasting. Over 30 people, including journalists from lifestyle and wine-related media and officials from Ningxia's wine industry authorities, attended the event.
Right after the judging week of Decanter Asia Wine Awards (DAWA), Sarah Kemp, Decanter's Publishing Director, together with CH'NG Poh Tiong, also flew to Yinchuan to witness this historic moment.
Ningxia's history of winemaking isn't the longest of the Chinese wine producing regions. The region's first winery was built in 1985, but no major development was seen after the initial establishment. It wasn't until the late 1990s, after a substantial investment, that Ningxia began to be seen as a prominent Chinese wine region. This investment pushed the plantings up to 2,000 to 3,000 hectares and created several local wine brands. My interest in Ningxia as a wine region began in 2004, when I came across Ministry of Agriculture's report on the areas for China's competitive agricultural industry.
There's little doubt that even now Ningxia's wine industry isn't the biggest in China on either scale or production value. However, ten years ago, among all the provinces and regions of China, only Ningxia listed wine as a focus industry. I was very impressed by this dedication at that time.
In 2005, Helan Qingxue winery was established (I'll talk about the source of the name later). I knew two elderlies of the three founders long before the establishment, so naturally I had been following the moves of the estate since its creation.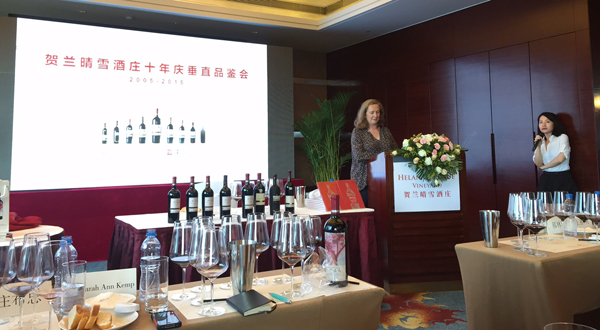 The youngest founder of Helan Qingxue (and today's chief winemaker) asked to become my apprentice. This was a request I didn't take very seriously at the time. However, later that year, she managed to complete her first formal winemaking internship at the winery where I was the Chief Winemaker.
In 2008, I accepted an invitation to become the technical consultant of Helan Qingxue. The same year saw the completion of the main estate building, which led to a significant improvement in the working and living environment. Lucky for us, the year was also a good year for winemaking. After years of honing skills and a lot of hard work, the team had high expectations in the wines and were dreaming of the estate's bright future.
Meanwhile, a handful of small-scale fine wine producers were built throughout China. Together with the expansion of the wine market, more and more domestic producers started to pay more attention to quality. This period of time also saw significant growth in wine import, creating a vigorous production and consumption market.
The 2009 vintage was exciting, and was met with a more mature winemaking team at Helan Qingxue. After malolactic fermentation, we quickly realised that the quality was exceptional compared to previous years. Our initial assessment was followed by more positive comments from other professionals.
In the same year (2010), the bottled 2008 vintage began a gold medal haul in all major domestic competitions, which was exhilarating to the entire team. I hence suggested that we enter the 2009 vintage in an international competition so as to compare what we've achieved.
It was when we started to fill in the specifics of our wine via DWWA's online entry system that we noticed Ningxia wasn't listed as an existing wine region in China. I had to email Decanter to explain that the wine we were entering was from Ningxia.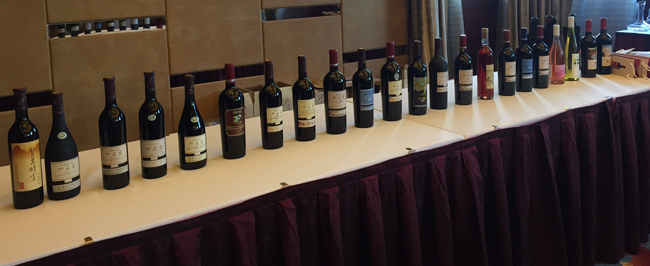 In May 2011, with great excitement we realised that our wine was awarded Regional Trophy. However, when we attended the DWWA Award Ceremony in London on 7th September 2011, it was a complete surprise for all of us when the organiser announced that Jia Bei Lan 2009 won an International Trophy in that year's award.
I suppose you all know about the story after.
The award instantly catapulted Jia Bei Lan into the spotlight. Of course we received not only approval, but also doubt.
Thankfully the owners of the estate were two elderlies, who were well-tested in their career. Their calmness when faced with both criticism and admiration gave tacit guidance to the younger members in the team.
But what impressed me the most was the owners' humble address on the win in many occasions, 'we are certainly thrilled that Jia Bei Lan has won such a significant award. However, the most encouraging fact is that many wineries in Ningxia have the same settings as Helan Qinexue, and they are also capable of achieving great heights.'
The award came at a time when Ningxia's government was planning how to further boost the development of the local wine industry. Helan Qingxue's achievement certainly gave the authority an encouraging push.
These events appear coincidental, but were in fact a result of more than ten years' tireless effort made by the local government on expanding the wine industry, combined with a fast growing wine consumption market. Without these factors, this historical moment could have come a lot later.
In March 2012, the government of Ningxia Hui Autonomous Region held a press conference in Beijing during the year's National People's Congress and the Chinese Political Consultative Conference (NPC & CPPCC). They announced that it intended to 'vigorously reinforce the development of wine industry'.
In May 2012, Ningxia established its 'Wine Bureau', which was also the first provincial wine authority in China.
In 2013, the 'Ningxia Helan Mountain East Wine Region Conservation Regulations' were passed by the legislative committee of the local People's Congress. This provides legal protection to the sustainable development of the region's wine industry.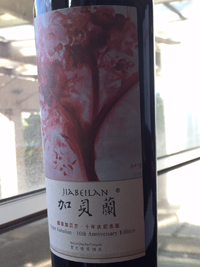 Later that year, Ningxia launched a classification system, aiming to evaluate the region's wineries in a systematic way.
In April 2015, Ningxia introduced a managing committee in Helan Mountain East to apply unified management, planning and construction to the wine region while balancing the needs of different parties.
Now we're back to the vertical tasting celebrating the winery's 10th anniversary.
CH'NG Poh Tiong gave his comments on the eight wines tasted. He suggested that the eight vintages can be separated into two groups; the first being the 2005, 2006, 2008 and 2009 which demonstrated clear and continuous improvement in their richness and harmony of nose and palate. After being aged in the bottle for 10 years, the 2005 was still fresh and vibrant, which suggested that the 2009 can also endure another decade.
The next four vintages were all of a stable and high standard, said Poh Tiong, whilst all of being different. The 2013 was dense and closed, whereas the 2010 and 2011 were elegant and full of finesse. The 2012, on the other hand, was jammier than its peers. Overall the style of this wine was more prone to old world; balanced, elegant and never too heavy.
The winery waited until the end of the tasting to unveil a mysterious blend; it was a 'NV Super Jia Bei Lan', made from blending the best 5 vintages from 2005 to 2014.
Ten years may not be very long in one's life. But for a child, or a young and still growing winery, ten years may be long enough to show its true value.
As Sarah Kemp has said after the vertical tasting, history has proven that the Decanter judges made a correct decision in 2011.
*Notes:
1. The winery name 'Helan Qingxue' came from the one of the eight beautiful sceneries that Ningxia is known of. It depicts the white snow on top of the Helan Mountain under the clear sky of June.
2. Part of the wine name 'Jia Bei Lan加贝兰' came from splitting the Chinese character 'He贺' (of Helan Mountain 贺兰山) in half.
3. The Chinese characters 'Jia Bei Lan' on the label were taken from Lantingji Xu, a famous work of calligraphy by WANG Xizhi (Jin Dynasty).
Translated by Sylvia Wu / 吴嘉溦
All rights reserved by Future plc. No part of this publication may be reproduced, distributed or transmitted in any form or by any means without the prior written permission of Decanter.
Only Official Media Partners (see About us) of DecanterChina.com may republish part of the content from the site without prior permission under strict Terms & Conditions. Contact china@decanter.com to learn about how to become an Official Media Partner of DecanterChina.com.