Chateau Brane-Cantenac
2nd Cru Classe, 1855
33460 Margaux
www.brane-cantenac.com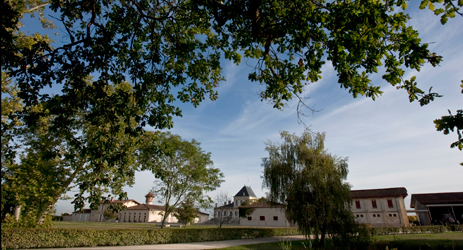 Location: AOC Margaux, near to Chateau Cantenac-Brown and Chateau Boyd-Cantenac. Vineyard located in the two communes of Cantenac and Margaux.
Production: 75 hectares (185 acres), producing one-third first wine and two-thirds Baron de Brane/Chateau Notton (also known as Le Margaux de Henri Lurton).
Five things you didn't know about Chateau Brane-Cantenac
- Brane has its own weather station linked up to the European-wide DEMETER network and for more than 10 years has used an extranet website run by Météo France (daily reports, rain radar, satellite pictures, long range forecasts). This ensures all vineyard treatments can be as targeted and minimal as possible.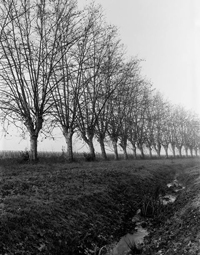 - Consultant at Brane, Eric Boissenot, is also a photographer, and spent 2011 taking striking black-and-white images of Brane for an exhibition held during the 2012 En Primeur. These were recently auctioned off, during Vinexpo 2013, raising €25,000 for Solidar, a charitable organization that flies medical supplies to Africa. The photo which got the highest bid (€2400) was Plain Trees, with a line of wintry trees backing on to a stretch of vines (pictured).
- The first wine of Brane Cantenac comes from a single block of 45 hectares – the original vineyard of the estate, unchanged in size since the 18th century.
- Brane Cantenac has worked in partnership with the Bordeaux Faculty of Oenology since the 1960s, and is a centre for numerous experiments. Current research is being carried out in areas such as enhanced barrel cleaning using steam and high-pressure water, precise vineyard management programmes, and microbiological checks during winemaking to ensure avoidance of issues such as Brettanomyces yeasts developing.
- Owner Henri Lurton has a Masters in biology, a DEA in œnology/ampelology (research into vineyard soils with Professor Seguin) and an œnology diploma from the University of Bordeaux. He worked in South Africa, Australia and Chile before returning to the family estate.
Current owner: Henri Lurton. It has been in the family since 1925.
Most notable previous owner: Hector de Brane, whose family owned Chateau Mouton Rothschild (then Brane Mouton) for much of the 18th and early 19th century. He sold Mouton in 1830, three years before purchasing Brane Cantenac (called Chateau Gorse at the time, until he renamed it in his own honour). Hector and his son Jacques Maxime were among the key drivers for popularising the planting of Cabernet Sauvignon in the Médoc, and so have definitely earned a place in local history. Hector was also married for a time to Laure Fumel, then owner of Chateau Margaux, until he fled the country during the French Revolution, lost all his money, and found himself single again on his return.
Other chateaux owned: None
Commercial strategy: 100% négociants.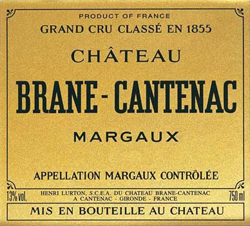 Second wine: Baron de Brane (there is also production of a Chateau Notton, made from a 13 hectare plot known as Notton).
Through the centuries:
The Gorce family were the original founders of Brane Cantenac, hence its name of Chateau Gorse before the Baron de Brane arrived. It was already a well-regarded estate before the arrival of the Brane family, but they cemented its reputation, and in 1855 it was named as a Second Growth. Jacques Maxime, however, had a few financial issues, as his father before him, and in 1866 sold the estate to the Roy family, who were also the owners of Chateau d'Issan, also in Margaux. Before the First World War in 1914, Brane Cantenac's wine fetched the same prices as the first growths, but the war years were hard on everyone, and in 1920 it was bought by the Société des Grands Crus de France (a consortium of merchants and growers), which owned several prestigious estates such as Chateau Margaux, Chateau Giscours, and Chateau Lagrange. They passed it on fairly swiftly, in 1925, to Léonce Récapet – and it was his son-in-law François Lurton who took over the whole of Brane-Cantenac and the majority shareholding of Chateau Margaux. Lucien Lurton (the son of François) inherited Brane-Cantenac in 1956, and he continued to run both this and his other nine estates until 1992, when he very fairly split all 10 properties between his 10 children. Henri took over the reins at Brane, and has been there ever since.

Consultant: Eric Boissenot, working with chateau technical director Christophe Capdeville.
Plantation and vineyard work:Cabernet Sauvignon (55%), Merlot (40%), Cabernet Franc (4.5%) and Carmanere (0.5%), planted to 7,000 to 8,000 vines per hectare. Average age of vines 35 years, average yield for last ten years 45 hectolitres per hectare. There are 100 pickers employed for the harvest, with Charles de Ravinel as permanent vineyard manager. Brane-Cantenac's vine-growing methods follow the principles of environmentally-friendly integrated crop management; and for the last two years, 25% of the vineyard surface area is grown organically. A soil study is carried out before any new plantings. Grapes are brought to the cellar using the Air Tec Wine device, which avoids any crushing or squashing, and then pass through an optical sorter. Rootstocks are Riparia, Gloire de Montpellier and 101-14.
Vinification: A new winery was built in 1999, using Canadian wells to ensure natural ventilation, shutter-style wood panels to limit the warming of the walls of the building, and to allow natural air conditioning. Solar panels are being installed. Vinification takes place in one third oak vats, one third concrete and one third stainless steel, with sizes ranging from 40 to 200 hectolitres. Brane carries out co-innoculation on the initial vats - so carrying out alcoholic fermentation and malolactic fermentation at the same time. For ageing, the chateau uses oak barrels, and has been carrying out various trials on barrel toasts, origin and seasoning of the oak used. Florent Cillero is the cellar master (as well as having been twice French bench press champion, earning the French record for the sport in 2010!!). Baron de Brane spends 12 months in barrels, and Chateau Brane Cantenac around 18 months, depending on vintage, with 60-70% new oak.
Terroir: Deep gravel from the quaternary era (although the terroir is complex, with other areas stretching back even further). The most famous section of the vineyard is the Plateau de Brane, standing at 22 metres above sea level on the Margaux-Cantenac plateau.
Recent improvements or changes: This is a chateau with continual improvements and precisions, and its wines have really seen a boost in recent years. In 2010, Henri Lurton converted 10 hectares (25 acres) of the vineyard to organic production. This surface area was extended to 18 hectares (45 acres) in 2011, which is almost a quarter of the total. A conversion protocol was drawn up with the help of specialised advisors at the Chambre d'Agriculture. All the viticultural tasks are performed according to the brief for organic vine-growing. In 2012, an environmental management system was set up to limit the winery's impact on its surroundings, including recycling, water processing, further reduction of spraying and encouragement of biodiversity through hedgerows, rabbit warrens, dry meadows and other things.
Since 2011, Henri Lurton has reintroduced a small amount of Carmanere into the blend. This is a variety that has become rare in Bordeaux, but has a gentle spice that he believes gives great interest upon ageing. To protect against fraud, and ensure complete traceability, laser marking has been introduced on all bottles leaving the chateau.
Recent Decanter scores:
2012 en primeur 17.5/20
2011 en primeur 17.5/20
2010 en primeur 18/20
2009 en primeur 18/20
2008 en primeur 15.5/20
Average bottle price in UK 5market: £30-£55.
- Follow us on Weibo @Decanter醇鉴

and Facebook

for most recent news and updates -
All rights reserved by Future plc. No part of this publication may be reproduced, distributed or transmitted in any form or by any means without the prior written permission of Decanter.
Only Official Media Partners (see About us) of DecanterChina.com may republish part of the content from the site without prior permission under strict Terms & Conditions. Contact china@decanter.com to learn about how to become an Official Media Partner of DecanterChina.com.