Classification: 2nd Cru Classe, 1855
Contact:
33180 St Estèphe
+33 5 56 73 15 50
www.estournel.com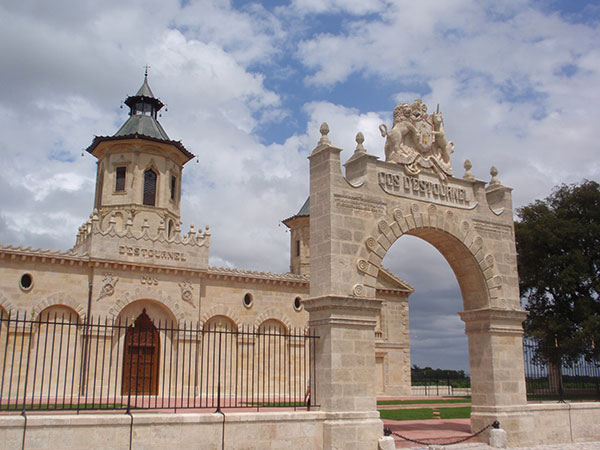 Location: AOC Saint Estephe
Production: 91 hectares, producing 200,000-380,000 bottles depending on vintage.
Five things you didn't know about Chateau Cos d'Estournel:
- Owner Michel Reybier is a famously reclusive businessman and multimillionaire (thought to be worth around €480 million) who lives in Switzerland. Reybier owns a string of businesses from hotels and food (most notably cured pork) to healthcare to private jets to energy conglomerates.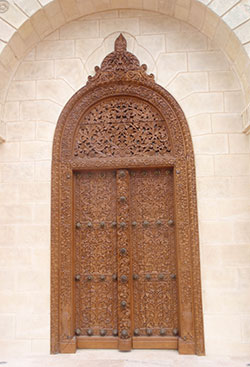 - The first owner of the property, Louis Gaspard d'Estournel, was known for his love of exoticism, and the main door of the chateau is a 'Bulund Darwaza' imported from the Sultan of Zanzibar's palace.
- Former owner (and then managing director under Reybier) Jean-Guillaume Prats was the Real Tennis Champion of France in 1994, 1995, 1996 and 1998.
- In the days of Louis Gaspard d'Estournel, Queen Victoria and the Russian Tsar drank Cos, as did the Emperor Napoleon III who loved the wine so much that he had several thousand bottles sent to the Palace des Tuileries in Paris.
- The novelist Jules Verne was also a fan, writing in 1859: 'The wine was a 15-year-old Cos d'Estournel, which deserved respect. First of all, Edmond served it in large glasses which be quarter filled; then, giving his guests the lead, he raised his glass to eye level, looked deep into his ruby liquid, stated that his deep-coloured wine had body, nose, and exquisite character; he then lowered his glass, swirled it gently from right to left and then more quickly from left to right, thrust the bony protuberance with which Nature had endowed him into the glass and for several minutes took in the gentle emanations this intelligent swirling had produced. After a minute of silent ecstasy, he closed his eyes and absorbed all the pleasure, increased by the passing of the years, of this beneficial liquor. That is how to drink a Bordeaux.'
Current owner: Michel Reybier since 2000, with Aymeric de Gironde as managing director.
Most notable previous owner: Louis Gaspard d'Estournel, who was known as the 'Maharajah of Saint Estephe' in honour of his globe-trotting visits to India. He must have enjoyed hamming this image up a little, as he had exotic pagodas built over his wine cellars back in the Médoc that are still there today (and hence the Indian elephant on the label).
Other chateaux owned: Tokaj Hetszolo, Chateau Marbuzet (also Saint Estephe), Goulée (AOC Médoc red and AOC Bordeaux Blanc). Reybier also owns La Réserve hotel and Spa in Geneva, Paris, Ramatuelle, and the online wine shop Vins & Privileges.
Commercial strategy: 100% négociants, sold en primeur through the Place de Bordeaux. Main markets US, UK, France, Asia (around 65% is estimated to have been sold to mainland China, Hong Kong, Singapore and Taiwan over the past few years).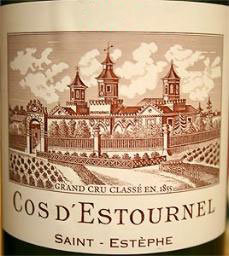 Second wine: Les Pagodes de Cos. Also Cos d'Estournel Blanc.
Through the centuries:
The first owner of these vines was Louis Gaspard d'Estournel, who was born in 1762 and died in 1853 aged 91 (just two years before Cos was named a Second Growth in the 1855 classification). He inherited a few vines near the village of Cos, and in 1811 bought several more hectares and began to vinify them separately under the name Cos d'Estournel. They quickly were recognised for their quality, and were exported widely (most famously to India, where they were drunk by Maharajahs and Nabobs). Records in brokers' offices record Cos 'destination Calcutta' in 1831, 1834 and 1837.
D'Estournel sometimes brought bottles back again, saying the boat journeys helped the wine to smooth out. These ones he would label 'Returned from India'). In 1852, just before he died, he sold Cos to a London banker called Martyns, who allowed him to stay on the land, and he died there in 1853. In 1869 Martyns sold the estate to the Errazu family from the Basque region of southwest France, and it was then sold again to the Hostein brothers in 1889. In 1917 it was bought by Fernand Ginestet (who also owned Chateau Margaux for a time), and it was his grandsons Jean-Marie, Yves and Bruno Prats who inherited the property and kept it at the top of its game right through to the Reybier purchase in 2000 (well, after a short two year ownership by the Merlauts and a South American investor from 1998-2000).
After the Reybier purchase, Jean-Guillaume Prats stayed on to run the property (his father Bruno had managed it for 30 years before him). He took on the role at the age of 26, and became the undisputed face of Cos d'Estournel. He spent 18 years there, and has just left in January 2013 to take up the CEO position at Estates & Wines, part of Moët-Hennessy (LVMH). He has been replaced by Aymeric de Gironde, who also worked at LVMH in the past, and then was at AXA Millésimes as marketing director for Chateaux Pichon Longueville, Suduiraut and Petit Village.
Consultant: Jacques and Eric Boissenot.
Plantation and vineyard work: Cabernet Sauvignon (60%), Merlot (40%), planted to 8,000-10,000 vines per hectare. Average age of vines 35 years, with only the oldest vines (over 20 years of age) going in to the main Cos d'Estournel wine. Each member of the vineyard team is in charge of 'his own' 45,000 vines which they will look after throughout the year, so getting to know their own part of the vineyard intimately. Harvest picked into small wooden baskets.

Vinification: Cos is famous for its high-tech cellar, completed in 2008/2009. Covering around 2,000 m2 of floor space, with 1000 m2 of passageways, it makes quite a statement. Everything is gravity-fed, no use of pumps anywhere for the wines, with 72 stainless steel vats, 48 of them from 100-150 hectolitres big, and 12 that are from 19-60 hectolitres, but with two-floors in each, so effectively 24 small vats. All conical in shape, and double-lined for thermoregulation, with no interior heating coils. For the vats that are on two floors, there are two 'chimneys' so you can vinify both at the same time at different temperatures. Apparently this is the only vat-room in Bordeaux with this capacity. After the (manual, naturally) grape sorting, the grapes are frozen down to between -40 and -60 degrees, so they can have the stalks taken off without releasing any juice or damaging the grape skins. They then go onto another sorting table and into little stainless steel wagons, where they are wheeled off to the vats and gently poured in (still cold, so still intact).
But the really interesting bit is the pumping over (which is in fact délestage, or 'rack and return'). No pumps are used for this, and it is all done by gravity. To achieve this, the free run juice is drained out into a small container (the skins stay in the big vat). The free-run juice is then trundled over to a glass elevator (there are four around the cellar) which goes up one floor, and the juice is trundled back over to the original vat and poured back in over the marc.
Down one more level, and you're in the barrel cellar, that can store 2,000 barrels. An inner chamber contains barrels for the white wine, that is kept at a lower temperature throughout ageing. The barrels are all underground, and the whole cellar reaches 30 metres at the highest point, and goes 10 metres below ground at the lowest point. 80% new oak barrels for the first wine.
Terroir: Gravel on the top and southern slopes, limestone and clay on the eastern slopes. Located between Pauillac and Saint Estephe, separated from Chateau Lafite Rothschild by the Jalle du Breuil stream. The Cos hill rises 65 feet in height (that's pretty high for the Médoc!).
Recent improvements or changes: Did I mention the new cellars?? Other recent changes include a vast replanting programme, which has taken the vineyard from 88 to 91 hectares, and upped the density of plantation across the property.
Recent Decanter scores:
2011 en primeur – 18 points
2010 en primeur – 19 points
2009 en primeur – 18.5 points
2008 en primeur – 18.5 points
Average bottle price in UK market: £70-£250
Translated by Nina Fan Feng / 冯帆
All rights reserved by Future plc. No part of this publication may be reproduced, distributed or transmitted in any form or by any means without the prior written permission of Decanter.
Only Official Media Partners (see About us) of DecanterChina.com may republish part of the content from the site without prior permission under strict Terms & Conditions. Contact china@decanter.com to learn about how to become an Official Media Partner of DecanterChina.com.