Chateau Ferrière
3rd Cru Classe, 1855
33460 Margaux
+33 (0)5 57 88 76 65
www.ferriere.com
Location: AOC Margaux, in the village centre.Production: 12 hectares, making 70,000 bottles of first and second wine combined.
Five things you didn't know about Chateau Ferrière:
- This is the smallest of all sixty-one 1855 chateaux, with just 12 hectares of vines, now being converted to organic farming.
- For years, the wine was sold as an exclusivity to French restaurants, and its wines made in the cellars of other Margaux estates – first Prieuré Lichine, then Lascombes. So it's fair to say that Ferrière has staged something of a comeback in recent years.
- Several generations of the Ferrière family, who gave the chateau its name, worked as courtiers in Bordeaux, and owned a building at 70 Quai des Chartrons. They were courtiers in shipping, not wine, and part of the triangular trade between Europe, Africa and the West Indies that enriched so many European port towns. There was an André Ferriere, a broker licensed to handle transactions in German and Dutch, on the board studying wine prices that led to the 1855 classification when Ferriere was named a third growth but no link to the Ferriere family at the chateau has been found.
- Current owner Claire Villars is the grand-daughter of Jacques Merlaut, who was one of the biggest négociants in the region and founder of the Group Taillan (today the group owns, among many other estates, Gruaud Larose and négociant company Ginestet). In 1992, Villars was studying for a doctorate in physics and chemistry in Paris, but the early death of her parents in an accident meant that she returned to Bordeaux to take over the family estate.
- Chateau Ferrière comprises five small plots - four across the communes of Margaux, and one in Cantenac giving it a rich complexity of terroir.
Current owner: Claire Villars Lurton (married to Gonzargue Lurton of Chateau Durfort Vivens).
Most notable previous owner: The Ferrières, who gave the estate its name and were owners from the 1700s until the 20th century. They were one of the great landowning families of Bordeaux until the French Revolution, and remained important brokers for centuries, as they had been since their arrival in Bordeaux in 1726.
Other chateaux owned: Chateau Domeyne (AOC Saint Estephe), Chateau Haut Bages Libéral (AOC Pauillac), Chateau La Gurgue (AOC Margaux). Her sister Céline is in charge of Chateau Chasse Spleen (AOC Moulis en Medoc). And her uncle Jean Merlaut has Gruaud Larose.
Commercial strategy: 100% négociants with 60% to export.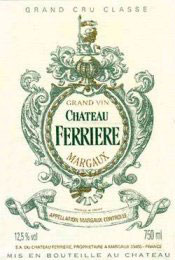 Second wine: Les Remparts de Ferrière, from two hectares of young vines.
Through the centuries:
In the middle of the 18th century, the estate was bought by Gabriel Ferrière, a maritime broker in Bordeaux for the court of Louis XV who was played a key role in all trade in and out of Bordeaux harbour. He passed his property, at the time referred to as Cru Ferriere, on to his cousin (another) Gabriel Ferrière, who bought up several other plots of vines from estates around the area (even today, the plots of Ferriere are scattered over several communes). Gabriel was imprisoned during the French Revolution with his brother Jean – and Jean was made mayor of Bordeaux after the pair was freed. From Gabriel, the chateau passed on to his son Jean, who exchanged a few plots of land with the Comte de Saint Exupéry in 1832. The Ferriere family remained in charge until the start of the First World War – often through sheer determination, as it was often not smoothly handed down from father to son, but bought by widows, nephews, cousins, sisters…. The last member of the family to hold on to the estate was Henri Ferriere, who finally sold it in 1914 to Armand Feuillerat, owner at the time of Chateau Marquis de Terme, also in Margaux. At the time, Feuillerat bought 7 hectares of vines, 10 hectares of forest, and 5 hectares of fields for 63,000 francs.
In 1952, it was taken over by Alexis Lichine – not as owner but renting the vines from Armand Feuillerat's daughter, and making the wine first in the cellars of Chateau Prieuré Lichine, and then Chateau Lascombes. In 1988, the Villars family bought the vines and the chateau, but were not able to take charge of the winemaking until the rental contract ended in 1992. The first vintage was made in the cellars of La Gurgue, but soon after a winery was constructed once again at Ferriere.
Consultant: Eric Boissenot, with Gérard Fenouillet as technical director.
Plantation and vineyard work:Cabernet Sauvignon (65%), Merlot (30%), Cabernet Franc (5%), planted to 10,000 vines per hectare, with an average yield of 700g per vine. Claire Villars is the winemaker as well as owner, and is very present in the vineyard. She believes in avoiding green harvesting as much as possible, and instead work with pruning and debudding early in the season to control yields. Sustainable viticulture, with current conversion to organic farming. The estate has a water recycling plant and all treatments are kept to a minimum.
Vinification: 17-25 days depending on grape variety, age of the vines and soil type. Temperatures here are kept fairly low – between 25 and 27 degrees centrigrade during alcoholic fermentation, in order to preserve fruit but smooth out the tannins. Malolactic fermentation in vat, then moved into barrels for ageing, with around 10-15% press wine used. The wine then stays in barrel for 18 months, with up to 40% new oak.
Terroir: Deep garonne gravel on a bedrock of limestone. However, as the chateau comprises dozens of small plots across the communes of Margaux, Soussans, Cantenac and Arsac, there is a wide array of soil types.
Recent improvements or changes:
Major renovations have been undertaken over the past few years, with all due for completion in 2013.
The vat room was originally built in 1992, but the cement vats date back to 2001, with four more recent wooden vats, all ranging from 25 to 173 hectoliters – volumes chosen according to the layout and size of the vineyard plots. Today there are two vat rooms, one with all wooden vats, and the other with the existing cement vats together with several new ones. There are also now two barrel cellars.
Serious has been done all over the vineyard in terms of working the soil, rootstock selection, replanting and drainage work.
The vineyard size has increased from 8 hectares to 12 hectares – a sizeable addition, but still modest compared to many classified growths.
Recent Decanter scores:
2012 en primeur – 16.75 points/20
2011 en primeur – 15.5 points
2010 en primeur – 17 points
2009 en primeur – 16 points
2008 en primeur – 15.5 points
Average bottle price in UK: £22-£45.
- Follow us on Weibo @Decanter醇鉴

and Facebook

for most recent news and updates -
All rights reserved by Future plc. No part of this publication may be reproduced, distributed or transmitted in any form or by any means without the prior written permission of Decanter.
Only Official Media Partners (see About us) of DecanterChina.com may republish part of the content from the site without prior permission under strict Terms & Conditions. Contact china@decanter.com to learn about how to become an Official Media Partner of DecanterChina.com.