Classification: 3rd Cru Classe, 1855
Contact:
33460 Labarde
+33 (0) 557 97 09 09
www.chateau-giscours.eu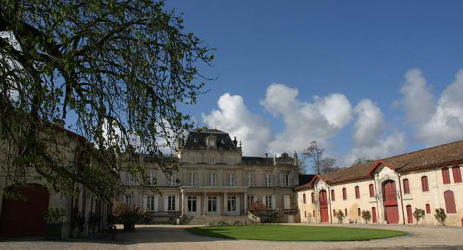 Location: AOC Margaux, 20km from Bordeaux in the commune of Labarde.
Production: 90 hectares in AOC Margaux, and 60 hectares in AOC Haut-Médoc. Annual production between 250,000 and 350,000 bottles.
Five things you didn't know about Château Giscours:
- An absentee owner in the 19th century meant that a highly competent manager was hired to run Giscours; Pierre Skawinski, a Polish engineer who had graduated from the National Agricultural College. He invented several new tools, and came up with an ingenious winery where, for the first time, gravity was used to transfer the grapes into the wine vats. His three sons, Théophile, Charles and Paul, took his invention to various other châteaux including Pontet-Canet, Léoville-Las Cases and Lynch-Bages (you can still see the old Skawinski-style winery at Lynch Bages, where is has been preserved, even though it is no longer in use).
- With its Renaissance-style château in one area, and its agricultural buildings laid out as a farming village in a separate section of the grounds, the Giscours estate is today considered as a model of 19th century viticultural architecture.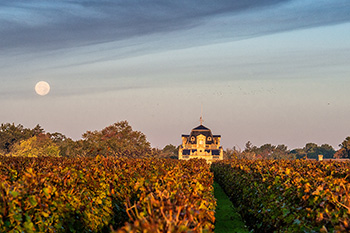 - Empress Eugénie, the last French Empress and wife of Napoleon III, is said to have visited Château Giscours in the mid 19th century. Napoleon III was the man who is indirectly responsible for the 1855 Classification – as he organized the Paris Exhibition for which the list was drawn up.
- Managing director Alexander Van Beek had just finished his MBA in marketing and finance when he heard that a family friend had bought Château Giscours. He was 24 at the time, and went to Bordeaux for three months work experience… and ended up staying. He is now married to the managing director of Château Haut-Bailly!
- Once a year, just before the en primeur wine tasting week, Giscours hosts a cricket match between the French and visiting international wine merchants. This is carrying on a long sporting tradition at Giscours, which was once famous for its polo matches.
Current owner: Dutch businessman Eric Albada-Jelgersma since 1995, with Alexander Van Beek as managing director. Albada-Jelgersma is an entrepreneur who made his money in food, largely in distribution centres and supermarkets. Today he lives in Switzerland.
Most notable previous owner: There are a lot to choose from here, but I think I will go with Count Jean-Pierre de Pescatore, partly because of his links to northern Europe (he was born in Luxembourg but became Counsel General of the Netherlands) and so to the current owner of Giscours, and partly for his hiring of Pierre Skawinksi, a rather brilliant engineer who was instrumental in the fight against mildew, and who invented the gravity-fed winery concept that now graces hundreds of local châteaux.
Other châteaux owned: Château du Tertre, also in AOC Margaux. Albada also owns an estate in Tuscany called Caiarossa. They also have a range of AOC Haut-Médoc wines, Haut Médoc de Giscours and Château Duthil.
Commercial strategy: 100% négociants, sold en primeur.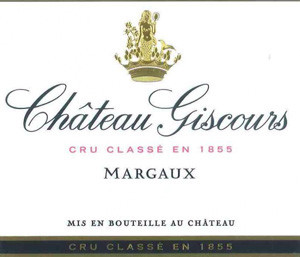 Second wine: La Sirene de Giscours
Through the centuries:
History kicks off in the 14th century for Château Giscours, with the first written mention of a fortified keep in the area dating back to 1330. Records of vines date from 1552, which also makes it among the earliest in the Médoc. Just before the French Revolution, the Saint Simeon family was owner, until it was confiscated by the State during the upheaval of 1789, and eventually resold in 1793 to two Boston Americans, John Gray Junior and Jonathan Davis.
They held on to it for a while, before selling up to Marc Promis in 1825, a Parisian banker who is largely responsible for taking down the former 'noble house' that stood on the grounds, and beginning the build of a more modern château. But it was the next owner, Count Jean-Pierre de Pescatore who constructed the current neo-classical building with its stables and cellars. The Count became owner in 1847, and funnily enough became the Counsel General of the Netherlands in 1852, so providing a neat link with the current owner of Giscours. He died just nine years later, in Paris in 1855 (ironically the same time and place that his estate was being proclaimed a 3rd growth). The château then passed to his nephew Guillaume-Bonaventure Pescatore.
Before his death, Count Pescatore hired Polish engineer Pierre Skawinksi as manager, one of the most respected agriculturalists of the day, and he continued to work under Guillaume Pescatore (and for 50 years in total at Giscours). Together they set about further improving both the château building and the vineyards. Skawinski also seems to have been something of a restless inventor, and came up with various viticultural improvements, from ploughs to the first gravity-led winery in Bordeaux, where grapes were dropped in to the vats from a ledge creating a second-tier to the winery room (the Skawinski family, incidentally, is distantly related to the current owners of Léoville Las Cases).
A little later in the 19th century, a model farm was built at Giscours, overseen by then owner Edouard Cruse (who took over in 1875) and architect Abel-Valentin Duphot. The farm buildings, which were constructed in 1877 and still stand today, are named 'Ferme Suzanne' in honour of Cruse's wife Suzanne who died in 1880. The building are centred around a large gravelled courtyard, with a number of buildings grouped around it that once were used for horses, cows, stables, iron forgers and other workmen. It even contained a junior school for the workers' children. Cruse also employed landscape gardener Eugene Bulher to develop the 50 hectare park that surrounded the estate – and which makes such an excellent cricket pitch today.
The Cruse family held on to Giscours until 1913, after which it spent three pretty miserable decades of decline under various owners until Nicolas Tari, a wine merchant who had been working in Algeria, began distributing the wine and taking shares in the property until finally buying it in 1952. When he started the process, the vineyard had dropped to just 7 hectares, and was in desperate need of his replanting programme. He was succeeded by his son Pierre in 1970, who improved drainage in the vineyard, and further invested in the vineyard, but there was still much to be done by the time the Eric Albada arrived. For the first few years of Albada's purchase, there was some dispute with parts of the Tari family as to who exactly owned what thanks to a complicated arrangement where the land and buildings were kept separate from the winemaking. Today, all of that has been settled.
Consultant: Denis Dubourdieu.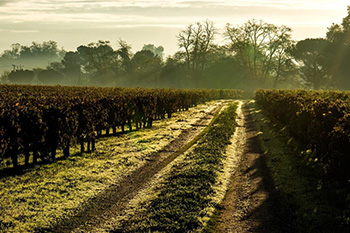 Plantation and vineyard work: Cabernet Sauvignon (65%), Merlot (30%), Cabernet Franc (2%) and Petit Verdot (3%) planted to 8,000 vines per hectare. Manual harvesting was reintroduced after 1995, and missing vines were replanted, and the trellising system raised and improved. The estate is split into 43 distinct vineyard plots, with each treated separately. Recent improvements have included a vineyard study into the terroir, and a full replanting programme.
Vinification: Vinification to favour fruit, so temperature kept relatively low, with soft extractions. Wines aged in around 50% of new oak for the First Wine over around 15 months in barrel. Egg white fining. Jacques Pélissié, former cellar master of Cos d'Estournel was bought in as technical director from 1998, with Didier Foret the winemaker.
Terroir: Gravelly terroir across three gently-rising mounds, which offer excellent drainage off their slopes, rising to a maximum of 20 metres above sea leave across the plots Petit and Grand Poujeau, and 17 metres for the plot called Cantelaude. Around 20 metres underground, the gravel rests upon a layer of Stampian limestone. The vines are spread across the communes of Arsac, Cantenac, and Labarde.
Recent improvements or changes: In 1995, the first wine of Château Giscours had 60% of Merlot in the blend. In 2011, Merlot was just 20% of the blend, with Cabernet Sauvignon up to 75%. Of course this blend varies with each vintage, but there has certainly been a swing towards much higher levels of Cabernet Sauvignon in recent years, reflected in a more structured, powerful wine.
Recent Decanter scores:
2012 en primeur – 17 points/20
2011 en primeur – 17 points
2010 en primeur – 17.5 points
2009 en primeur – 18 points
2008 en primeur – 16 points
Average bottle price in UK: £40-£70.
All rights reserved by Future plc. No part of this publication may be reproduced, distributed or transmitted in any form or by any means without the prior written permission of Decanter.
Only Official Media Partners (see About us) of DecanterChina.com may republish part of the content from the site without prior permission under strict Terms & Conditions. Contact china@decanter.com to learn about how to become an Official Media Partner of DecanterChina.com.