Chateau Rauzan-Gassies
2nd Cru Classe, 1855
1 rue Alexis Millardet,
33460 Margaux
www.rauzangassies.fr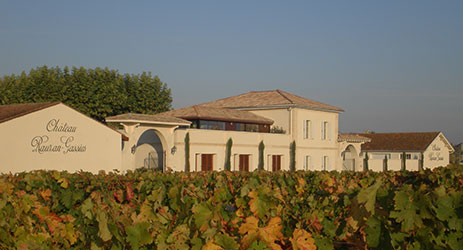 Location: AOC Margaux, next to Chateau Rauzan-Segla. Vineyard located in the two communes of Cantenac and Margaux.
Production: 28.5ha, 130,000 bottles per year, over first and second wine.
Five things you didn't know about Chateau Rauzan-Gassies:
- Owners Anne Francoise Quié and Jean Philippe Quié, who took over from their father Paul at the estate in 2001, are twins.
- The statue of a bronze horse in the forecourt stands in homage to the swashbuckling former owner Laurent de Gassies, a knight in the 16th century. Inside the tasting room, a 5.5 metre-long marble and oak table was reclaimed from an old Bank of France building in Saintes, found in an antiques shop in Blaye, near Bordeaux.
- The estate offers food and wine matching in its tasting room that overlooks its own vines, and those of chateaux of Palmer and Margaux. They create menus each year matching the new vintage with sweet and savoury dishes.
- Hail over the last four years at Rauzan Gassies has meant they have lost the equivalent of one entire year's harvest. 2011 was the worst affected, although in 2012 they avoided any hail damage.
- It is one of a select number of 1855 estates that are still family owned and run directly by family members (although strangely these family-run chateaux seem to be entirely 2nd cru classes, as the others are Leoville Poyferré, Ducru Beaucaillou, Léoville Barton, Brane Cantenac and Durfort-Vivens).
Current owner: The Quié family bought Rauzan Gassies in 1946. Paul Quié was born in Bordeaux but moved as a child to Paris and became a wine merchant in the Sénéclauze company, as his father before him.
Most notable previous owner: Pierre Desmezures de Rauzan, a wealthy Bordeaux merchant who bought the Gassies estate in 1661 and planted extensive vineyards around it – as he did with those of Pichon Longueville in Pauillac. He then put his commercial skills to use by heading to London and selling his wines in person there, on the banks of the Thames. He did such a good job that it became one of the leading names of Margaux, and was named a 2nd Cru Classé in 1855.
Other chateaux owned: Chateau Croizet Bages (5th Growth, Pauillac), Chateau Bel Orme (Cru Bourgeois, Haut Medoc)
Commercial strategy:Négociants sell 90% of production, and 70% is exported. Major markets France, USA, China, Japan, Korea.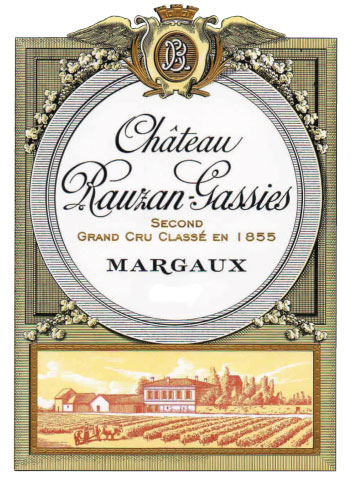 Second wine: Le Chevalier de Rauzan-Gassies. Also produce Le Rosé de Rauzan-Gassies.
Through the centuries:
As mentioned above, Rauzan Gassies was once part of the same estate as Rauzan-Segla, until they separated during the 18th century. Less well known is that vines belonging to Chateau Desmirail and Chateau Marquis de Terme were once also part of the same estate, owned by Pierre de Razuan. The Gassies estate was one large property until just before the French Revolution, when it was split into two (it had been legally split between two parts of the family in the 1760s, but had continued to be run as one entity). It was not in fact the Revolution that made the split definitive, but a marriage, when in 1785 Catherine de Rauzan married Baron de Ségla, and took Rauzan-Ségla with her.
Consultant: Eric Boissenot, with Nicolas Pejoux as technical director at the chateau. Anne-Francoise and Jean-Philippe are also oenologists, and Jean-Philippe has trained also with Claude Bourgignon, the terroir specialist.
Plantation and vineyard work: Cabernet Sauvignon (65%), Merlot (25%), Cabernet Franc and Petit Verdot (10%), planted to 10,000 vines per hectare. A full geological study was carried out a few years ago by (the late) Jean-Pierre Salle. Debudding, leaf thinning and green harvesting through the growing season, as required, then hand selection and sorting is carried out in the vines to ensure the crop is ready for harvest, with the last selection being made the day before harvest. Rauzan Gassies practises 50% machine harvesting, 50% hand harvesting. This is a change over the past few years, with hand harvesting carried out on selected plots (the plots change each year depending on vintage conditions). The use of machines has brought the family criticism in the past, and this is perhaps a reaction to it, but they were never the only classified growths to use machine harvesting, and still are happy to say that it gives them flexibility to use both systems. Currently 1.5ha in full organic, but sustainable viticulture practised everywhere, with no chemical weedkiller, all manual working of the soils, and organic treatments such as copper and sulphur through the growing season.
Vinification: Plot by plot vinification in stainless steel vat room. Co-inoculation is practiced at Rauzan Gassies, meaning that alcoholic and malolactic fermentation are carried out simultaneously. This is a Boissenot signature technique, and the chateau says it has been very happy with the results – offering great protection to the wines, particularly as they are now harvesting later, which means lower acidity levels (high acidity offers some protection against things like acetic acid spoilage). Each press wine is kept and aged separately in oak barrels. During ageing, each variety is also bottled individually, without oak, as a reference to how each variety is ageing – 50 bottles are kept in this way each year, giving the chateau a living library of its vines. Average of 55% new oak barrels for 12 months.
Terroir: The gravel plots of the Château Rauzan-Gassies terroir are dotted along the gravel plateaux of Margaux and Cantenac, at an altitude of 5 to 21 metres.
Recent improvements or changes: Quality has been quietly creeping upwards for the past few years, but the market has not yet caught up, and ironically its reasonable price hampers the perception of the wine. Don't expect huge rises though – this is an eminently sensible family-run business that cares about quality far more than making grand gestures. The eldest Quié brother, Paul-Henri, is an architect, and has completed a full restoration project at the chateau and in the barrel ageing cellars. The cellars are now finished, and work is beginning on the outbuildings. A recent fire meant a tractor shed was burnt out, but this will be transformed into a 'centre viticole' that will be fully energy self-sufficient. An updated winery, with stainless steel barrels ranging in size from 25hl to 150 hl, is now in use.
Recent Decanter scores:
The 2006 Rauzan-Gassies was awarded five stars in recent panel tasting of Right and Left Bank classified wines.
2013 en primeur – 1points
2012 en primeur – 16 points
2011 en primeur – 16 points
2010 en primeur – 17.5 points
2009 en primeur – 16+ points
2008 en primeur – 16+ points
Average bottle price in UK market: £25-£60
All rights reserved by Future plc. No part of this publication may be reproduced, distributed or transmitted in any form or by any means without the prior written permission of Decanter.
Only Official Media Partners (see About us) of DecanterChina.com may republish part of the content from the site without prior permission under strict Terms & Conditions. Contact china@decanter.com to learn about how to become an Official Media Partner of DecanterChina.com.