Chateau Longueville au Baron de Pichon-Longueville
2nd Cru Classe, 1855
Saint Lambert,
33259 Pauillac
www.pichonlongueville.com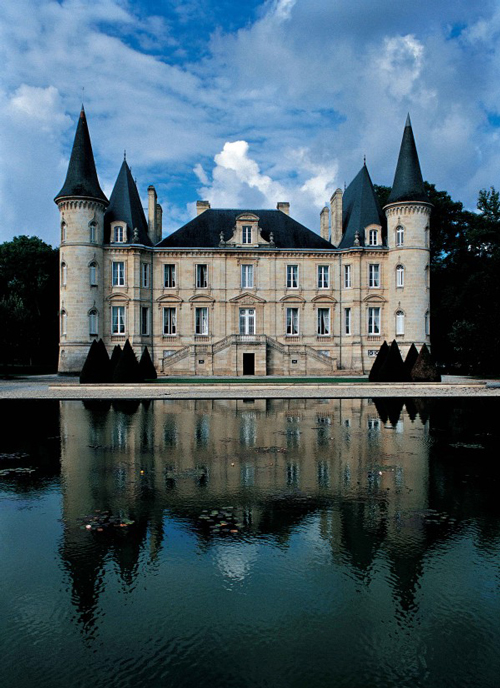 Image courtesy of Chateau Longueville au Baron de Pichon-Longueville
Location: AOC Pauillac, opposite Chateau Pichon Comtesse, and Chateau Latour.
Production: 73ha, with 40ha going into the first wine, from the original terroir of the property, on the plateau overlooking Latour.
Five things you didn't know about Chateau Pichon Longueville:
- The neo-classical 19th century spires of Chateau Pichon Baron (we'll call it Pichon Baron, as it is popularly know, although officially they prefer Pichon Longueville) were based on the chateaux of the Loire, and are easily one of the most photographed sights in the Médoc. So when architects were called in to redo the cellars, there was uproar in case anything was altered – most specifically the ornamental pond in front of the chateau, whose waters reflect the spires. Architect Alain Triaud ensured that the reflective pond was first taken out, a subterranean cellar built underneath, and then the pond put back, as beautiful as before. Even the fish were returned unhurt.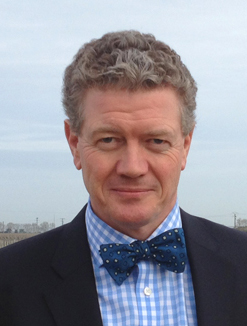 - English director Christian Seely read English at Trinity College, Cambridge. His father James Seely was a well-respected wine writer, and Christian got his start in the industry by helping to research his father's book Great Bordeaux Wines before being hired, in 1993, to restore the fortunes of AXA's Douro Valley port house, Quinta do Noval. In 2001 he took over as managing director of the group, based out of Bordeaux.
- Pichon Baron receives around 10,000 visitors per year, and is one of the few Médoc estates to be open to visitors every day of the week, including weekends.
- The Pichon-Longueville family survived the 1789 French Revolution by then-owner Joseph renouncing his title and becoming a simple 'farmer' in Pauillac (although he did spend several weeks in prison for his dubious political leanings).
- Towards the end of the Second World War, part of the German fleet moored in the port of Pauillac and was the target of Allied bombing. To avoid the danger zone, many Pauillac residents who lived around the port moved further away from the river. Some of these ended up in Château Pichon-Longueville, and today you can see traces of war-time graffiti on some of the stone walls inside the chateau building.
Current owner: French insurance company AXA Millésimes
Most notable previous owner: This is an easy choice. It has to be Baron Joseph de Longueville, who took over running the property at 19 years old and was at the helm until his death in 1850, aged 90, a full 71 years later. He lived through three revolutions, the reign of five kings, two republics and an empire – and managed to build up an estate so successful that five years after his death it was named 2nd growth in the 1855 Classification.
Other chateaux owned: Chateau Pibran, Chateau Petit Village, Chateau Suduiraut (all in the Bordeaux region), Domaine de l'Arlot (Burgundy), Quinta do Noval (Portugal), Disznoko (Hungary), Mas Belles Eaux (Languedoc) – 525 hectares of vines in total.
Commercial strategy:Négociants sell 100% of production, and 85% is exported. Major markets France, USA, Japan, Korea, China.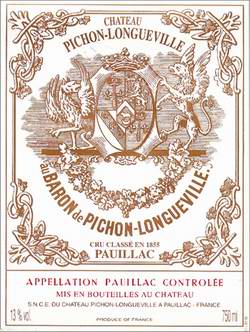 Second wine: Les Tourelles de Longueville (distributed exclusively by COFCO in China)
Through the centuries:
In the mid 17th century, Jacques de Pichon, Baron de Longueville, married Therese des Mesures de Rauzan, whose father Pierre Rauzan was a landowner in Margaux. His father in law had some vines in Saint Lambert in southern Pauillac, so beginning the Pichon Longueville estate – but it was Jacques de Pichon who began building this up. We've already mentioned Baron Joseph de Pichon-Longueville, who ran the estate for 71 years until 1850, and it was on his death that the property was divided between his five children. The three daughters got the land that would become Pichon Comtesse, and the sons took Pichon Baron. At first, Baron Raoul ran both sides, but eventually (around 10 years later) they split and became the two separate estates that they are today. The last member of the Pichon-Longueville family finally sold in 1933, to the Bouteillers, who were descendents of the official wine steward to the King. In 1987, it was bought by AXA insurance group, and was headed up by Jean Michel Cazes of Chateau Lynch Bages until 2001, when Christian Seely took over.
Consultant: Eric Boissenot, with Christian Seely as managing director and Jean-René Matignon as technical director at the chateau. Stephanie Lim full-time wine representative in China.
Plantation and vineyard work: Cabernet Sauvignon (62%), Merlot (32%), Cabernet Franc (4%) and Petit Verdot (2%), planted at 10,000 vines per hectare. Average age of vines 30 years. The 40ha of mainly cabernet sauvignon vines used for the estate's first wine is from the original terroir of the property, purchased by Pierre de Rauzan. The grapes that go into Tourelles de Longueville come mainly from the Sainte Anne plot, with a majority of merlot. Environmentally-friendly techniques include strictly limited use of weedkillers and chemical fertilizers, and instead the use of ploughing, grass cover, natural hedges and plant compost. In 2003, Pichon Baron was awarded Sustainable Agriculture certification. Biodiversity is also encouraged to protect the wider ecosystem. A ripeness index is used for the Cabernet Sauvignon to track phenolic maturity. Optical sorting introduced in 2010.
Vinification: The new cellar allows for ever-more precise winemaking, with stainless steel vats that are sized from 50hl to 220hl. Low-impact techniques are used throughout, such as gravity-feeding of the grapes, peristaltic pumps and manual punching down of the cap during fermentation. After vinification, the wines are aged for between 16 to 20 months in 70-80% new oak barrels. The second year barrel cellar covers 1,200m2 underground, and was opened in 2008.
Terroir: Deep gravels, with excellent drainage. The nearby Gironde estuary brings breezes that help avoid frost in early season, and drying breezes if there are any rains during the later part of the year.
Recent improvements or changes: The most significant project in recent years has been the new barrel cellars, which were designed by architect Alain Triaud, and new vinification rooms, designed by Jean de Gasting and Patrick Dillon, all set underneath the reflective pond. There are innovations in customer relations also – since 2011, all bottles come with a QR code, allowing clients to simply scan the code on their mobile to access videos, tasting notes and vintage information on the wines.
Recent Decanter scores (en primeur and other tastings):
2012 en primeur 17.75 points
2011 en primeur 17.5 points
2010 en primeur 18.5 points
2009 en primeur 18.5 points
2008 en priemur 17.3 points
Average bottle price in UK market: £60-£175
- Follow us on Weibo @Decanter醇鉴

-
All rights reserved by Future plc. No part of this publication may be reproduced, distributed or transmitted in any form or by any means without the prior written permission of Decanter.
Only Official Media Partners (see About us) of DecanterChina.com may republish part of the content from the site without prior permission under strict Terms & Conditions. Contact china@decanter.com to learn about how to become an Official Media Partner of DecanterChina.com.