Classification: 2nd Cru Classé, 1855
Contact:
Saint Lambert, 33259 Pauillac
+33 556 59 19 40
www.pichon-lalande.com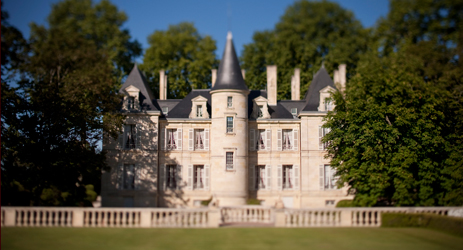 Location: AOC Pauillac, opposite Château Pichon Baron, and next to Château Latour.
Production: 85ha, producing 30,000 cases of First Wine, 6,000 cases of Réserve de la Comtesse.
Five things you didn't know about Château Pichon Comtesse:
- Pichon Comtesse is the only classified growth whose vineyards straddle two appellations in any important way. Around 11 hectares of the vineyard lies in St-Julien (many have smaller amounts, such as Lafite in Saint Estephe). At one stage the authorities insisted that the two sections be kept separate which resulted in the confusing of some labels saying AOC Pauillac and others AOC St-Julien. Eventually, in the 1960s, the owner won the right to call all the wine AOC Pauillac.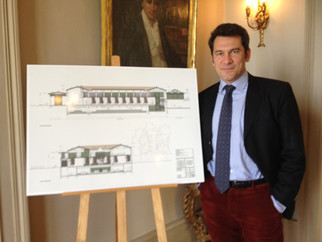 - Managing director Nicolas Glumineau, who arrived at the property in 2012, comes from Château Montrose, where he spent five years, having previously worked at both Haut-Brion and Margaux.
- 19th century owner Sophie de Pichon Longueville was a student of the great painter Francois Gérard in Paris. There are 14 of her paintings at the château, showing romantic landscapes and portraits of her family, including one of her brother-in-law, Count Henri de Lalande.
- An artistic temperament must run in the owners here – 20th century owner Dame May Eliane de Lencquesaing collected antique glasses and contemporary glass sculptures. Over 700 pieces are on display at the orangery, including works by Weinberg, Hiroshi Yamano, Fabergé and Jea-Paul Van Lith. New owner Frederic Rouzaud has continued her passion, adding to the collection (May Eliane did take a fair few of her favourites with her, and they are on display at her South African's Glenellly estate).
- Even the plots of vines at Pichon Comtesse reveal a feminine touch. They have names such as Virginie, Sophe and Marie-Joséphine.
Current owner: Louis Roederer, with Fréderic Rouxaud as general manager, and Nicolas Glumineau as managing director.
Most notable previous owner: It has to be Therese de Rauzan, daughter of the man who first planted these vineyards, and the first woman to set the tone for what has always been a distinctly elegant, feminine wine. And special mention to Dame May-Eliane, who was known as La Générale for her single-mindedness and determination.
Other châteaux owned: In Bordeaux, other Roederer estates are Châtraeu de Pez and Château Haut-Beauséjour. The company also owns – besides its eponymous Champagne house – Anderson Valley (Australia), Porto Ramos Pintos (Douro Valley), Domaine OTT (Provence).
Commercial strategy: Négociants sell 100% of production and 85% is exported. Major markets France, USA, Japan, Korea.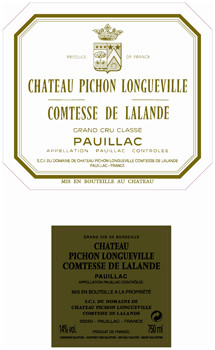 Second wine: Réserve de la Comtesse
Through the centuries:
At first, the history here exactly mirrors its neighbour Pichon Baron, as they were one and the same estate. A document in the archives refers to '40 very gravelly plots' that were used to first plant the estate by Pierre de Rauzan. His daughter Therese married into the Baron de Pichon-Longueville family, and the Pauillac estates became known under the family name of her new husband (hence why in Margaux the name Rauzan continues, whereas in Pauillac they are Pichon Longueville). It was to remain in the hands of this family for 250 years. As befits its name, Pichon Comtesse had its history mapped out by three influential women – first Therese de Rauzan, then Germaine de Lajus and Marie Branda de Terrfort – who looked after the estate up to the French Revolution (another influential woman came along in the 20th century in the form of Dame May Eliane de Lencquesaing). As we know from Pichon Baron, from around 1850 the estate was divided between his sons (Pichon Baron) and his daughters (Pichon Comtesse). They have remained separate ever since. In 1920, Pichon Comtesse was sold through auction to the Miailhe brothers Edouard and Louis, and it was Edouard's daughter May-Eliane who was to become the defining owner of the property in the 20th century. In 2007, as she looked to retire and knew that none of her children wanted to take over, she sold her château to the Louis Roederer Champagne house.
Consultant: Jacques Boissenot and Denis Dubourdieu, with Philippe Moreau as technical director at the château.
Plantation and vineyard work: Cabernet Sauvignon (45%), Merlot (35%), Cabernet Franc (12%) and Petit Verdot (8%), planted at 9,000 vines per hectare. This is a fairly low proportion of cabernet sauvignon for such a prominent Pauillac estate, and explains why it has a reputation for such feminine, elegant wines. Average age of the vines are 35 years. A replanting programme has been underway since Roederer took over however, and they hope to end up 61% cabernet sauvignon, 32% merlot, 4% cabernet franc and 3% petit verdot (so it is mainly the cabernet franc that will take the hit…). Vineyard manager is Julien Benquet.
Vinification: In the vat cellars currently, 33 temperature-controlled stainless steel tank have both heating and cooling systems. Blending is carried out in late December, early January. The wines spend 18-22 months in oak barrels, with around 50% of new oak each year. Around 25% new oak is used for the second wine.
Terroir: Garonne gravel on clay, containing an iron-rich layer of subsoil. The plots circle the château and lead down to the river alongside Latour.
Recent improvements or changes: A new three-tier gravity-led wine cellar is currently being constructed at the estate, by architects Philippe Ducos and Alexandre Rouger. Due to be finished by harvest 2013. The château has also had a new team at the top since 2012 (when former manager director Sylvie Cazes was replaced by Nicolas Glumineau).

Recent Decanter scores (en primeur and other tastings):
2012 en primeur 17.75 points
2011 en primeur 17.5 points
2010 en primeur 18.5 points
2009 en primeur 18.5 points
2008 en priemur 15.5 points
Average bottle price in UK market: £60-£110
All rights reserved by Future plc. No part of this publication may be reproduced, distributed or transmitted in any form or by any means without the prior written permission of Decanter.
Only Official Media Partners (see About us) of DecanterChina.com may republish part of the content from the site without prior permission under strict Terms & Conditions. Contact china@decanter.com to learn about how to become an Official Media Partner of DecanterChina.com.