Chateau Rauzan-Ségla
2nd Cru Classe, 1855
Rue Alexis Millardet,
33460 Margaux
www.rauzan-segla.com
+33 557 88 82 10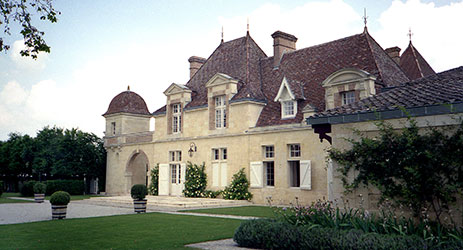 Image: Château Rauzan-Ségla by Benjamin Zingg, Switzerland
and adapt under Creative Commons Attribution-Share Alike 2.5 Generic license
Location: AOC Margaux, next to Chateau Rauzan-Gassies, and close to Chateau Brane-Cantenac.
Production: 74ha planted, making on average 10,000 cases of Rauzan-Ségla, and 12,000 cases of Ségla.
Five things you didn't know about Chateau Rauzan-Segla:
- Over the past decade, Rauzan has gone from 52 hectares in 2003 to 74 hectares today. Among the new vineyard purchases is the high-quality plot Boston - also the site for the estate's experimentation with organic farming.
- Director Nicolas Audebert joined the team in 2014, fresh from LVMH's Cheval des Andes in Argentina
- At the 1855 Classification, Chateau Mouton Rothschild was placed at the top of the 2nd growths, with Rauzan Ségla right behind it, so when Mouton was moved up to 1st growth in 1973, Rauzan Ségla took its place as the top of the 2nd growths.
- Rauzan-Ségla's 18th chateau interior was restored by interior designer and architect Peter Marino in the 1996. His past projects include the Chanel building in Tokyo, Giorgio Armani's private residence, and the Dior boutique in New York. Flagstones in the entrance hall were sourced from a 12th century English church (the owners bought the ruin purely to pull up the floor).
- In the small tasting room in the tower, an 18th century tasting table takes pride of place. It doubles as a spittoon, with a pipe that leads to a bucket, and was bought from a broker in Bordeaux, originally by Bernard Ginestet, previous owner of Chateau Margaux. If you look carefully, you can see the grooves in the marble top from where 18th and 19th century wine tasters have rubbed their glasses.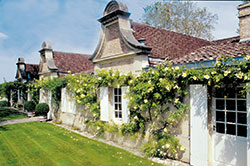 Current owner: Alain and Gerard Wertheimer. The brothers are also owners of Chanel (together with their step-brother Charles Heilbronn), one of the few remaining privately-owned luxury goods companies in France. Alain is chairman of the board and lives in New York, while Gerard is director of the European arm and lives in Geneva. Charles lives in France, dividing his time between Paris and Normandy, where they have a stud farm.
Most notable previous owner: Pierre Desmezures de Rauzan, who created both these vineyards and those of Pichon Longueville in the 17C. He bought the noble house of Gassies in 1661, when he was also manager of Chateau Margaux (where he remained until 1663).
Other chateaux owned: Chateau Canon (Saint Emilion Grand Cru Classé). Also négociant company Ulysses Cazabonne, built up by Kolasa while at Chateau Latour and now run by François Dugoua. The company recently bought Saint Emilion chateaux Matras and Curé Bon, now integrated into their other Saint Emilion property to make the second wine Clos Canon.
Commercial strategy:Négociants sell 100% of production en primeur (20% through their own Ulysesses Cazabonne negociant), and 85% is exported. Major markets France, USA, Japan and Korea. China represents 10%.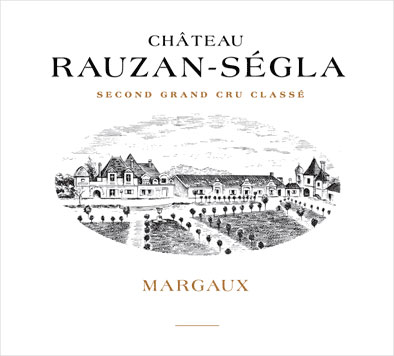 Second wine: Ségla
Through the centuries:
Separated from Rauzan Gassies in the early 18th century, as one of the three of the Rauzan brothers began making his wine differently. The split became official in 1763. Towards the end of the 18th century, one of the daughters of the owner married Pierre Louis de Ségla, although he was to die soon afterwards in the French Revolution. The property remained in the Ségla family until 1866, when it was sold to Mr Eugene Durand-Dassier. By 1960 it was owned by Liverpudlian John Holt, who made a few improvements to the cellars and vineyards, but in 1973 grapes were still being trodden by foot after harvest, and the bottling line was outside the cellar. In April 1994, the Chanel brothers arrived, and investments began. They first hired John Kolasa from First Growth Chateau Latour to head up their new Margaux property, and gave him free rein to instigate any necessary chagnes. 'When we arrived in 1994,' recalls Kolasa, 'we had everything to do. There were no computers, no records system to speak of, and everything was harvested by machine. When the grapes were picked, the cellar was full of tanks all at 220 hectolitres, meaning you were effectively blending immediately because everything had to be chucked in together.'
In January 1995, he hired vineyard architect Bernard Mazieres (also responsible for Yquem and Mouton Rothschild) to begin work on the vat room, and in the same year, introduced a second wine, Ségla. A year later the renovations moved on to the main house. More recently, Karl Lagerfeld, Chanel's head designer, produced the 2009 label for Rauzan Ségla, while further renovations to the cellar have been carried out, along with new vineyard purchases. In 2012 Rauzan-Ségla reintroduced horses for working the vines. Their two shire horses are called Titus and Lionel.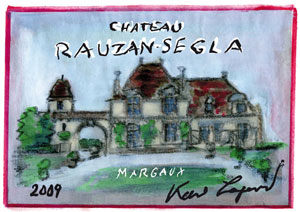 Consultant: Eric Boissenot, with Nicolas Audebert as director and Henry de Ruffray as technical director at the chateau. John Kolasa remains as joint managing director but will be retiring in July 2015.
Plantation and vineyard work: Cabernet Sauvignon (54%), Merlot (41%), Cabernet Franc (1%) and Petit Verdot (4%), planted at 6,600 to 10,000 vines per hectare. A few key improvements can be dated back to the Holt days – namely the replanting of high yielding rootstocks with better quality, lower yielding plants. Later, when Kolasa arrived in 1994, he introduced the idea of sorting tables on trucks in the vineyard, a technique he was bringing in from Latour. And immediately after the first harvest, the new owners started laying a major drainage system, with the joint investment of Chateau Margaux and the local town hall. There are 38 full time staff at Rauzan Segla, and over half of these work in the vines. Among the 22 hectares of vines purchased over the past decade is 8.5 hectares from Chateau de Labourgade that was already planted at 10,000 vines per hectare, with certain vines over 50 years old, and another 8.5 hectare plot, formerly owned by Palmer, known as Boston which for over 60 years had been used for grazing cattle, despite being within AOC Margaux and having had vines grown on it until the 1940s.
Vinification: 35 stainless steel and temperature-controlled vats, in different sizes from 41hl to 220 hl for plot by plot vinification. Alcoholic fermentation for 6 to 8 days, with daily pumping over, then maceration for 12 to 20 days depending on vintage. Approximately 60% new oak barrels.
Terroir: The deep fine gravel plots of the Château Rauzan-Ségla terroir also show some layers of clay at different levels. The gravelly ('Latour-style' according to Kolasa) Boston plot was bought in 2008 and has now been planted and is seeing its first harvests - but the fruit is unlikely to be integrated into the first wine until 2020.
Recent improvements or changes: The underground cellar was started in 2002, finished in 2004. A fault with the design meant it flooded and needed to be fully dried out, and it was finally used in 2012. New building works will create 10,000m2 of storage, with an area for stocks and labeling, and a new cellar with more tanks for further refining the vinification – and taking the barrel storage out of the underground cellar.
Recent Decanter scores (en primeur and other tastings):
2013 en primeur – 17.25 points
2012 en primeur – 18 points
2011 en primeur – 18 points
2010 en primeur – 18.5 points
2009 en primeur – 18.5 points
2008 en primeur – 19.5 points
Average bottle price in UK market: £50-£100
- Follow us on Weibo @Decanter醇鉴

-
All rights reserved by Future plc. No part of this publication may be reproduced, distributed or transmitted in any form or by any means without the prior written permission of Decanter.
Only Official Media Partners (see About us) of DecanterChina.com may republish part of the content from the site without prior permission under strict Terms & Conditions. Contact china@decanter.com to learn about how to become an Official Media Partner of DecanterChina.com.