*Edited from stories written by Chris Mercer, Fiona Beckett, Jo Iivonen and Adam Lechmere.
The recent epidemic of Avian flu put the production of foie gras in France to halt, once again drawing people's attention to the ethical arguments of the luxury cuisine.
How is foie gras produced, and why exactly is it considered controversial? What's the French side of the story? Revisit Decanter journalist's report on a visit to a foie gras producer in France, and read the digest of some of Decanter's most popular stories about the topic.
A visit to the foie gras production site
In 2008, Decanter food editor Fiona Beckett visited foie gras producer, Famille TOMASELLA, in France, and here's a digest version of what she saw:
The ducklings (all male – female duck livers are apparently too heavily veined) arrive at the farm at eight days old. There's easy access to water, clean straw and the air smells fresh and sweet.
The chicks stay indoors for 15 days or so at 20–22°C, depending on the weather, then go out into open fields until they are around four to four-and-a-half months (in more industrial 'farms' this can be as little as 10–11 weeks). During this time they are fed around 170–180g a day of wheat and corn.
This is obviously a richer diet than the birds would feed on in the wild and a far better-quality one than in more commercial concerns, where the feed is likely to be an aggregated pellet of all kinds of protein including animal by-products. But it was startling to see just how big the ducks were, waddling in ungainly fashion like overweight pensioners.
The final stage is the controversial gavage, or force feeding, which lasts for 14 days. The ducks are transferred back to cages where a hopper delivers electronically measured amounts of whole corn down a funnel inserted down their throats. In industrial-scale operations ducks are fed through a pneumatic pump, at a rate of about 400 ducks an hour.
During its short life a foie gras duck's liver grows to up to 10 times its natural size, with a final weight of 500– 800g. Half of that is fat. Force feeding impairs the ability of the birds' livers to process and excrete food. OK, so they are killed at the end of this period, but if the process, continued they would most likely die anyway.
True, we fatten other animals such as pigs. True, the ducks seem unstressed, positively greedy, but is it right to fatten a creature to the extent that it can't walk for the sake of a luxury product we don't need? Foie gras lover though I've been, I can no longer accept that it is.

Reactions
Foie gras seems to be going the same way as fur, said Fiona Beckett, with many countries banning its production, and a few forbid its sale.
In France, it was an industry which was worth €1.8bn, employed 30,000 people, and slaughtered 34m ducks a year, reported Adam Lechmere in 2012.
Force-feeding of animals is already banned under EU law, and it is expressly banned in 17 countries worldwide, including the UK.
Michelin-starred Midsummer House in Cambridge was forced to take it off the menu after activists vandalised the premises and spray painting slogans such as 'Stop Selling Foie Gras' on the walls, according to Jo Iivonen.
In the UK, major department stores such as Selfridges, Harvey Nichols and House of Fraser don't carry foie gras, and neither do most supermarkets. Fortnum and Mason still sells it and is the site of regular protests, the latest led by Hollywood star Steven Berkoff, campaigning for PETA (People for the Ethical Treatments of Animals), wrote Adam Lechmere.
On 1st July 2012, California has outlawed foie gras. The ban – which prohibits the sale of any product derived from the force-feeding of birds – was signed it into law by then-governor Arnold Schwarzenegger in September 2004.
As a reaction to that, merchants in Gascony in southwest France, the centre of world foie gras production, took Californian wines off the shelves in retaliation to the foie gras ban.
As only tiny amounts of Californian wine are sold in this part of France, it is largely a symbolic move, seen as a way of protecting a delicacy that is a key part of French culture, reported Jane Anson.
However, the California ban was overturned in 2015. California officials have lodged an appeal to get it re-instated, wrote Chris Mercer.
Latest development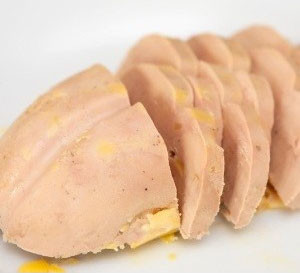 Recently Avian flu has achieved what animal rights protesters have spent years trying to do - halt the production of foie gras in France, as officials attempt to contain an epidemic of the virus, wrote Chris Mercer.
Breeders across 18 areas – or départements – in south-west France cannot send their ducks or geese for slaughter until at least August, France's agriculture ministry said.
The move is intended to help health officials to contain an epidemic of avian flu – H5N1 – spreading across farms in the area.
But, it effectively means a halt to a significant amount of foie gras production in the country.
France produces three quarters of the world's foie gras and the south-west is a major production zone. Prices are expected to rise and government officials have promised to compensate producers.
Translated by Sylvia Wu / 吴嘉溦
All rights reserved by Future plc. No part of this publication may be reproduced, distributed or transmitted in any form or by any means without the prior written permission of Decanter.
Only Official Media Partners (see About us) of DecanterChina.com may republish part of the content from the site without prior permission under strict Terms & Conditions. Contact china@decanter.com to learn about how to become an Official Media Partner of DecanterChina.com.