England is one of the most important international wine markets in the world. Traditionally it plays a significant role in the wine trade by selling and consuming wines, rather than making them. However, in recent years, thanks to global warming and the increasing number of winemaking talent, English wines, especially the sparkling varieties, are gradually making their presence on the world stage.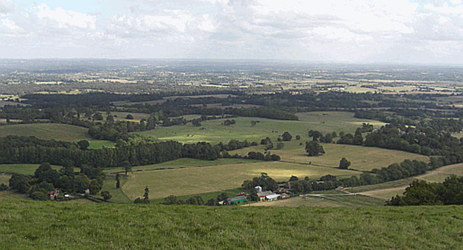 Britain has a long history of making fortified wines from imported grape concentrate (aka 'British Wine'). But the new style 'English wine' is made from grapes planted domestically, mainly in England and Wales.
Most of the vineyards in England are concentrated in the warmer southern part of the country such as Kent and Sussex, as the comparatively high latitudes are compensated by the maritime climate and the moderating effect brought by the Gulf Stream. The chalk/limestone subsoil found in some vineyards resembles that of Champagne. Grapes are mostly planted on south-facing slopes, as spring frost and damp weather during growing season may threaten the health of the vines.
The cool, wet climate in the country means those early-ripening varieties adapt the best. Seyval Blanc, Bacchus, Müller-Thurgau are among the most planted white varieties, while various German crossings can also be found frequently. Dornfelder and Rondo are the most-seen red varieties, with Champagne's classic varieties — Chardonnay and Pinot Noir also gaining ground rapidly.
The production of English wine is predominantly on a small scale. In recent years, more confidence has been built among producers and plantings are surging. Quality English sparkling wines made from the traditional method are showing great potential with their naturally high acidity and improving complexity.