Originally published on the October Issue of the Decanter magazine. On sale today. Click to subscribe>>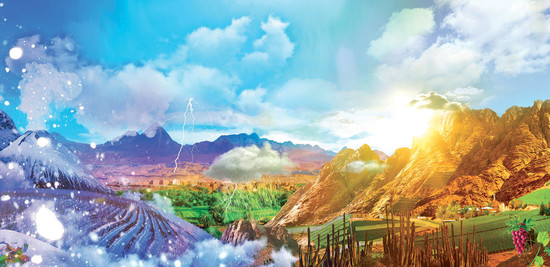 The continent's pioneering spirit is still strong, and producers are pushing their vines to the limits in a quest for ever more exhilarating wine styles. Alistair Cooper reports.
THE INTOXICATING LANDSCAPE of South America is diverse and extreme. It is home to the world's longest mountain range, the largest river and its driest desert. It is this thrilling playground that plays host to a growing band of intrepid winemakers who are stepping into the unknown in the pursuit of uniqueness and freshness. In recent years, new (and existing) regions have been explored at a backbreaking pace and boundaries have been pushed – with fascinating and exhilarating results.
Outside these wild extremes lie swathes of vineyards in established regions with proven capability for quality wines. One may wonder, why risk moving beyond their relative security into the great wild unknown? Winemaker Marcelo Retamal explains: 'If you consider the great wines of the world – and I don't mean the most expensive – the most exciting wines are from areas that require risk-taking, always those that have good and bad years.' He adds: 'The low-risk areas often produce uninspiring wines. I also believe the best areas have winter snow, which allows complete vine dormancy.'
At altitude
Retamal is winemaker at Viñedos de Alcohuaz, Chile's highest commercially planted vineyard at 2,200m. The vines are located high in the Elqui Valley, known for its limpid, crystalline skies, which have seen it become a mecca for stargazers and UFO hunters alike. Here they farm 10-year-old Grenache, Malbec, Petite Sirah and Syrah on steep granitic and volcanic soils.
Planting at high altitude and with such clear skies brings challenges, explains Retamal: 'Being closer to the sky means the grape skins are considerably thicker, which in turn gives a greater concentration of everything: aromas, flavours, colour.' Surely this is a positive? 'It is, absolutely,' he replies, 'but it is also complicated. The grapes must be of impeccable quality as the skins contain not only the good, but also the bad. Any bad in there, and your wines will really show you up.'
Retamal tells of other challenges, including frost, snow and lack of available labour: 'In October 2015, heavy snowfall saw us lose 80% of production, and we still felt the effects the following year when production was 40% down. Everything is hard here!' he chuckles stoically.
Tasting the wines, I'm left in no doubt that his efforts are worth the painstaking dedication. The altitude also brings vast diurnal temperature differences, which help maintain acidity levels in the grapes.
These wines crackle with an electric acidity that underpins a dense structure of vibrant, graphite-laden dark fruits. The challenges are great, but the rewards are often greater.
A new venture – El Escorial, located 500km south of Elqui – has just bottled the first cuvée of its new Cornisa label, from an experimental vineyard in Río Colorado, Aconcagua Valley. Planted in 2012 in conjunction with the government agency CORFO, the vineyard is the region's highest at 1,600m. 'One of the biggest challenges is getting to the vineyard – it is totally isolated,' says owner Rodrigo Espinosa. 'A treacherous 10km mountain road with steep slopes on either side is always followed by a deep sigh of relief upon arrival!' The frost, snow and lack of electricity all pose additional major challenges.
Location aside, what makes this project so compelling is its forward thinking and experimental nature. Six grape varieties were initially planted, on two different rootstocks, with a further 'control' planted on its own rootstock. The aim is twofold: firstly, to find the best grapes and rootstocks for the site; secondly, to create a nursery with both genetic plant material and rootstocks that are perfectly adapted to cool-climate altitude viticulture. Thus they will become the nursery of choice for the increasing number of wineries looking to plant at altitude. 'We have already discarded Carmenere, as it fails to ripen here, and Chardonnay and Muscat were too vulnerable to frost, being early-ripening varieties. The best results have been with Syrah and Malbec,' explains Espinosa. Having tasted a sample of the first bottling of 2015 Cornisa, the signs are certainly positive.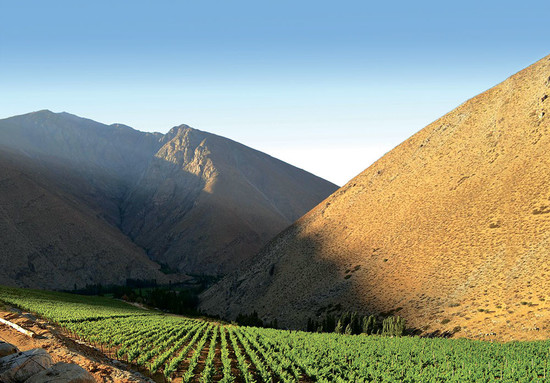 On the other side of the Andes, the rate of change in Argentina's Uco Valley has been nothing short of astonishing. When Nicolás Catena first planted vines in Gualtallary (at 1,500m) in the 1990s, most thought the region was too extreme for grapes even to ripen. Fast-forward 20 years, and Gualtallary along with nearby Paraje Altamira, rightly lay claim to being Argentina's grands crus. 'The third and oldest terrace at Altamira is very extreme,' explains Leo Erazo, winemaker at Altos las Hormigas. 'The rocks and boulders left from the Tunuyán river after the last glacial period here are huge – it takes an incredible amount of work to move them to easy feat.' On how these terroirs shape the wines, Erazo replies: 'The rocks are covered in a white calcium carbonate paste. This gives the wines an intensity and a chiselled, fine-grained tannic structure.'
Matías Michelini, one of the three brothers heading Gualtallary-based Zorzal, who also owns Passionate Wines, says 'extreme terroirs give unique wines of personality. These places are never easy to work, but they give so much more pleasure'. Michelini has recently planted Pinot Noir and Chardonnay as part of a new project (Clima Limite) at 2,000m in Tupungato. 'There is no electricity, and only natural meltwater from the snow. This is a quest for elegance, freshness and expression.'
More than 1,000km northwards, Cafayate is home to the world's highest commercial vineyard. Colomé's Altura Máxima, planted at 3,100m, is located high in the mountainous desert. Winemaker Thibaut Delmotte tells of the considerable challenges: 'Both spring and autumn frosts are a huge danger. The fourhour drive from the winery on dust tracks meant we had to build roads that could take trucks. We installed a hydroelectric turbine to give us power.' And it's not just the climate that poses problems. 'In spring the vines are the only green material in the area, then at veraison the grapes are the only sweet fruit. We face attacks from ants, birds, rabbits – all sorts,' he explains.
So what is the end result of such extremes on the wine? 'Our flagship Altura Máxima Malbec is almost black in colour, due to the UV rays and solar radiation that thickens the skins. The concentration is phenomenal, but there is a freshness, florality and minerality that comes with the altitude.'
Desert challenges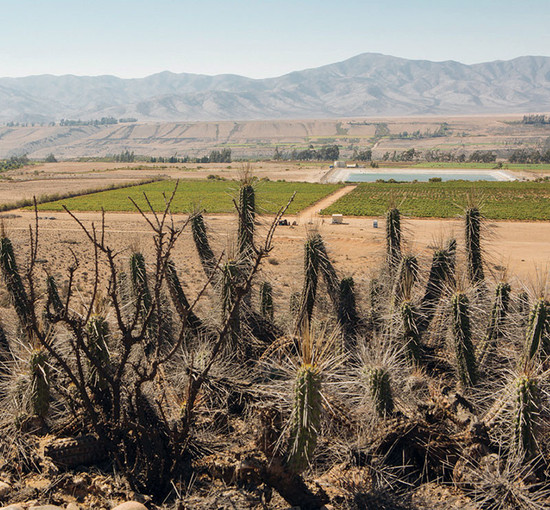 Chile's Atacama desert, the driest place on earth, is the unlikely home to arguably Chile's most innovative and unlikely venture. 'We have one of the rarest terroirs in the world – a cool-climate desert,' says Felipe Tosso, winemaker at Tara, Ventisquero's quirky project. He currently makes three wines, based on Chardonnay, Syrah and Pinot Noir. 'Despite being in the desert, we are just 24km from the coast,' explains Tosso. 'A dense fog, the Camanchaca, covers the sky every day until midday before strong winds reveal crystal blue skies. Maximum daytime temperatures never exceed 26°C, so it is cooler than parts of the Casablanca Valley!'
One of the biggest challenges here is the extremely saline and low-nutrient soils. So much so that the vines died in their first year. Adapting irrigation techniques and planting densities have mitigated these challenges. 'Making wine here is liking making wine on Mars,' quips Tosso. To maximise site expression, the wines have no additions and are kept on their lees without any fining or filtration. The result is a fascinating blend of turbid fruit, with a distinct salinity, vinosity and stunning textural complexity.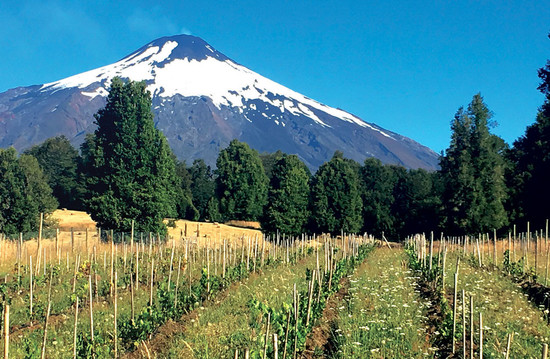 Deep south
Climate change is one of the major reasons that wine regions are expanding southwards – on both sides of the Andes. A host of established Chilean wineries have been experimenting below the country's 40th parallel. Isla de Maipo-based producer De Martino recently lost a vineyard due to drought in the northern region of Limarí – 'it simply dried up', says Sebastián De Martino – so has planted Chardonnay, Pinot Noir and Riesling on the slopes of the Villarrica volcano in the southerly Araucanía region. 'Since we planted in 2014 we have dealt with the eruption of the volcano, severe frost and the constant risk of the neighbours' cows destroying the vineyard!'
But no one has been more ambitious than Undurraga's Chile Chico experimental vineyard – the world's most southerly vineyard at 46°S. 'We were looking for a special spot to produce a Pinot Noir at 12% alcohol,' explains winemaker Rafael Urrejola. 'We achieved it, making a great bottling of beautifully structured wine. But unfortunately we went too far, as it could only ripen once every five years. We are experimenting in the same region and are confident that in time we can get the required consistency.'
The desire, drive and momentum is such a positive step forward for the historically risk-averse Chilean wine industry. Other projects of note include Casa Silva's 20ha project in Lago Ranco at 40°S, as well as Villaseñor's Pinot Noir plantings in Puelo – claimed to be the southernmost commercial vineyard in Chile at 41°S. Over in Argentina, meanwhile, a project founded by Alejandro Bulgheroni in Paso del Sarmiento, Chubut province, promises much. At 45°S, consultants Pedro Parra and Alberto Antonini have planted Chardonnay and Pinot Noir. Parra believes this could be one of South America's greatest undeveloped terroirs.
Brazilian ventures
Adopting extreme and innovative viticultural practices has been key to allowing quality winemaking in two of Brazil's most exciting ventures. The semi-tropical state of São Paolo is home to Guaspari Vineyards. 'It is never cold enough for vine dormancy here, so the vine has two cycles,' explains Marina Guaspari. 'Using the double-pruning technique, we can transfer the harvest from summer to winter, and vinify the grapes from the cooler dry season. The second cycle is used to form the branches that will produce grapes in the next cycle.'
Founded in 2006, the first wines were released in 2015 to wide acclaim. Guaspari describes protecting the vines as a 'tropical adventure', adding: 'Every year we have encountered new challenges – leaf-eating ants, toucans and monkeys have all taken a shine to our grapes. We have developed a special net to protect the grapes at harvest time.'
Deep in the southern state of Rio Grande do Sul, Chilean national Mario Geisse has established himself as one of Brazil's finest sparkling winemakers. Having faced problems with vine fungal infections, Geisse pioneered a system to tackle this without the use of pesticides, called Thermo Pest Control. 'Through repeated applications of a strong wind heated to more than 120°C using a fan driven through the vineyard, we stress the plants without damaging them,' he explains. 'This increases the production of phytoalexins, which help them to fight micro-organisms.'
Extreme terroirs come in many different guises, and each produces its own unique challenges and risks. 'It is the challenges that keep me young and stimulated,' says Argentina's Michelini. The risks often bring significant rewards, as Brazil's Guaspari confirms: 'We always dreamed about making a great wine that could become a source of pride for our country. We believe we've planted the seed for the next generations to have a new vision about our region and Brazilian wine.'
This pioneering spirit abounds in today's South American wine industry – a new vision that's a welcome addition to this fascinatingly vibrant and ever-changing land of plenty.
Alistair Cooper worked for wineries in Chile and Argentina before moving back to the UK. Now a wine writer, broadcaster and consultant, he is currently completing his Master of Wine research paper
Translated by Sylvia Wu / 吴嘉溦
All rights reserved by Future plc. No part of this publication may be reproduced, distributed or transmitted in any form or by any means without the prior written permission of Decanter.
Only Official Media Partners (see About us) of DecanterChina.com may republish part of the content from the site without prior permission under strict Terms & Conditions. Contact china@decanter.com to learn about how to become an Official Media Partner of DecanterChina.com.