A comeback is on the cards for the much-maligned Lambrusco. High quality examples can now be found which offer excellent value and partner well with a range of food, particularly the local cuisine of Emilia-Romagna...
(Originally published on Decanter magazine May issue as promotional feature)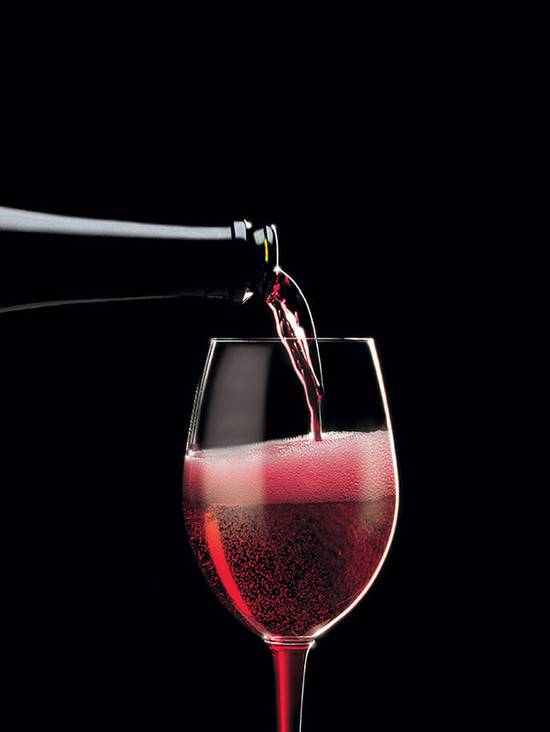 Production figures for DOP and IGP Lambrusco in 2016
• 155.74 million bottles in total, of which:
• 31 million bottles - Lambrusco di Sorbara, Lambrusco Salamino di Santa Croce, Lambrusco Grasparossa, Lambrusco di Modena.
• 9.5 million bottles – Lambrusco Reggiano and Lambrusco dei Colli di Scandiano e di Canossa
• 105 million bottles – Lambrusco Emilia
Lambrusco Styles
Lambrusco is a sparkling wine, either made "Frizzante" (semi-sparkling) or "Spumante" (fully sparkling).
All Lambrusco denominations include wines that are red or rosé, dry, semi-dry, medium-sweet or sweet. In fine wine terms, Sorbara, with its pale colour, is attracting great interest.
Lambrusco grape varieties
The three most widely spread are:
• Lambrusco Grasparossa
• Lambrusco Salamino di Santa Croce
• Lambrusco di Sorbara
Lesser varieties:
• Lambrusco a foglia frastagliata ("cut-up leaves")
• Lambrusco Barghi
• Lambrusco Benetti
• Lambrusco Maestri
• Lambrusco Marani
• Lambrusco Montericco
• Lambrusco Oliva
• Lambrusco Viadanese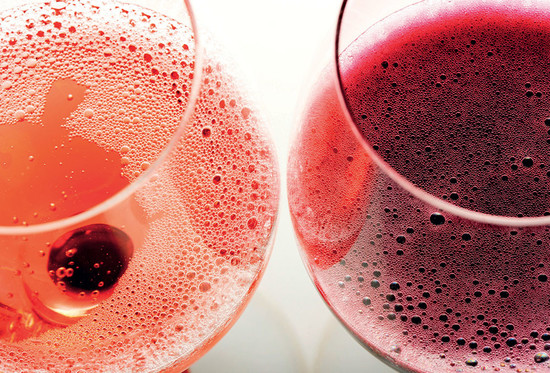 Sandro Cavicchioli, winemaker at the eponymous winery, explains the styles in the following fashion: "For sparkling wines, the charmat method (metodo Martinotti) is the one traditionally used to enhance the characteristics of the grapes. The metodo classico (bottle fermented method) is used to give greater finesse to the wine. And the metodo ancestrale is one that permits long ageing and is the most traditional."
The metodo classico has attracted much interest recently, with the success of producers such as Christian Bellei of Cantina della Volta. "The long maceration period of my Lambrusco with the yeasts makes for a tiny perlage, giving a sense of elegance to every sip. The innovation I brought to Lambrusco was to make it a 'fine wine', a surprising development for some."
Finally recovering from the "dash to quantity" in the 1980s that ruined the reputation of what has always been a wine appreciated for its approachability rather than its ageing ability, modern incarnations of Lambrusco are winning admirers all over the world, especially in the gastronomic sector. And the fact that Lambrusco can also be made, highly successfully it turns out, in the same bottle-fermented fashion as Champagne, has started to create a market position for different vinification methods of this same wine.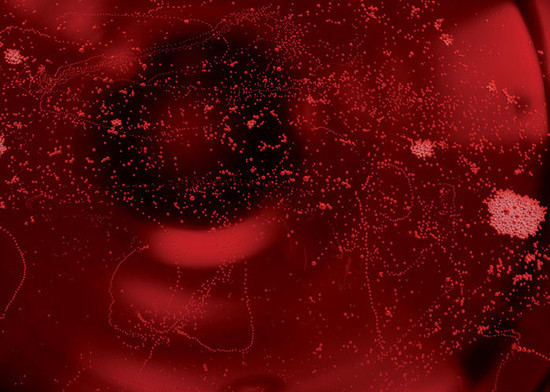 As Alberto Medici, one of the leading producers of modern Lambrusco, recalls: "The value of Lambrusco tended to be simplified too much in the past; it was too often seen as a banal, light wine, with low alcohol content, a bit sweet, and very cheap to buy."
"What was not understood," Medici continues, "is that when we talk about Lambrusco, we are talking about a whole world of grape varieties, complex and fascinating as it is." In fact, there are no fewer than six DOP areas and 11 distinct grape varieties. Who would have thought it? And this is just for Lambrusco produced in the provinces of Modena and Reggio Emilia, in central Italy. Not including Lambrusco from Parma and Mantua, further north.
Lambrusco is also an ancient variety; it's always been there – originally it was known as vitis sylvestris, the vine from the woods – and since it's always been part of the landscape between Reggio Emilia and Modena, it's had the chance to adapt to its territory perfectly. Hence the great number of distinct grape varieties in the Lambrusco family, some of them with names that seem older than the world of dictionaries, such as Lambrusco a foglia frastagliata, or "Lambrusco with cut-up leaves".
With so many varieties precisely located in specific vineyard areas, it is not surprising that the core marketing proposition of the producer groups (the Consorzios) of the region is that Lambrusco is a wine that identifies a unique territory. The relationship between the land, the vines and man has made a particular area important, especially in the provinces of Modena and Reggio Emilia.
In fact, Lambrusco dominates the agricultural production in the two provinces: out of 13,873 hectares registered as vineyards, no fewer than 9,414 are devoted to the various varieties of Lambrusco.
Lambrusco's time has also come. It's a very modern wine. For years now, Italian winemaking trends have passed through a phase of initial delight in international varieties, gone through a phase of ageing wine in heavily-oaked barrels, and made increasingly alcoholic productions. Now the pendulum has swung the other way.
Now what consumers want is "links to the territory", "approachability", "ease of drinking", "food friendliness" and "less alcohol". Lambrusco has all of this, in spades. And it's "sparkling" too, which is another increasing modern trend.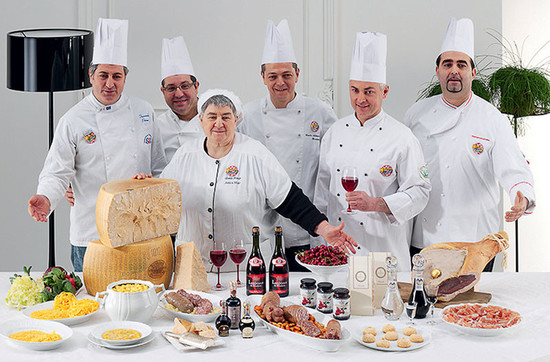 Lambrusco grows on the plains, which is the origin of the clean fragrance, and the longlasting finish of Lambrusco di Sorbara, or the dry taste of Lambrusco Salamino di Santa Croce, of Lambrusco Reggiano and of Lambrusco di Modena. And it grows in the foothills of the Apennines too, to the south of the Via Emilia. Here it's drier with a bit less extract, classically expressed in the violet foam of Lambrusco Grasparossa di Castelvetro and Lambrusco dei Colli di Scandiano e di Canossa.
Much of Lambrusco's modern market is outside Italy; Lambrusco Emilia exports more than 60% of its production, for example, so the two Consorzios – Modena and Reggio Emilia – have to take care of the image and sustainability of the products under their care with particular attention to international requirements.
Sustainability is a particular concern at the moment: sustainability of the environment, social sustainability and economic sustainability of the territory taken as a whole. The Consorzios are therefore currently involving the complete production chain: from vigneron to co-operative or private winery in the process of becoming a Sustainable Viticultural Territory.
Try 10 Lambruscos chosen by Decanter's tasting team>>
Translated by Sylvia Wu / 吴嘉溦
All rights reserved by Future plc. No part of this publication may be reproduced, distributed or transmitted in any form or by any means without the prior written permission of Decanter.
Only Official Media Partners (see About us) of DecanterChina.com may republish part of the content from the site without prior permission under strict Terms & Conditions. Contact china@decanter.com to learn about how to become an Official Media Partner of DecanterChina.com.