Sweet wine is traditionally a specialty of Austria. In recent years, the wine industry in Austria has changed dramatically, and excellent Austrian dry whites and reds are attracting more and more international attention.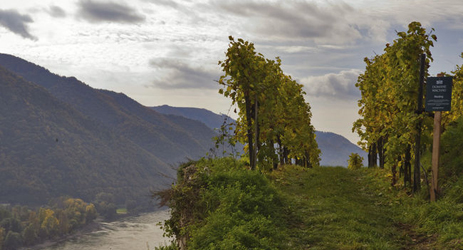 Climate
Austria is situated at the southeast of Germany, with vineyards located along the eastern border of the country. The climate there is more stable than its Northern European neighbours, with long and hot summers and short winters. The ripening seasons are long and warm, allowing noble rot to develop.
Grape
The specialty grape variety in Austria is Grüner Veltliner, which occupies one third of the country's total plantation of vines. With its unique bay leaf aroma and flavour of pepper and celery, it's now regarded as one of the most exciting white wines in the world. Other important whites include Riesling and Welschriesling. Blaufränkisch is the most important red variety.
Classifications
Austria shares similar wine classifications and wine laws with Germany. The German Pradikätswein classifications are also seen on the label of Austria wines, mainly on sweet wines. There are two additional Pradikätswein classifications. One of them is Ausbruch, which is between Beerenauslese (BA) and Trockenbeerenauslese (TBA). The other is Straw Wine (Strohwein or Shilfwein), which literally means it is produced using raisined grapes that are dried on straw mats.
A new geographic appellation system—DAC (Districtus Austriae Controllatus), which is similar to the French AOC, was recently established to award regional typicality.