Greece is one of the oldest wine-making countries in the world. Ancient Greece is the origin of the wine culture throughout the Mediterranean, if not the whole of Europe.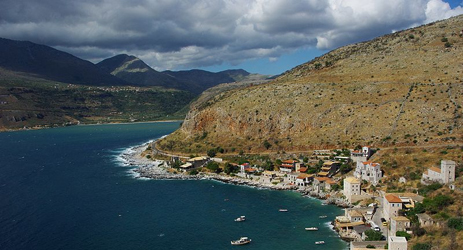 Climate
The climate in Greece is primarily Mediterranean, with short winters and very hot summers. The temperature varies hugely among the mountains and the islands, and drought can be a major problem in southern Greece and among the islands.
Grape Varieties
Greece is known for many traditional grape varieties that can't be found in other parts of the world.
The most important white grapes include the full-flavoured, crisp Robola, mineral Assyrtiko, and the highly aromatic Moschofilero. Muscat is usually used to produce excellent sweet wines in the Sámos island.
Xinomavro is perhaps the best red variety in Greece, and is only planted in the Northern Greece region (see later). Other important red varieties include the versatile Aghiorghitiko, and the drought-resilient Limnio, which is indigenous to the island Lemnos. International varieties such as Cabernet Sauvignon,Cabernet Franc, Chardonnay and Sauvignon Blanc can also be found in Greece, where they usually play a minor role in blends with the domestic varieties.
Regions
Vines are planted widely throughout Greece, with the most distinctive regions being Northern Greece, the Peloponnese Peninsular, and the islands (such as the Crete, Santorini and Sámos).
Northern Greece is home to the Xinomavro grape, which is only planted in the 'Xinomavro triangle' – Naoussa, Goumenissa and Amyndeo. Xinomavros produced in Naoussa are the longest-lived, with tough, tannic, complex and acidic characters that resemble Barolo.
Nemea is a key wine region in the Peloponnese Peninsular, known for producing red wines solely from the Aghiorghitiko grape. Among the Greek islands, volume-wise Crete is the most important wine producing island. Santorini produces some of the finest Greek white wines using the Assyrtiko grape. The Muscat liqueur wine made in the Sámos island is among the best-known Greek wine.
Wine Laws
The wine laws in Greece are significantly influenced by EU regulations. The French term Appellation d'Origine Contrôlée is adapted to describe fortified and dessert wines in Greece, while Appellation d'Origine de Qualité Supérieure (AOQS) refers to light wines.
The vast majority of wines produced in Greece are table wines, which includes many successful brands. Vine de Pay in Greece refers to table wines made in specific areas, usually blends of Greek varieties and international varieties such as Xinomavro with Merlot.