Chicago, 1925. Prohibition was in full swing, and the city had become one of the most notorious in America for its mob law and backstreet speakeasies. By the mid-1920s there were 15 breweries in the city and an estimated 20,000 saloons; most usually unmarked entrances or unobtrusive shop fronts that hid cavernous bars behind. But selling alcohol or distilling liquor of any kind was still illegal, and Louis Glunz Junior, second generation German immigrant and owner of a wine and spirits store in the German-centric neighbourhood of Wells Street, was having to be inventive. During the anti-alcohol era, which passed into law with the Volstead Act of 1920, citizens were allowed a small personal allowance of wine and beer providing that they made it themselves, or if it was medicinal alcohol.
'My grandfather was a chemist by training,' says Barbara Glunz, owner of the wine store today, and the fourth generation since Louis Glunz Senior moved from Westphalia to Chicago in 1888. 'So he held classes teaching people how to brew their own beer and make their own wine, and the shop sold empty bottles, labels and corks.'
The walls of the restaurant that stands next to the shop are a testament to this enterprising spirit, with Prohibition-era barrels tops, and Medicinal Alcohol signs showing Glunz was licensed to produce whiskey and brandy to be used on doctor's prescription for ailments from tuberculosis to high blood pressure. A typical dose would be one small glass every three hours for an adult, and one teaspoon in the same timescale for a child, served from bottles carrying the label 'unexcelled for medicinal purposes'.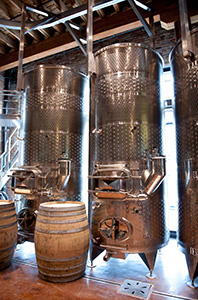 Today Chicagoans can still make their own wine, rather less covertly than they might have done in Louis Glunz's day. The City Winery, a 3,000 square metre outpost of the New York version begun by music producer Michael Dorf, opened its doors on West Randolph - not far from the Oprah Winfrey studios in the west Loop district - in August 2012. This is an expanding business. New York opened in 2008, and Napa and Nashville versions are due in 2014.
'Chicago may have had a complicated relationship with alcohol in the past', Robert Kowal, the winemaker at City Winery told me when I visited the site this week, 'but it has always been a big music city, so it was the perfect fit for the first extension of the concept. This is a music venue primarily, with a 300 seat concert hall and concerts most nights of the week. But we also have a fully working winery on site.'
Kowal, who came to Chicago from winemaking with Domaine Drouhin in Oregon, works with 19 vineyards bringing fruit in from Oregon, Washington State, California, the Finger Lakes and Argentina. The company has people on the ground in each state monitoring the vineyards, contracts and overseeing quality charters for vine growers. When the grapes arrive in Chicago, Kowal then either makes the wine he wants with them, or that asked for by clients who have paid up to US$15,000 to create and bottle their own styles, with their input into grape variety, percentage of new oak for ageing, and pretty much everything in between.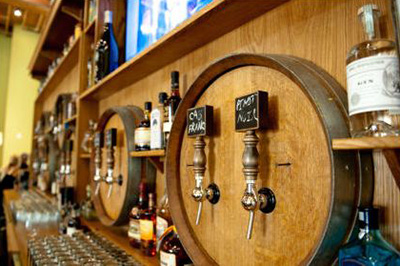 There are just six private barrels currently being made in Chicago, with around double that number going to corporate partners. The majority of the 150 barrels of wine they make each year is sold on premise at the bar and restaurant, via tap lines straight from the barrels and vats. There are international bottles on the list, but wines by the glass account for around 70% of sales, and of that, 60% is City Winery tap wine by the glass or carafe, with the rest coming from international wine options.
'City Winery New York opened the same week in 2008 as Lehmann brothers collapsed,' said Kowal, 'so the original model of private clients buying barrels to make their own wine had to be rethought a little. We expected it to be half of overall sales, but it is now a little below that, and Chicago has even less private client business than New York. But the idea of bringing winemaking into an urban setting is still hugely appealing to us and to our client base. And we are just about to start pouring our own Made in Chicago wines, which may improve the local buy-in to the idea of making their own wine. Until now we've been borrowing the Made in Manhattan version, shipping it down from New York.'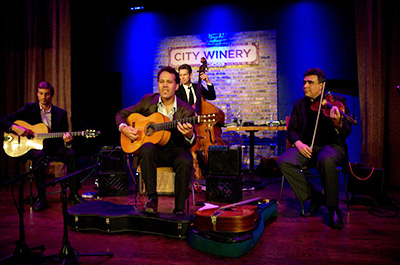 Rachel Driver Speckan, Beverage Director, said, 'The fascinating thing is how drink sales alter depending upon the artist playing the venue that evening. Just last week we transitioned from Ginger Baker's Jazz Confusion to an American Idol finalist Cyrstal Bowersox. The type of drinks ordered were very different. Some artists bring in a whisky crowd, others only drink wine, and some are all about beer or tea and coffee. The restaurant sees a more regular crowd who drink the tap wine produced on premise. But we also have folks that are wine collectors or are completely new to wine'.
'This is what Dorf has always imagined City Winery to be,' said Kowal. 'Wine as part of a wider entertainment scene. He sees it also as an extension of the movement towards Slow Food; a desire to understand the traceability of what is on our plates, getting as close to the products as possible. Being part of the winemaking process is the natural next step.'
City Winery Chicago www.citywinery.com/chicago/
The House of Glunz thehouseofglunz.com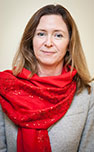 Columnist Introduction
Jane Anson is Bordeaux correspondent for Decanter, and has lived in the region since 2003. She is author of Bordeaux Legends, a history of the First Growth wines (October 2012 Editions de la Martiniere), the Bordeaux and Southwest France author of The Wine Opus and 1000 Great Wines That Won't Cost A Fortune (both Dorling Kindersley, 2010 and 2011). Anson is contributing writer of the Michelin Green Guide to the Wine Regions of France (March 2010, Michelin Publications), and writes a monthly wine column for the South China Morning Post in Hong Kong, where she lived from 1994 to 1997. Accredited wine teacher at the Bordeaux Ecole du Vin, with a Masters in publishing from University College London.
Click here to read all articles by Jane Anson>>
- Follow us on Weibo @Decanter醇鉴

and Facebook

for most recent news and updates -
All rights reserved by Future plc. No part of this publication may be reproduced, distributed or transmitted in any form or by any means without the prior written permission of Decanter.
Only Official Media Partners (see About us) of DecanterChina.com may republish part of the content from the site without prior permission under strict Terms & Conditions. Contact china@decanter.com to learn about how to become an Official Media Partner of DecanterChina.com.