First the Elysée Palace back in May, official residence of French presidents and heads of state since Napoléon Bonaparte first called it home in 1808 (he signed his abdication there on June 22 1815 after the Battle of Waterloo), followed last week by the Hotel Matignon, official residence of the French prime minister since 1935.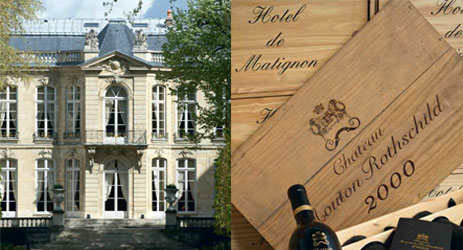 Both of these architectural-slices of French history have this year held wine auctions selling off more than 2,500 bottles from their private cellars. The reason, in both cases, was to raise funds for an austerity-strapped government, and both brought in well over their initial estimates – almost twice the expected amount for Matignon, with a final tally of €173,488, and three times for the Elysée Palace, raising a full €718,000. Weirdly, the same numbers of wines were auctioned in each case, around 10% of the overall cellar, or 1,400 bottles from Matignon, and 1,200 from Elysée, so the higher revenue from the Elysée can most likely be explained by the media spotlight it was under. The smart money, however, went to the Matignon, and I have to agree with Lishen Huang, who bought from both auctions and made the successful bid last week for Domaine de la Romanée Conti 2004 for a friend back in China. He paid €10,500 for the bottle that was estimated at €5,000 but pointed out with some satisfaction that he had also managed to buy some real bargains. 'The prices at this auction are far lower (than at the Elysée)'.
Leaving aside heated arguments over whether the government had any right to sell off its wines instead of honouring them as treasures of France, the real interest, for me at least, was the glimpse these auctions afforded into the wine habits of the elite club that runs the country.
I should tell you straight up that I have not actually visited the presidential or the prime minister's wine cellar. Not many people have, as the Elysée wine is kept in a secret location next to a bunker codenamed Jupiter, the site of France's nuclear arsenal. Apparently even President Hollande hasn't visited his own wine collection, and neither did his predecessor Nicolas Sarkozy. But other French presidents have been more enthusiastic – most famously Jacques Chirac, who not only loved Dom Pérignon Champagne, but was also the minister of agriculture responsible for the promotion of Chateau Mouton Rothschild to First Growth in 1973. One of Chirac's predecessors into the President's chair, Valéry Giscard d'Estaing, was also a huge Bordeaux fan, and the cellar saw plenty of action during his eight years as head of state. And former prime minister Alain Juppé continues to work as mayor of Bordeaux, ensuring links between the city and the Parisian elite remain strong.
Hotel Matignon itself, the prime minister's residence located on 57 rue de Varenne on Paris' Left Bank, has itself pretty serious links with wine dating back to 1808 when it was bought by Monsieur Charles-Maurice de Talleyrand, who just happened to have been the owner of Chateau Haut-Brion a few years previously. He was famed for hosting weekly dinners and balls lavishly prepared by the world's first celebrity chef Marie-Antoine Careme (the same chef, by the way, later went to work for Baron James Rothschild, the man who would end up buying Chateau Lafite Rothschild in 1868).
This week you could have bought a bottle of Haut-Brion 1958, stored in the house of its former owner, for a pre-auction estimate of €240, or four bottles of the renowned 1959 vintage for €3200. Each bottle came bearing a small label depicting the Hotel Matignon building, and the date of the sale.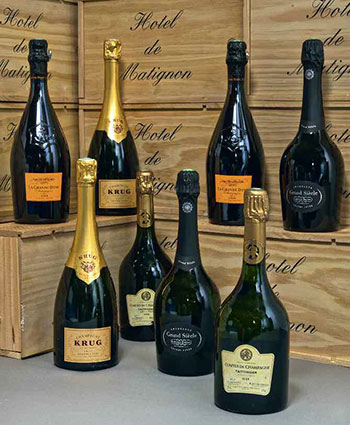 So, in the absence of a private tour of the cellars, I spoke instead to suppliers and former sommeliers about exactly what is involved in running a government wine cellar. For a start, no prizes for guessing that the government cellars contain only French wine – 100% of bottles according to chef sommelier Virginie Routis at the Elysée. Just a quick look at the auction list tells you this. Besides a good number of classified Bordeaux (heavily weighted towards 1855 Médocs and classified Saint Emilions), Matignon sold off some fine Trimbach Alsace, Guigal Coté Rotie, a series of Krug Grande Cuvées, 14 separate lots of Comtes Lafon Meursault Clos de la Barre and Genevrieres in various vintages, Domaine Lamarche La Grande Rue… you get the picture, a host of some of France's finest names.
But these fine names may no longer enjoy the place they once did. Among the information that surfaced through the wine auctions, we have learnt that budgets for stocking the wine cellars have been slashed. Claude Bluzet, the chef de cave at Matignon for over 25 years, told reporters this week that he no longer uses or serves the classified wines that are so revered by wine collectors world over. 'Our wine budget has been reduced on a regular basis over the past few years,' he said, without confirming exactly what it was. Routis at the Elysée gave a figure of €150,000 as her annual budget, although in 2014 this seems to be dropping down to €50,000.
It's the same story at other government cellars – the French Senate has gone from 30,000 bottles in 2000 to just 10,000 today, and its annual budget has also been reduced from €150,000 a decade ago to €50,000 in 2014. The French Assembly has a cellar of 15,500 bottles, and there again budgets are down, from €60,000 in 2012 to €40,000 in 2013.
A tender process is underway for providing new wines for the Elysée cellar next year, and I'm told is asking for a mix of lower priced and prestigious wines – 30% grands crus, 30% good but not expensive wine and the rest a selection of up-and-coming French producers. They will not be buying en primeur from either Bordeaux or Burgundy. 'The aim is to find wines that are mainly ready to drink.'
But before we waste too much anguish on the poor French politicians, it's worth remembering that they're not going to go thirsty any time soon. All four cellars still contain verticals of a wide range of top growth claret, and French officials still match the prestige of the wines to the status of guests. 'Wines are chosen according to the menu but also according to protocol,' said a source. 'For a visiting head of state, it is entirely correct that prestigious bottles should showcase the best of France.'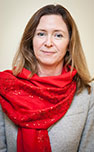 Columnist Introduction
Jane Anson is Bordeaux correspondent for Decanter, and has lived in the region since 2003. She is author of Bordeaux Legends, a history of the First Growth wines (October 2012 Editions de la Martiniere), the Bordeaux and Southwest France author of The Wine Opus and 1000 Great Wines That Won't Cost A Fortune (both Dorling Kindersley, 2010 and 2011). Anson is contributing writer of the Michelin Green Guide to the Wine Regions of France (March 2010, Michelin Publications), and writes a monthly wine column for the South China Morning Post in Hong Kong, where she lived from 1994 to 1997. Accredited wine teacher at the Bordeaux Ecole du Vin, with a Masters in publishing from University College London.
Click here to read all articles by Jane Anson>>
- Follow us on Weibo @Decanter醇鉴

and Facebook

for most recent news and updates -
All rights reserved by Future plc. No part of this publication may be reproduced, distributed or transmitted in any form or by any means without the prior written permission of Decanter.
Only Official Media Partners (see About us) of DecanterChina.com may republish part of the content from the site without prior permission under strict Terms & Conditions. Contact china@decanter.com to learn about how to become an Official Media Partner of DecanterChina.com.