When I arrived (a little confused from the maze of crumbling limestone walls that line the roads into the old village centre of Cérons), there was no one around. I walked through the magnificent Grand Hall that spans the ground floor of the chateau, and out into biting winter sunshine on the far side of the building. The grass in front of the double-height chateau doors was frost-dazzled, newly-planted vines stretching away in front of me. All was silence; blue, green, russet, white.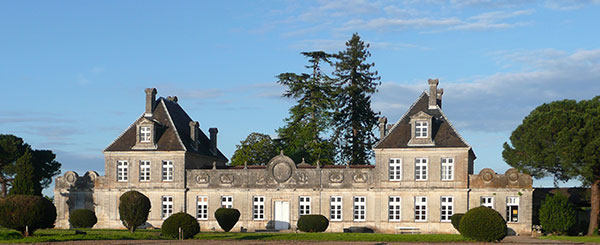 It's not hard to see why Caroline Perromat couldn't walk away from her husband Xavier's family estate when succession issues forced its sale in 2012. Instead of allowing the 26 hectares of Chateau de Cérons to be parcelled up and sold off to neighbours, the couple took the huge gamble of buying out his five brothers and sisters, and taking over themselves. But in order to fully concentrate on the new venture, Caroline had to give up her job of 15 years working alongside Véronique Sanders at Chateau Haut-Bailly, and leave the gilded world of Pessac Léognan classified growths for the uncertainty of owning a sweet wine estate in the tiny appellation of Cérons.
'We signed on the sale in April 2012, and I left Haut-Bailly that September,' Caroline tells me as we walk through the vines towards the elaborate iron gate that marks the newest entrance to the chateau. 'I would never have left such a special place for someone else's chateau, but this is different. It is our own, we get to build something here that is both an emotional and intellectual challenge.'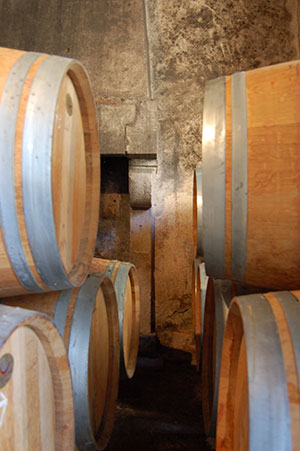 This is the time of year when many of us decide to reach for a luscious, shimmering glass of ambered sweet wine. But Christmas aside, vins liquoreux are a tough sell. The whole of AOC Cérons covers just 100 acres (that's under half the size of Chateau Yquem alone in nearby Sauternes) and makes just 1% of all the sweet wine produced in Bordeaux (which itself is only 2% of the production of a region where red wine rules).
'Cérons does have the advantage of belonging to the Graves appellation unlike Sauternes,' Perromat points out. 'It means we can produce a dry white AOC Graves with the same varieties of Sauvignon Blanc and Semillon if we pick them earlier, before the grapes get so concentrated in sugar. And we can also make a red Graves. My father-in-law had been making wine here for 50 years, but had not bottled either of those appellations under the name Chateau de Cérons. It was the first thing we did, so we now have the range of the three red white and sweet wines under our chateau name.'
This understanding of the value of an all-encompassing brand is just one of the things that Caroline instinctively took from working with Haut-Bailly. But for all the splendour of Chateau de Cérons' 17th century lines – it is a perfectly symmetrical chartreuse building, one of the oldest and largest in the region, complete with a rare original 17th century barrel ageing cellar – this is a world away from her previous life.
When I ask the obvious question, about the difference between the classified world and that of petit chateaux, she begins by talking about the commercial network, the access to markets. Then abruptly stops and corrects herself.
'The single biggest difference is the notion of time. When planning a strategy for a grand cru, the idea of a year, 14 months, is nothing. When you have money behind you, you can take your time over decisions, but for a small estate, 14 months is an eternity. You can fall in that time, you can go to the wall, especially if you don't have an understanding bank behind you. It means you have to be very clear about what you want and need.'
The Perromats have just completed their first full vintage 'à quatres mains', a lovely French expression denoting a couple working alongside each other with two pairs of hands. Similar I guess to the English idea of 'two heads are better than one' but with a touch of Gallic romance. But what comes out most clearly from speaking to them is that running a small estate successfully is not the work only of the owners. For a hope of succeeding in the tough tough world away from classified Bordeaux, you need shoulders to cry on, lean on and stand alongside.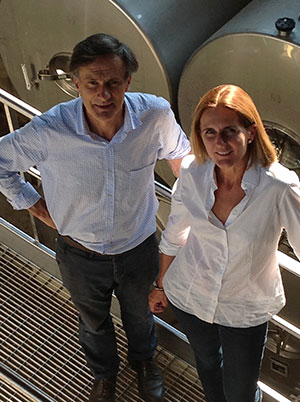 'Many small estates choose to concentrate on direct sales because they don't feel they would be enough of a priority for négociants. We are taking a gamble by working with merchants, who of course take their cut, but that was my first big decision that I can say came from my experience at Haut-Bailly – to work with merchants but in a true partnership. I go to our key négociant's office to work with their sales team, and travel with them to promote my wine. It's time consuming and there is a cost of course, but it was only when I had this in place that I was able to sleep at night. The stress of being solely responsible for all sales was incredible. We've been lucky also to have one or two brokers who really believed in us, and again that is something I learnt at Haut-Bailly. The good brokers understand the whole market, know how to sell bulk, small chateaux, grands vins, at all prices.'
It's emotional, walking these grounds with a couple that has risked everything to make this work. Since taking over, they have replanted over half the vines in the walled 10 acre Enclos that lies in front of the chateau and renovated the three-tier gravity-led wine cellar. 'Technically at least,' says Caroline with a cheerful smile as we gingerly pick our way along a rickety suspended walkway. 'Inside the concrete tanks all have brand new lining and temperature control. On the outside, we still have some way to go.'
We head inside, out of the crunchy air to the warmth of a glowing fireside where we taste through vintages back to 2005. 'Some things are true for every property. You have to concentrate on getting the wine right above everything else, and you have to be ready to tell its story.'
There are only 15 producers in this hidden appellation, and perhaps barely six with significant markets, who travel and export. 'The appellation is in peril because many small AOCs are being encouraged to fold into larger surrounding ones on the pretext of simplifying the message for consumers,' says Xavier with an incredulous look. 'Can you imagine if they told Burgundy producers to get rid of their multitude of AOCs to simplify the message?'
Watching from Pessac Léognan, Veronique Sanders understands what Caroline is taking on more than most. Her family had a sweet wine estate that they eventually sold. Veronique's grandfather Jean Sanders was 'crazy about Cérons,' Caroline tells me. 'I used to stop by to see him most Friday nights on my way back from Haut-Bailly, and we would share a glass of Cérons together. He believed in this appellation, and couldn't understand why more people didn't know about it. I love to think how happy he would be that we are putting our faith in it too.'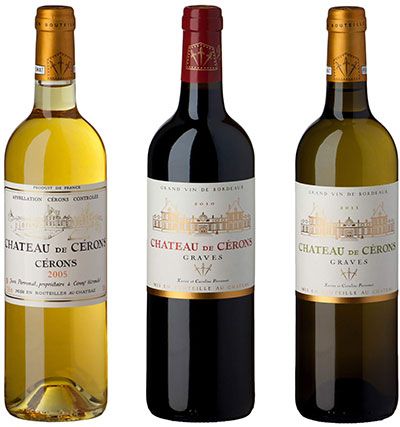 The Wines
Chateau de Cérons AOC Graves Blanc 2012
The first vintage of the Chateau de Cérons as a dry white of Graves is a flag in the sand for the mineral signature of Cérons. Plenty of floral notes on both the nose and palate, this is a lean, elegant wine with zero sense of heaviness, a lovely herbal twist and a touch of salinity on the finish. I'd pair this with ceviche, or shellfish, and drink it young. Unoaked. 50% Sauvignon Blanc, 45% Semillon, 5% Sauvignon Gris.
Chateau de Cérons AOC Graves 2010
Blend of 55% Cabernet Sauvignon and 45% Merlot, a restrained, elegant expression of this super ripe vintage. The Merlot aged in 20% new oak while the Cabernet stays in cement tanks to emphasise rich black fruits. I love that these wines are not trying to be something they're not. 'We are lucky to have this limestone surrounded by gravel in Cérons,' says Caroline. 'It gives a true signature and personality to the wines, and we want to celebrate that'.
Chateau de Cérons AOC Cérons 2007
This is the vintage currently on the market, as the Perromats age their sweet wines for between three and five years after harvest. But even with this longer ageing, the minerality shines through, and if you are used to drinking Sauternes, expect a more ethereal, lightweight take on the botryitis rich Semillon here. For my money, there's a touch of Tokaj going on, with burnt orange and saffron that personifies the idea of 'noble bitterness', but with a subtle lemon and lime tang on the finish that lightens things up.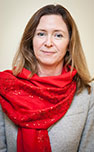 Columnist Introduction
Jane Anson is Bordeaux correspondent for Decanter, and has lived in the region since 2003. She is author of Bordeaux Legends, a history of the First Growth wines (October 2012 Editions de la Martiniere), the Bordeaux and Southwest France author of The Wine Opus and 1000 Great Wines That Won't Cost A Fortune (both Dorling Kindersley, 2010 and 2011). Anson is contributing writer of the Michelin Green Guide to the Wine Regions of France (March 2010, Michelin Publications), and writes a monthly wine column for the South China Morning Post in Hong Kong, where she lived from 1994 to 1997. Accredited wine teacher at the Bordeaux Ecole du Vin, with a Masters in publishing from University College London.
Click here to read all articles by Jane Anson>>
- Follow us on Weibo @Decanter醇鉴

and Facebook

for most recent news and updates -
All rights reserved by Future plc. No part of this publication may be reproduced, distributed or transmitted in any form or by any means without the prior written permission of Decanter.
Only Official Media Partners (see About us) of DecanterChina.com may republish part of the content from the site without prior permission under strict Terms & Conditions. Contact china@decanter.com to learn about how to become an Official Media Partner of DecanterChina.com.