There's something unmistakably exuberant about it. Even with the classicism of the Cabernet Sauvignon keeping its jacket tightly buttoned up, or the well-defined tannins ensuring the sunshine-fed Merlot remains just perfectly in its place, there is a cheekiness, a liquorice spice, and a sense of morning-after smokiness that tells you that Opus One is very definitely not, despite 50% of its parentage, a Bordeaux wine.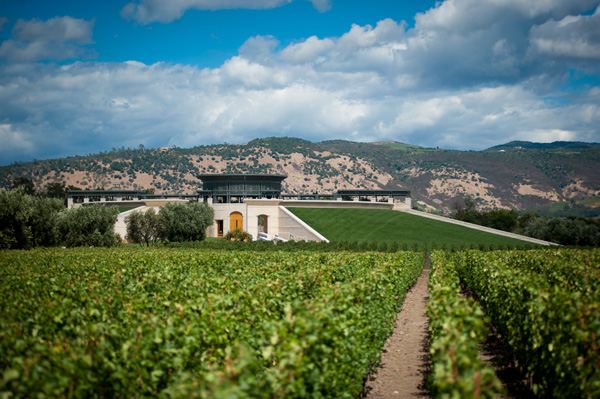 And yet come September for the past few years, this Napa wine – which was born in 1980 out of a friendship between Robert Mondavi and Baron Philippe de Rothschild, and briefly named Napamedoc, then Opus, before finally becoming Opus One is 1982 – has been the darling of Bordeaux merchants (at least the 22 of them lucky enough to sell it). Its now annual release through the Place de Bordeaux sales system brings with it a sharp sense of excitement, in contrast to recent sluggish sales of classified growths. 'Right now, selling Opus One is easier than selling all the First Growths put together,' one merchant told me. 'It's like En Primeur used to be, with demand outstripping supply.'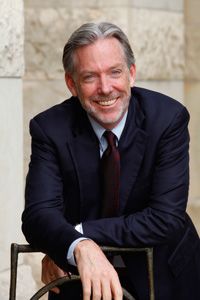 The 2014 vintage will see the tenth anniversary of Opus One selling its wine through the négociant system. 'Back in 2004, when we started working with merchants over here, we sold around 18% of our production this way,' says CEO David Pearson when I met up with him in their new Bordeaux offices last week. 'We now sell nudging past half of our wine through Bordeaux.'
I had cycled over to their offices in a gorgeous old town house overlooking Place des Quinconces, the stately central square that is the largest in Europe, and was once the site of Chateau Trompette, a military fortress built as a symbol of Royal Power in the 17th century and headed up just before the French Revolution by Joseph Fumel of Chateau Haut-Brion. It's a symbolic spot for a young wine that has so quickly become part of the establishment here, assailing the walls of a system that has proved less friendly to other international wines sold through La Place – all of which have been successful commercially speaking, but provoked infamous mutterings from local chateaux owners that négociants would be better off concentrating on wines closer to home.
The first 'non-Bordeaux' wine to see an official Place release was Almaviva (another Rothschild joint venture, this time with Concha y Toro), followed by Opus One, and more recently Tenuta dell'Ornellaia's Masseto, Antinorini's Solaia, Perrin's Hommage a Jacques Perrin and Errazuriz's Sena. But only Opus One has a full time office here – run since October 2012 by ex-négociant Laurent Delassus, representing in his words 'real integration'.
'Our experience shows us that négociants know how to sell and promote wines of a certain status,' says Pearson, who looks disconcertingly like a young Donald Sutherland. 'One thing that impresses me is the generational aspect of negociants; so many are families that have worked here for generations. Great wines need that sense of history and continuity that is bred into the DNA here.'
'But we have always tried to be respectful. We take a different approach to the Bordeaux chateaux. We don't, most importantly, sell en primeur as a wine future. Instead we only sell when the wine is ready to be delivered, three years after harvest, and all in one price release. There are no stages where we test the water and then hitch the price up depending on market reaction'. What this translates into is setting the price on the first Monday of September at 8am French time, when négociants offer it to their clients. One month later, in early October, the bottles are physically shipped from Napa, at the same time as the wine is shipped out to US customers by the estate's internal sales team.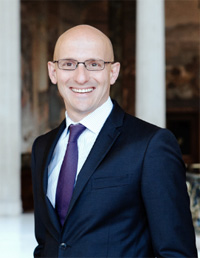 There are very few Californian wines that export more than 10% of their production, but Opus has sold in 69 countries pretty much from the beginning. Of the overseas sales, Asia accounts for between 60 and 70%, with Japan taking three times as much stock as Hong Kong and Mainland China – although in November 2013, the retail division of Sotheby's sold a 100-case collection of the wine to an unnamed buyer in mainland China for US$165,000, and figures in these markets are growing quickly. There is the risk, inevitably, than an overheated brand in China brings problems with counterfeiting long known to Opus' Rothschild cousins in Bordeaux. I tell them the story of my visit to Sheung Shui station in Hong Kong, where I witnessed a group of men opening several six-pack wooden cases of Opus One and transferring them into a black hold-all for transfer over the border.
Pearson nods with a resigned smile. 'In some ways, being the subject of counterfeiting or smuggling is a good thing; a sign that your brand has arrived. But the problem with wine is if good-quality forgeries get into the distribution system, and you lose sight of them'. Today Opus One has one of the most sophisticated anti-forgery systems in the world, with a GPS chip on every bottle, and security ink on the capsule that is delivered to the producing company in an armoured car. 'In total, we spend around US$30,000 per year on anti-counterfeit measures. But we believe it's a sound investment, particularly in assuring provenance, as that has a large impact on auction values. And here again Bordeaux has useful experience.'
It's clear to me, as we taste through the 2005, 2009 and 2010 vintages, that the presence of iconic international brands on the Place de Bordeaux, at least ones that showcase winemaking skills as unarguable as this one, offers a stamp of approval for the local system that it can well do with right now. Most of the négociants I speak to say they hope other brands will follow over the coming years.
Pearson says smoothly that they are not in Bordeaux to push speculation, but is happy to admit that prices have risen since coming on board the Place. 'What it does is create excitement in international markets. Going through négociants was not a means to widen our reach so much as a way to use their expertise to get feedback on what different markets need, and to drive the brand. So for example, we had to dismiss our previously exclusive importers in 2004 when we started this new system, and one in Korea was particularly keen to keep his allocation. His desire for it created a sense of urgency and in the end he upped the amount he took from négociants, even though he was no longer exclusive. That is market forces in action.'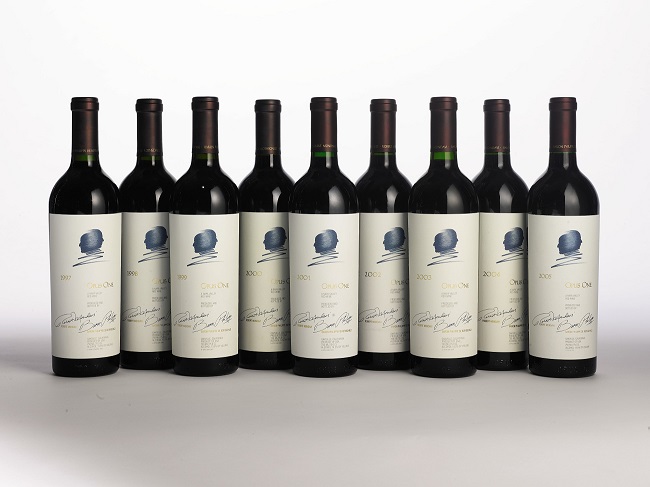 The Wines
Opus One, Napa Valley 2005 The firm plum-red colour still points to a young wine with good vibrancy and just a hint of tile-red forming around the rim of the glass. Fresh fruit and a touch of roses on the nose, great definition with that Opus One smoky edge, signalling an explosion of redcurrants and fat ripe raspberries, just the slightest hint of cinnamon spice and some autumnal dusting from the mid-palate onwards, giving an idea of what's to come as it hits its tertiary stage. Winemaker Michael Salacci left the grapes on the vines around one week longer than usual to concentrate the flavours (in fact the slightly cool harvest conditions meant 2005 was the longest harvest on record, finishing on November 3). But even with this concentration, of the three vintages tasted here, this is clearly the most 'European', with reasonable, well-balanced alcohol, and a restrained elegance. You could begin to drink this wine now, but there is no hurry, and I for one would love to follow how this elegant style of Napa wine slides into its middle to later years.
Opus One, Napa Valley 2009 Far tighter in structure, the fruit is closing in here and I would say the drinking window will be shutting up for a while, maybe give it another three or four years before cracking it open. On the palate, there is a reassuring weight of bilberries and liquorice, balanced out by wonderfully elegant tannins, very well drawn, and again that black pepper spice that cries out for good aeration in a wide-bottomed glass, and a relaxed meal with friends. This is more of a powerhouse than the 2005, but there is a highly attractive elegance to the tannins once they have opened up, soft, long and beautifully expressive. A challenging vintage for Napa, as more rain fell in one night during harvest than since the 1930s. 'We were lucky because we had already brought a lot of grapes in,' says Pearson, 'but hot weather returned afterwards, so anyone who had not picked early enough was facing a dramatic finish to the vintage'. Great fleshy quality to the fruit, clearly huge potential.
Opus One, Napa Valley 2010 In 2010, the team at Opus picked around one week earlier than many neighbouring estates, guarding against alcohol rises from the fierce heat of the summer. It was another challenging year, as a cool spring had led many wineries to thin out the leaves around the grapes to capture the best of the summer heat, and were then caught out when it turned so fierce. Salacci had made the prescient decision to keep the canopy cover full, and so the grapes managed a long, slow ripening that is evident in the complexity of the final flavours. The blend is similar to most years; 84% Cabernet Sauvignon, 5.5% Merlot, 5.5% Cabernet Franc, 4% Petit Verdot, 1% Malbec. This is just beautiful, so many layers of flavour, with touches of black pepper and toasted brioche, coupled with bitter dark chocolate. Gorgeous interplay of acidity and freshness in balance with the warming, well-ripened fruit, enlivened by flashes of spice, and charred cedar wood smoke.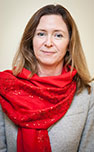 Columnist Introduction
Jane Anson is Bordeaux correspondent for Decanter, and has lived in the region since 2003. She is author of Bordeaux Legends, a history of the First Growth wines (October 2012 Editions de la Martiniere), the Bordeaux and Southwest France author of The Wine Opus and 1000 Great Wines That Won't Cost A Fortune (both Dorling Kindersley, 2010 and 2011). Anson is contributing writer of the Michelin Green Guide to the Wine Regions of France (March 2010, Michelin Publications), and writes a monthly wine column for the South China Morning Post in Hong Kong, where she lived from 1994 to 1997. Accredited wine teacher at the Bordeaux Ecole du Vin, with a Masters in publishing from University College London.
Click here to read all articles by Jane Anson>>
- Follow us on Weibo @Decanter醇鉴

and Facebook

for most recent news and updates -
All rights reserved by Future plc. No part of this publication may be reproduced, distributed or transmitted in any form or by any means without the prior written permission of Decanter.
Only Official Media Partners (see About us) of DecanterChina.com may republish part of the content from the site without prior permission under strict Terms & Conditions. Contact china@decanter.com to learn about how to become an Official Media Partner of DecanterChina.com.