Christine Vernay spent years teaching Italian (and sharpening the French language skills of foreigners) at the Ecole National d'Administration, one of France's famed graduate schools that manages to turn out future politicians, prime ministers and presidents at an alarming rate. She would spend her days between lecture halls in Paris and listening to recitals from her pianist husband Paul Amsellem. Essentially, just close your eyes and imagine the life of an urban French intellectual – right down to the glossy dark hair, slim build and chic clothes – and there you have it.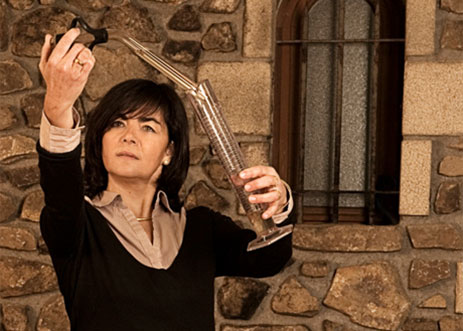 Today, Vernay is most likely to be found in the vines on the high granite slopes of Condrieu or among the baking soils of Cote Rotie or Saint Joseph. She gave up her life in Paris in 1996 and returned to the family estate of Domaine Georges Vernay after her parents announced their intention to retire and considered selling up. Today she works alongside her husband and brother Luc Vernay, but there is no doubt who is taking the lead.
Vernay is a warm and welcoming figure in the wine world. And sharp. She has applied her considerable intellect to building upon her father's legacy while forging her own ideas about the kind of wine she wants to make. In 2012, 15 years after arriving in the Rhone, she was anointed 'Personality of the Year' by leading French critics, joining a select category that includes Romanée- Conti, Krug and Chateau d'Yquem. This year she was intronised into the Académie des Vins de France, an institution founded in 1933 that upholds the traditions of French viticulture. It's fair to say that this ex-professor will feel at home among its august halls.
I met up with her in Bordeaux last month during a tasting held in the offices of Seguin Moreau cooperage, and we arranged to meet again when I am in the Rhone next month. 'You can't understand any wine fully until you have walked in the soils that make it,' she tells me. 'When I arrived back here, I assumed that the biggest challenge would be in the winery. But in fact everything happens in the vineyards, and that's where I spend most of my time and effort; getting to understand the same paths that my father and grandfather walked before me'.
The wines of the Rhone Valley are always received with warm approval in Bordeaux (Hermitage was, famously, used as the 'magic blending ingredient' for much of the 19th century, and Chateau Palmer has recently released a Bordeaux-Hermitage 'Historical XIXth Century Wine' as a tribute to the regions' shared history and inspired by a tasting of a Chateau Palmer 1869 which would have been blending in this way). But this was something different – one of France's most celebrated and respected wine makers here to taste through a horizontal of her wines from two of the most seductive appellations of the northern Rhone; Condrieu and Cote Rotie. The room was filled with technical directors and owners of the key Bordeaux chateaux, all thrilled to have the chance to exchange ideas with Vernay.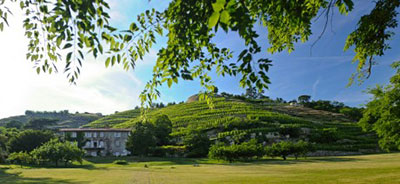 The Vernay family has been associated with Condrieu for many decades. Christine's father Georges, as his father Francis had been before him, was instrumental in saving the region when its vines had dropped down to just six hectares in the 1950s. Condrieu had struggled to recover ever since the devastation wrought by World War II, and without the two generations of Vernay men, one of the country's most celebrated white wine appellations – that shows just what the Viognier grape can achieve at the height of its powers – might have been lost. Today there are around 180 hectares in Condrieu, with Christine Vernay producing three cuvées from the steepest, most inhospitable slopes of the appellation, from where her family has always firmly believed spring the most structured, complex and fascinating vines. These are the slopes that Vernay means when she says you can't understand her wines until you have brushed the dust and rock fragments from your fingers and the bottom of your shoes. 'My father planted on these hillsides at exactly the moment that everyone else was abandoning them and planting fruit trees instead. Everything had to be done by hand by him, and today it still does. There are no shortcuts here. It's tough, painstaking work, but worth every moment.'
The Condrieu wines…
Domaine Georges Vernay Condrieu Cuvée Terrasse de l'Empire Condrieu 2012
100% viognier from their three plots, with an average age of 50 years, vinified in oak vats (no new oak). This explodes with white flowers and apricot, honeyed notes of acacia, lavender, low acidity but with taut structure. 'Viognier can be too exuberant,' says Christine, 'we need the terroir to come through to give freshness, which is why we avoid new oak, even though we reintroduced it for ageing in the 1980s'. Granite soils, 35 hl/h, not certified but organic practices, meaning no herbicides and using horses where they can. 92/100 Highly recommended. Drink 2014-2025.
Domaine Georges Vernay Condrieu Les Chaillés de l'Enfer Condrieu 2012
From terraces covered largely with splintered rocks and marked off by dry stone walls, particularly steep, hot and difficult to work (hence the name, as they were known as the slopes of hell). Vernay vinifies these separately to protect the salinity that comes through in the wine. There is more marked, sharp citrus here, offset by 25% new oak to give a touch of silky roundness. It's clear how well this will age, how it will deepen in complexity and draw itself outwards. 93/100 Highly recommended. Drink 2014-2030.
Domaine Georges Vernay Coteau de Vernon Condrieu 2012
The vines her grandfather planted in 1938, that her father expanded in the 1960s and that she further expanded in the 1990s. A wonderful expression of Viognier, so rich and deep. Pure decomposed granite. The power and concentration is subtle but builds, with peaches and grilled hazelnuts cut through by searing lemon, huge ageing capacity, easily thirty years. Have some orange peel, even liquorice coming through. It spreads wide and deep in the mid palate, but stretches out at the end. 25% new oak. 95/100 Outstanding. Drink 2014-2035.
… and one Cote Rotie…
Domaine Georges Vernay Cote Rotie Blonde de Seigneur 2010
It is the red wines that have seen the biggest impact from the work of Christine Vernay. The Condrieus were already legendary on her arrival, although she has refined and finessed them. But the reds have been transformed, with seven hectares across Cote Rotie and Saint Joseph. This cuvée is from five hectares of vines, producing a wine that has ripeness without sweetness and is aromatic and elegant. Grown on granite soils, with Viognier growing next to the Syrah (around 5% in the final blend), this is a fresh style of Syrah, a more Burgundian expression of the grape. Black olive spice with gunsmoke and violet notes giving immediate pleasure. 25% new oak, ageing over 18 months. 91/100 Highly recommended. Drink 2014-2030.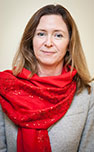 Columnist Introduction
Jane Anson is Bordeaux correspondent for Decanter, and has lived in the region since 2003. She is author of Bordeaux Legends, a history of the First Growth wines (October 2012 Editions de la Martiniere), the Bordeaux and Southwest France author of The Wine Opus and 1000 Great Wines That Won't Cost A Fortune (both Dorling Kindersley, 2010 and 2011). Anson is contributing writer of the Michelin Green Guide to the Wine Regions of France (March 2010, Michelin Publications), and writes a monthly wine column for the South China Morning Post in Hong Kong, where she lived from 1994 to 1997. Accredited wine teacher at the Bordeaux Ecole du Vin, with a Masters in publishing from University College London.
Click here to read all articles by Jane Anson>>
- Follow us on Weibo @Decanter醇鉴

and Facebook

for most recent news and updates -
All rights reserved by Future plc. No part of this publication may be reproduced, distributed or transmitted in any form or by any means without the prior written permission of Decanter.
Only Official Media Partners (see About us) of DecanterChina.com may republish part of the content from the site without prior permission under strict Terms & Conditions. Contact china@decanter.com to learn about how to become an Official Media Partner of DecanterChina.com.