Even with the increasingly close links between Bordeaux and China, there is still really only one Chinese restaurant of note in the city – Bonheur du Palais, if you're wondering – and one supermarket where you can buy a wide range of authentic ingredients from white radish to bok choy for cooking at home (that would be EuroAsie, although there is also a specialist store Ly Kim Hak that is favoured by those who don't need hand-holding through the ingredients). There must be a huge opportunity for others to fill the void but for now, it's the city's caterers who seem to have been quicker than most to catch up with the fact that Asian visitors to Bordeaux rose by 40% in 2012.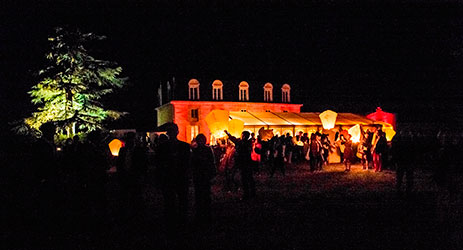 'Chefs tend to have their own signature style, and are understandably unwilling to change it,' says Bernard Monblanc, owner of one of the most prestigious traiteurs in Bordeaux, that caters for many of the major chateaux events through the year.
'But as traiteurs, it is our role to modify our approach to work with clients. We increasingly find that we work with Asian chefs, including Tommy Shan from Bonheur du Palais, but also visiting chefs from Paris, Hong Kong or China. The feedback we get is that Chinese visitors can feel overwhelmed by the French approach of single large servings of food such as duck breast or pork loin. We share many of the same ingredients as Cantonese or even Sichuan cuisine, but it is prepared differently, usually with fewer spices. Over the past few years, we have been more and more frequently preparing Chinese banquets, or still producing classic French food, but served in smaller Chinese-style servings.'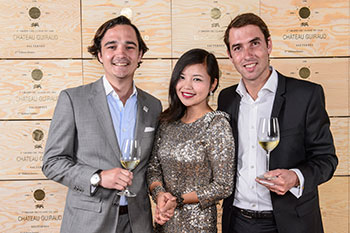 Monblanc is telling me this while showing off his distinctly French version of one of the most classic of all Chinese pastries; the mooncake – traditional symbol of last week's Mid-Autumn Festival both in China itself and in outposts of the Chinese community around the world.
We are standing in a brightly-lit marquee in the gardens of Chateau Guiraud in Sauternes. Delicate lanterns are suspended above the tables, and paper lanterns lined up outside ready to be released, glowing, into the sky at the end of the evening. Several oversized telescopes stand alongside them for moon viewing once the sky is dark enough, and a hot air balloon is keeping guests entertained until the moon rises. As we talk, Li Lijuan, Sichuan-born winner of the European heats of the Voice of China talent show, is warming up on a small stage at the far end of the room ready to celebrate Guiraud's third Fête de la Lune d'Or (Golden Moon Festival).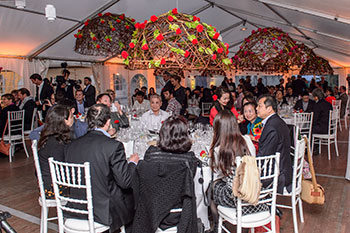 This year, the Fête de la Lune d'Or has gathered 130 guests, with almost three-quarters from China, Hong Kong, Singapore, Indonesia or Taiwan. Most live in Bordeaux, or are here on business but there is also a group of Chinese journalists on a press trip, and even one woman who has travelled over from London specifically to hear Li Lijuan sing. Alongside them are numerous Bordeaux wine merchants with links to the Chinese market.
'Around 50 young Chinese are living and working full-time in Bordeaux, and a good number are here tonight,' Guiraud co-owner and director Xavier Planty explains. 'And this year we are opening the festival not just to wine professionals, but to consumers who have an interest in China and in Guiraud. We are still the only Bordeaux chateau to officially celebrate this important festival, and we hope to be as inclusive as possible.'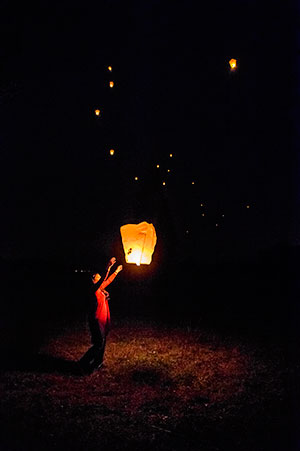 After a hazy start to the day, with a few drops of rain, the skies have cleared for the evening, and lanterns are released into a bright starry sky. But it's hard to ignore that this year politics is shouldering its way in. In 2011, when Guiraud held its first Fête de la Lune d'Or, the chateau had just opened two storage cellars for its wines in Asia; one in Hong Kong and one in Shenzen. Bordeaux sales were shooting upwards, particularly around important events such as Chinese New Year and the Mid-Autumn Festival, and the sweet wines of Sauternes had high hopes. Last year, in 2012, the Shangri-La in Hong Kong made a moon cake that incorporated Château Guiraud's second wine, Petit Guiraud, from the 2009 vintage, which, the hotel declared at the time, 'perfumes the mooncake's milky custard filling with its floral bouquet and subtle sweetness'.
But in 2013 things are a little different. While this festival has traditionally been the time for giving deluxe boxes of mooncakes accompanied by Bordeaux wine, or made with shark's fin, bird's nest, abalone or even gold or silver, times are tough for the moon cake; the latest target on the government's anti-corruption clampdown.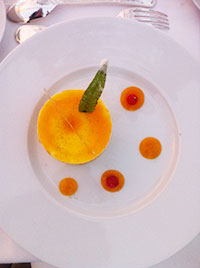 A telephone hotline has been set up for members of the public to report any suspected misuse of public funds over the holiday, and Reuters reported Vice-Premier Wang Qishan as denouncing extravagant gifts such as mooncakes that have 'polluted our festival culture in recent years'.
Few places, of course, can sympathise more than Bordeaux with the moon cake's predicament – or rather the predicament of producers and sellers of the sweet treat, who are expected to take a sharp hit on the 280,000 tonnes sold last year, worth 16 billion yuan (US$2.8 billion). Bordeaux fine wine has found its way on to a similar government watch list over the past 12 months, and many of the merchants and chateaux owners who are here celebrating the Full Moon festival have been feeling the effects.
But for tonight, at least, they can take comfort in the Guiraud moon cake, created by the chefs at Monblanc, and designed to complement the wine, with red fruits, mango and passion fruit filling, served with a mango coulis and powdered vervain, topped with a caramelised sugar snap in shape of moon.
'The Chinese market is slow but steady for us,' says Planty. 'And that gentle progression is exactly how we want it. No spectacular rises mean no spectacular falls'.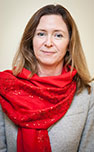 Columnist Introduction
Jane Anson is Bordeaux correspondent for Decanter, and has lived in the region since 2003. She is author of Bordeaux Legends, a history of the First Growth wines (October 2012 Editions de la Martiniere), the Bordeaux and Southwest France author of The Wine Opus and 1000 Great Wines That Won't Cost A Fortune (both Dorling Kindersley, 2010 and 2011). Anson is contributing writer of the Michelin Green Guide to the Wine Regions of France (March 2010, Michelin Publications), and writes a monthly wine column for the South China Morning Post in Hong Kong, where she lived from 1994 to 1997. Accredited wine teacher at the Bordeaux Ecole du Vin, with a Masters in publishing from University College London.
Click here to read all articles by Jane Anson>>
- Follow us on Weibo @Decanter醇鉴

and Facebook

for most recent news and updates -
All rights reserved by Future plc. No part of this publication may be reproduced, distributed or transmitted in any form or by any means without the prior written permission of Decanter.
Only Official Media Partners (see About us) of DecanterChina.com may republish part of the content from the site without prior permission under strict Terms & Conditions. Contact china@decanter.com to learn about how to become an Official Media Partner of DecanterChina.com.